A Full Disclosure Note from Fatty: I bought my Garmin Edge 500 from an online retailer and got no special discount on it.
Remember when bike computers had a thin little wire that ran down to your fork, where the sensor would pick up as the little magnet you attached to a spoke went by?
Except, of course, when the magnet moved and started hitting the sensor with every rotation of the wheel. Click click click click click.
Or when the sensor moved and stopped picking up the magnet.
Or when the wire broke.
Or when the battery died, in which case you would need to — since of course the battery was a completely unique size — order replacements from the manufacturer for just slightly more than the original cost of the bike computer itself, plus $8.00 for shipping. Please allow 8 weeks for delivery.
Yeah, those were the good old days.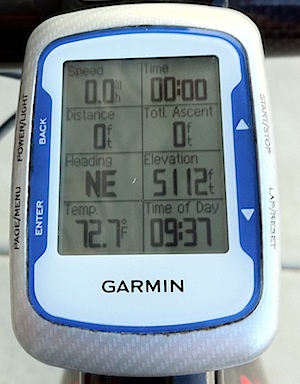 Dawn of the GPS
And then — maybe seven or eight years ago? — affordable GPSs came out. They were just about the same size as mobile phones, which is to say about the size and weight of a brick. Four AA batteries would very nearly get you through a three-hour ride. Provided, of course, you didn't break the giant thing off the handlebar mount.
And good luck figuring out the software.
But — like phones — the GPSs have gotten smaller. And — Unlike phones — their battery consumption has gotten stingier.
And — judging from the fact that Garmin is sponsoring a pro cycling team — they've wakened to the fact that cyclists are a huge and awesome target market for GPSs.
I don't know if it's feedback from the Garmin-Transition team that led to the Garmin Edge 500, but Garmin has nailed it.
Yep, I love the Garmin Edge 500, and now I'm going to tell you why.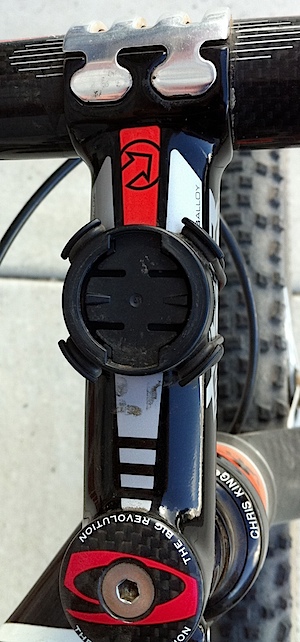 Mounting It: As Easy As Shooting Rubber Bands
I am not good with tools. In fact, I tend to get sweaty and panicky when I have to do any bike maintenance beyond lubing the chain. And I am not too proud to say that I have ruined more than one bike computer simply by trying to mount it on my bike.
So when I got the Edge 500, I wasn't looking forward to setting it up on my bike.
Until I found out that setting up the mount requires exactly no tools and — at most — two minutes of your time.
Essentially, all you have to do is rest the mount where you want it on your stem, then stretch a couple of industrial-strength rubber bands under the stem, diagonally from corner to corner.
That's it. That's all there is to it.
At first I was a little bit concerned — would a couple of bands be enough to secure a GPS? Well, I've had this GPS mounted to the stem of my fully-rigid singlespeed for the whole season, for every mountain bike ride, for the Kokopelli Trail, for the Leadville 100, for the PCP2P, and for several hometown epics, and the mount has never slipped. No band has ever broken.
Simple solutions are sometimes the best.
So, how do you attach the actual Edge 500 onto this little mount? By putting it on sideways, and then turning it a quarter turn, locking it into place. Takes no time at all, and it stays put, nice and secure.
Oh, and here's a nice touch with the mounts: the Edge 500 comes with two mount kits, not just one. Which means that you can set one up on your mountain bike and one on your road bike, then easily move the computer between the two bikes.
Which is exactly what I do.
So now I've gone on for about ten paragraphs about the Edge 500's bike mounts. But the fact is, setting up and moving the computer is a huge — and until now, problematic — part of how you use your bike computer. With the Edge 500, setting up the mounts and moving the computer between mounts is truly, genuinely simple.
Information Overload
It's nothing new to have a lot of information available on your GPS, and the Edge 500 can provide a ton of data: Speed, temperature, time, time of day, total ascent and descent, vertical speed, cadence, calories, distance, elevation, grade, heading, heart rate, laps, and power, along with various permutations of practically all of the above.
What I like about the Edge 500 is how easy it is to customize how much data you see, what data you see, and how you can easily change what you see.
For example, for most of the Leadville 100, here's the screen I was looking at: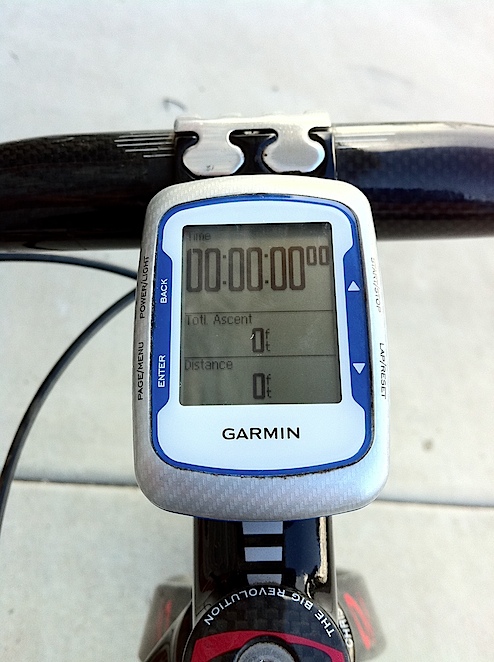 Three fields, nice and big, showing just what I cared about: how long I'd been out, how much climbing I had done, and how far I had gone.
With a single button press (the Page / Menu button on the bottom-left side), though, I could go to a different custom page with eight fields: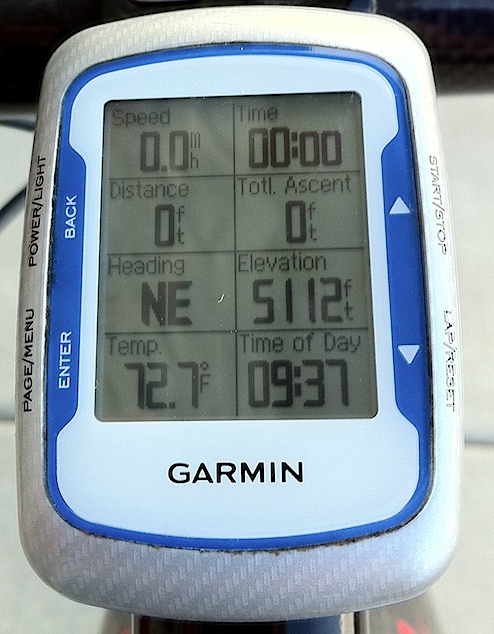 Cuz sometimes you just want to let your inner nerd out.
Other Stuff I Love About the Edge 500
There are other things I like a lot about the Edge 500 — things that make me think that Garmin really did their homework for what a cyclist would want from a GPS bike computer:
It's easy to use even with gloves on. The buttons are on the side, and are rubberized and clicky. There's enough tactile feedback with these that even with full-finger gloves on, I have no problem operating this thing.
It's smart. If you turn the Edge 500 on but forget to press Start, it notices when you've started rolling. It chimes and prompts you to press Start. I don't even know how many times at the beginning of a ride (or race!) I forget to press Start when I get going. This little reminder has come in handy dozens (at least!) of times.
It's helpful. The first time I went to customize the fields, I didn't know whether I would be able to figure it out. To my surprise, the Edge 500 actually walked me through the process, telling me what steps came next. Like this:

Yep, a bike computer that doesn't assume you keep the arcane instruction book with you at all times. What a concept.
It's long-lasting. The specs for the Edge 500 say the battery life is up to 18 hours. Honestly I haven't tried running it that long. But I have run it for twelve hours at a time, several times.
It's easy to charge. The Edge 500 comes with an AC charger, but it also can be charged from any USB port, which is what I always do. Which means that as long as you can find a computer, you can charge your Garmin. That's not a big deal, until you forget your charger at home, and then it's really nice to be able to not have to look for an obscure cable to recharge your bike computer.
It's got a backlight. If you're riding early in the morning or late at night, that's nice to have.
If you're looking to quantify your cycling experience, I daresay this is a really nice way to do it. And, in short, I love the Garmin 500.
Enough so that I bought a second one for The Runner to use on her bikes.