A "Yes, We Have a Winner!" Note from Fatty: A huge thanks to everyone who participated in the contest to win an Intense Spider 2 with 2011 Shimano XTR. In tomorrow's post I'll talk more about it, but meanwhile, here's an interesting little fact: Together, the five Team Fatties — Seattle, San Jose, Philly, Austin and NYC — have raised nearly $400,000 in the fight against cancer this year.
That's a huge amount of money, and I'm incredibly grateful to everyone who has either raised money or donate. Thank you. Thankyouthankyouthankyou.
And now, on with part 2 of Philly Jenn's LiveStrong Challenge saga. Read it, love it.
Sunday, 5:45am. Where is my head?
For some mysterious reason, I seem to be standing upright at this unfamiliar hour. The midnight snack of chips and salsa that I consumed shortly before falling asleep does not seem to be moving in an entirely synchronous fashion with the rest of me. It's going to be a great day!
I am not yet kitted up for the day's ride, since the Sleeping In Gear thing only applies to running outfits — bike shorts don't really make comfortable pajamas. (I'm sure that fans of bib shorts would contend that I could bag plenty of Zzzzzzzzz while comfortably cossetted in the confines of a giant set of lycra overalls, but you don't see any of them counting sheep in chamois, do you?)
Which means that once all the Fatties have assembled in the parking lot behind the hotel for the team rollout nearly an hour later, I have no idea where my helmet is. We pass the time by taking photos and applying sunscreen just as the first sprinkle of raindrops starts to fall. Someone offers me a spare brain bucket to accessorize the empty space between my ears. We take a group photo (note my uncovered head).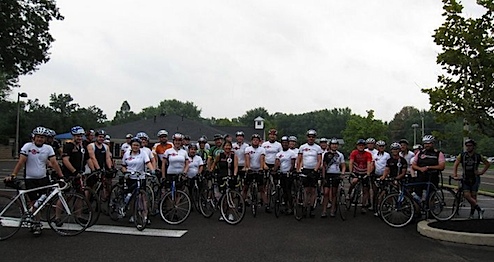 And then Jenni emerges from the hotel with my bashful headgear in tow, and the Fatties are finally on the road to the Livestrong ride.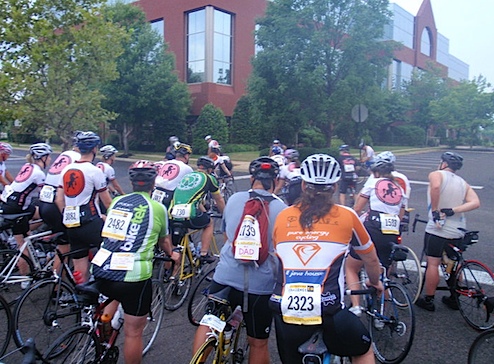 As the long ribbon of the dozens of Team Fatty riders winds into the starting line area, we receive a big shoutout from the announcer. We split into our respective starting areas for the various ride distances, and wait for a surprisingly brief period of time — this year, the opening of the ride runs like clockwork.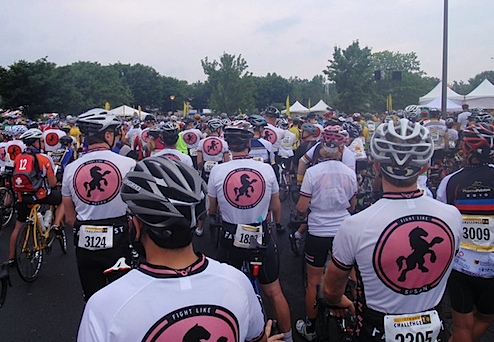 Lance Armstrong shares a few words with the assembled crowd, Jessy Kyle sings yet another great rendition of the national anthem, and we are off.
The First Leg: Prepare to launch
This year, with no single team granted a position at the very front of the starting group, I take advantage of the opportunity to relax in the back of the first wave of riders. Though little can compare to last year's sensation of being overtaken by more a thousand riders in the first five minutes on the road, I somehow manage to dig deep into my suitcase of courage and keep moving.
Bridge work in the middle of the initial 6-mile straightaway on Morris Road takes us on a brief detour, but soon enough we find ourselves riding on the quieter, more secluded network of rolling country roads that characterizes the heart of the course.
And what would a winding rural byway be without roadkill? Seven or eight miles into the course, I see riders ahead swerving to avoid a large, dark mass on the ground. As I draw closer, I notice that the lump in the road seems awfully…industrial. In a flash, I realize what it is.
A seatpost-mounted double bottle cage, better known in BikeSnobNYC parlance as a set of "butt rockets."
(NOW you tell me. If I had known that those things actually came equipped with a launch button, I would have made them a part of my daily bike commute eons ago.)
Almost directly ahead of me, another rider barrels into the same concrete lip that doubtless sent the unfortunate double-bottle cage into eject mode. In what will become a recurring motif for the day, a Livestrong water bottle pops out of his frame-mounted cage and begins rolling forlornly across the road.
The rider who just lost his bottle abruptly brakes, and then starts rolling his bike directly backwards into the wave of oncoming riders. Without looking.
For once, I am grateful that I spent so much time playing Frogger back in the day.
I manage to pass through Bottle Rocket Canyon unscathed, and spend time riding with fellow Fatties Aaron, Lindsay, Drew, Jennie, and Ryan all the way through to the first Power Stop, where the rain begins sprinkling more forcefully.
I desperately need food. I've left the hotel without eating breakfast, trying to let my stomach settle and secure in the knowledge that the Livestrong Power Stops are all fully stocked with bars, gels, fresh fruit, energy drinks, and all manner of calorically dense edibles. While slowly starting to fuel up, I have the chance to chat with more Fatties. Standing with Ryan (from Hawaii), Philip (from Vancouver), and Jeff (who biked the 700+ miles from Louisville to take part in Livestrong Philly), I'm amazed by just how far Fatties will go to fight cancer.
The Second Leg: Stepping it up
I ride out with Ryan and we catch up with Jennie, who is rocking a pair of Converse sneakers and riding on platform pedals. The course starts to get a bit hillier, and the rain starts coming down more steadily. Ryan finds his hill legs and starts feeling more at ease on the course.
We begin seeing riders going past us in the opposite direction on the course, speedy people who have decided to turn around early in an attempt to beat the rain.
When we are about fifteen miles into the course, we see a large motorcycle on the opposite side of the road up ahead, followed by an enormous SUV. Behind the megamobile is a set of four riders, one of whom is sporting some World Champion stripes on his jersey. We wave as they zip by, and I start doing the math in my head:
(100-15) miles / 1.45 hours = WAY better breakfast than me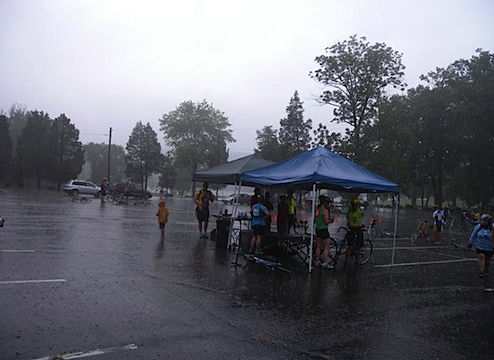 As we pull into the second Power Stop at Green Lane Park, the skies open up and we take shelter under the food tents. Joining us are Fatties Oscar and Nancy, and one of the historical re-enactors who make this stop a treat every year. The colonial-era celebrants come complete with fifes, drums, and historically correct costumes that make cyclists everywhere privately give thanks for the invention of synthetic fabrics.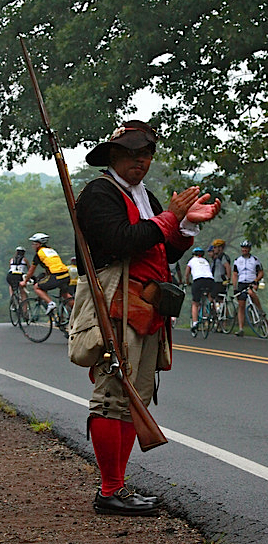 The downpour gives "Ned Hector," who goes by Noah in the 21st century, a chance to share his story with us. His wife was diagnosed with pancreatic cancer while she was carrying their child, and she passed away a month-and-a-half after giving birth. "But I have a beautiful 17-year-old daughter now," he says, adding that the Livestrong ride is one the the events that is closest to his heart and one he cherishes supporting every year.
[greenLaneParkTent]
After hearing that, how can we not get out and ride a little harder, no matter how wet we might get?
The Third Leg: Going pear-shaped
We've given up on dodging the rain at this point, and we are getting thoroughly soaked. I remind myself that "triathlon" comes from the Greek for "peforming three different sports while sopping wet." Besides, Clydesteve and the Seattle Fatties (where they serve up plenty of hail for Livestrong as a matter of course) will never let me live it down if I let a little precipitation put a damper on my plans.
When attempting to ride out of the way of a pileup and that sends another Livestrong bottle skittering towards me, I have to unclip and dismount when my line uphill is blocked by an oncoming car. This is the first of many cyclocross moments in the day; on the rain-slicked roads, I am happy indeed to be wearing rubber-soled shoes with recessed cleats.
Ryan and I continue along the 70/100-mile route, while Jennie takes the turnoff for the 45-mile route. Ryan and I go from having plenty of company to being almost alone once we decide to press forward for the longer route. "At least we'll be able to say we rode further than the guy behind the SUV today," I chirp.
The miles past Green Lane Park blur into one another. Ryan and I take turns waiting for one another along the way. There is dismounting. There is walking uphill. There is cramping. There is electrolyte ingestion. There is some relief.
The Ballad of the True Clyde
During one of our walking intervals, we cross paths with a big, strapping guy in his 20's who has a photo of this little girl taped to his bib:
http://www.caringbridge.org/visit/caracollins
For this fellow, a true Clydesdale packing 240-some pounds of pure muscle, the hill ascents are particularly unkind. He and Ryan and I ride together for a bit, then walk some more. Working to keep his momentum going, Ryan decides to continue ahead and I say that I'll catch up with him at the next rest station.
I stick with the True Clyde as the cramping in his quadriceps gets more vicious. A triathlete and runner, he can't believe how much his leg is seizing up on the bike, which it never does when he runs. I tell him it's the exact same story for me. We keep moving forward. The climbs do not relent. We take it one step at a time.
I encourage him to take one of the extra energy bars I crammed into my jersey pocket at the last Power Stop.
Wet, tired, and hungry, when he bites into the bar he proclaims, "This tastes like one of God's own apples."
He asks how much farther we have until we reach the next Power Stop. I tell him I don't know for sure, but that the stops are no more than 12-13 miles apart on the course, and we're well over 11 miles out from the last stop. We press on; calling a SAG wagon is out of the question.
We approach the split for the 70/100 mile course at Dairy Lane, where by now the century course has been closed for hours. For the first time in what feels like forever, we see the colorful t-shirts of Livestrong volunteers. Knowing that he is safe and in good hands, I leave the True Clyde with the Livestrong folks at the turn and press onward.
Pedaling up Denial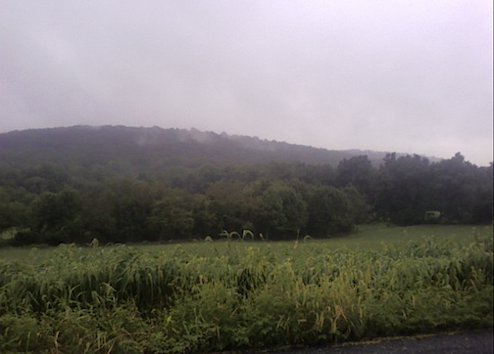 I begin riding ahead, trying to speed up and reach the elusive third Power Stop. The miles start to rack up, with no other riders in sight. Thirteen, fourteen, fifteen…hunh?
With a left turn onto Forgedale Road, I am reunited with the quick and strong century riders who made it through the cutoff point before the longest course was closed early by rain. First I see one or two riding solo, then some riding in small groups and clusters.
The pavement is a bit rough, so I take my time going downhill in order to avoid cooking the descent. The longer I go downhill, the rougher the road feels. Gee, this pavement is bumpy! Fortunately, my brakes are completely solid.
My rear tire, however is not. It finally starts to shimmy ever so slightly, snapping me out of my denial. I slow, I stop, I turn, I pinch. Yeah, my rear tube is completely deflated and I've been riding on my rim. Ouch. Welcome to Team Flatty.
I open up my seatbag and get ready to do battle with my wheel, only to discover that I have levers, a tube, and a chuck for a CO2 cartridge — but no cartridge. My cartridges were confiscated at the airport when I flew down with only carry-on luggage for Livestrong Austin last year, and I completely forgot to replace them when I got home.
A passing rider generously gives me a spare cartridge (thanks!), and I return to gazing in despair at my rear wheel.
Then the cavalry arrives.
Fatties to the Rescue (the sequel)
In the blink of an eye, I am suddenly surrounded by Fatties: Tommy, Joel, and Doug (From Way Upstate NY) ride up, and a police officer pulls up behind me on his motorcycle to shield me from oncoming traffic. Fatties Jacqueline and Mike make sure we're okay as they zoom past on their tandem. Tommy and Joel reassure passing riders that we're all fine, and that I was just being pulled over for speeding.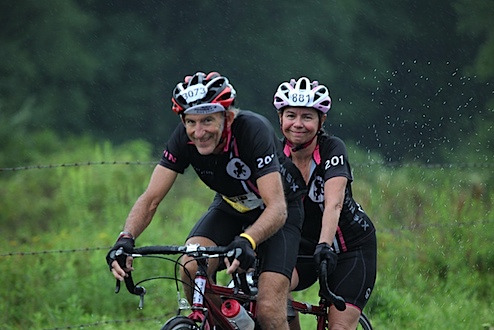 Doug is my hero. In addition to being the Team Fatty grillmaster, he totally saves my bacon — efficiently swapping in a new tube AND defending the honor of my gently maligned cromoly frame by noting that he too is riding steel today. He even whips out a portable pump and inflates the new tube by hand. He makes a tough job — wrestling with Kevlar-laced tires and deep-V rims while perched at the edge of a guardrail on a turning descent — look easy and go quickly. That's probably why his Clark Kent gig is being a professor of rocket science. Doug, you utterly rock. Thank you so much.
Back wheel restored, I roll with Tommy, Joel, and Doug until they deposit me at the next Power Stop at the Barto Firehouse…where Ryan is still waiting for me, nearly 17 miles and who knows how long after we left the previous stop at Green Lane Park.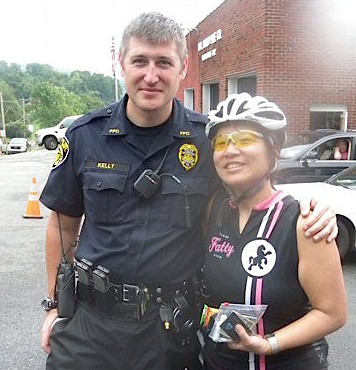 By now, I am completely ravenous. I snarf down pasta salad, gorp, and several freshly picked local nectarines. I ask the bike mechanic at the stop to fill my rear tire back up to full pressure.
And then I brace myself to make do with the facilities.
The Room of Requirement
People who know me will tell you that I can be somewhat squeamish about the portaloo situation at rides and races. So imagine my reaction when I am face-to-face with this: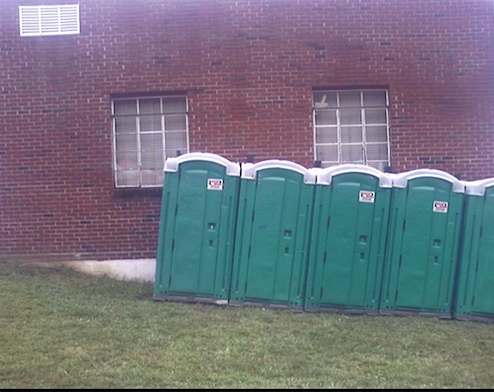 Ladies and gentlemen, may I present The Leaning Tower of Pee.
Even with my recessed-cleat, rubber-soled shoes, I am ricocheting around from the moment I step into the stalls. It's like being in one of those carnival funhouses with the tilting floors…but pants-free! Or living in a barter economy, where it's almost impossible to find purchase. Still, there's plenty of TP (hmmm, wonder why), I cannot help but laugh aloud uncontrollably, and all's well than ends (yet avoids upending) well.
The Final Leg: Life is sweet
By the time Ryan and I leave Barto, it's well past 1pm, and we're going to have to make better time if we don't want to be pulled from the course. Ryan stays ahead of me most of the way forward. When I catch up with him at the next Power Stop, he tells me to go ahead and not worry about him catching up.
The rain begins falling in sheets and waves as I put my head down and ride, worried that I will be escorted off the course again like last year for being too pokey to cross the finish line by 4pm. It's raining so hard that cautious, respectful drivers are giving every cyclist, even lone riders like me, wide and merciful berth.
Twenty miles out of Barto, I'm hungry again and starting to fade a bit. I reach into my back pocket, pull out a nectarine, and take a bite.
It tastes like God's own nectar.
By the time I reach the final stop just ten miles from the finish, too drenched in the downpour to pause for anything more than downing an electrolyte tablet, I have acquired my own personal SAG vehicle. The support cars are gradually coming in off the course, and they're tailing the few Livestrong riders that remain on the road.
The rain lets up as I return to Morris Road and the home stretch back to the finish line. I don't know it at the time, but Ryan suffers a mechanical less than five miles from the finish, and is swept up by a SAG vehicle that declines to tweak his bike and release him in front of the finish line. He's already plotting how he and his bike will take their revenge on the Livestrong course — and at least for today, Ryan still rode farther than that guy behind the SUV.
I reach Montgomery County Community College at 3:58pm. As I turn into the parking lot, I suddenly hear a big cheer: Maggi, Chris D, Jay, RayRay, and Kelli are all still gathered in the parking lot.
The volunteers, who by now have been waiting for several minutes between arrivals, actually shower me with rose petals. The Livestrong announcers have been at it nonstop since the crack of dawn. They give one more shout-out to Team Fatty.
I'm the last Fatty through the chute.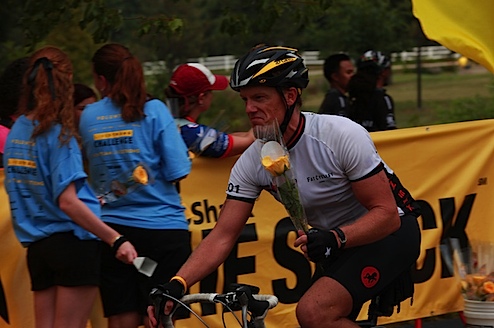 This story is only one of thousands out there during Livestrong Philly 2010. I was fortunate to be able to share stories with so many other wonderful people, and hope you'll have the chance to do the same. Thanks to all the 2010 Philly Fatties for being such an amazing team.
Allez, Fatties, allez!