A Note from Fatty: Steve Peterson (ClydeSteve) is the co-captain of Team Fatty Seattle. Should I ever grow up, I hope it's to be like Steve. Here's the video they showed of him at the LiveStrong Challenge Appreciation Dinner, where Team Fatty was recognized for both the Team Time Trial and Team Champion awards!
And now, here's ClydeSteve's report from the LiveStrong Challenge in Seattle a couple of weeks ago.
Saturday June 19. Rain. Actually, lots of it. There was so much rain that the Seattle Center dictated that the Team Fatty tent, to be located on the LiveStrong Team Lawn, would instead be on a paved back alley! I had great help setting up the Team Fatty get together, thanks to team mates Lesley Jacobs & her husband, Ken Yu, Steve Payne and Jeff Payne (no relation). All of these great teammates donated snacks, including a delicious decorated cake. Thanks also to my two wonderful children, Zach & Joanna, who came up to Seattle to shop and also helped me set up the tent and sat in the rain to guard the cake. What with the rain and all, only about 15 Fattys showed up to say "hi", so I had an awful lot of cake to myself.
I wonder if that had any bearing on my feeling kind of slow Sunday?
The Appreciation Dinner
Satuday June 19th, in the evening. At the LiveStrong Appreciation dinner, Team Fatty was represented well with 4 full 10-person tables. I sat with an all-star cast of Fatties, including teammates Mike 'Kamala' Schechter, Tim Tiscornia and Adam Zivin and our guests.
They had the highlight of the evening early when the event staff played the pre-recorded video award acceptance speech for Team Fatty's two awards (Team Champion and Team Time Trial).
In this marvelous presentation I made an inexplicable mistake. I dedicated the award to a fictitious person. Now everyone thinks this is hilarious except me. I intended to dedicate the award to Mary E. Moore, mother of teammate Mary C. Moore, also mother-in-law of teammate Russell Rogers. Russell and Mary lost their mother to cancer just last month. Fortunately for me, Russell informed me that Mary had a wonderful sense of humor and would have laughed at the mix up.
Actor Evan Handler started out the live & official events of the evening with an entertaining talk and a different perspective for cancer survivors. The 'cancer survivor' tag is one the Lance Armstrong foundation likes to use instead of cancer victim or somesuch, feeling it conveys more of a sense of engagement and fight. Evan prefers to think of himself as cured; someone who has beat the odds and beat cancer. After 25 years, I guess he gets to call it what he wants.
Lance Armstrong's friend 'College' gave a great talk about what LiveStrong does in the very important areas of survivorship and patient advocacy and coordination of benefits. More importantly, my table won the door prize by being intelligent, tuned in and diligent. What was the prize, you ask? A Flip HD 8Gb digital video camera for each of the 10 people at the table. Tim Tiscornia gets the credit for suggesting the correct answer and looking thoughtful, intelligent, and analytical while doing so. The rest of the table gets credit for going along. We rocked! I suggest you get yourself to the Appreciation Dinner at your next LiveStrong Challenge to rake in the goodies.
The Ride
Sunday June 20th. LiveStrong Challenge ride. The day looked fair, and I could not wait to get to the starting line. In fact I was so anxious to get to the starting line that I left my duffle of dry clothes and wallet at my brother's home. Then I got stopped by a very kind City of Seattle policeman who noticed I had failed to secure my seat belt. He also discovered my failure to carry my driver's license. Since this made me a bit later than I had planned, I sent Zach & Joanna ahead of me from the 5th & Harrison parking garage for coffee. Leaving my sunglasses on the pickup bumper, I sped out of the garage and grabbed my coffee from Joanna racer style, on the fly. It was exhilarating.
I eventually found a spot toward the back of the 100-mile start section next to teammate Jeremy Everitt and then discovered to my horror that my eye protection had turned into truck keys. Truck keys that my fabulous kids intended to use driving around Seattle. I had the presence of mind to phone the kids and talk them in to key tossing distance so they could go back to the pickup and get the camera and get a picture of me finishing later that day. This would be a momentous occasion, because to date, no one beside Elizabeth Kreutz, the LiveStrong official event photographer has ever snapped a picture of me finishing a major bicycle event. It's like I am a vampire to everyone else.
The start was fairly uneventful, really. Jeremy and I just followed the crowd on the actual route. It was a lot more exciting last year when we made our own route in the downtown Seattle area. I met up with Tim Tiscornia at the predetermined location just as we exited the I-90 Express Lane onto Mercer Island. We had a fabulous time riding together under gray skies until the gray skies took a big PNW dump on us.
After that it became increasingly apparent just who had fenders and who did not. If you had a grit-filled face, arms and legs, you were following one of the riders who chose to go fender free. I was surprised to find that I could still do 40 mph descents on wet pavement with no eye protection. I am generally a big sissy about needing to cover my eyes.
Tim did not bring a rain jacket, and inexplicably I felt the need to suffer with him by not pulling out my rain jacket until the 70/100-mile course split where he decided to go the short route. I was sorry to split up with Tim (the wimp), but really glad to finally put on my rain jacket.
Miles 36 through 66 were kind of a wet cold blur. I remember finally stopping at the mile 66 rest stop and sitting down thoroughly chilled and powering down about 5 gels/bars/ PB&Js/etc. I just could not get warm.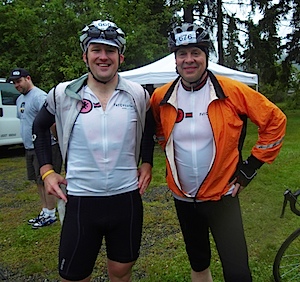 I met Matt 'Ibis' Kreger there and he was feeling a little less than energetic as well. Matt said: "I don't know if I have 38 miles left in my legs." I was too tired to do the math, but felt the same way. Fortunately, we only had 34 miles to go. A bit of fast riding on West Sammamish Way and we were warmed back up for the-wall-they-call-Village Park Drive. About 1.2 miles of steep, I passed a number of riders who had to get off and push or stop for a cramp out.
Last year I didn't even notice any uphill after Village Park on the way down to Renton. This year the flats had hill on them. I'm not complaining, mind you. I was just out of shape. But the new artificial knee never made a complaint. Titanium is funny that way, so stoic and all. But I was really pooped when I got to the Renton rest stop. I was only 15 miles out but had mentally gotten to the point of just slogging.
I ate a Honey Stinger and took off, and an amazing thing happened. Right after teammate Lief Zimmerman passed me doing about 24 mph on his 'bent, I got an unreal surge of energy. Honey, answered prayers of concerned loved ones, a competitive urge to catch up with Lief? Perhaps all three, but suddenly I was rarin' to go! It is kind of the way it is with those who have been diagnosed with cancer. Sometimes they are down, going it alone with outrageous endurance, and sometimes things go pretty good, and someone on their team pulls them along. Anyway, I was eventually able to close on Lief, after he stopped at a public park to use the facilities, and was happy to have a hometown Seattle commuter guide me in through the steep streets of Seattle.
As we were nearing the Seattle Center, my phone started ringing. Zach reported that the camera and the pickup keys were locked in the pickup and they could not find a locksmith on Sunday. Yes! My string of no family or friend-taken finish line photos remains intact! Maybe I am a vampire.
Oh, I found out that fame has its advantages. An hour after I got in, Zach & Joanna had still not located a locksmith. I went out to the LiveStrong Village to see if one of the clothing vendors maybe just maybe had a garment on a wire hanger. I was stopped by an event worker, a foreman for the company that does the set up of equipment for all the LAF events. He had seen me on the video awards speech during the Appreciation Dinner! The guy went out of his way to find a coat hanger I could use to break in to my own car. I was amazed and humbled by his willingness to go out of his way to help.
PS: Congratulations to Yann Bertaud, the winner of the Shimano / Sycip custom bike contest! Yann's raised a lot of money ($2290 so far) in the LiveStrong Challenge, and he's been doing it for all the right reasons — in support of a friend who's fighting cancer. Check Yann's LiveStrong page out here. So I'm really excited that Yann's the winner of the bike.
Yann hasn't decided whether he wants a cruiser or a road bike yet — a fun choice to have to make!