I realized, pretty early into riding the Kokopelli Trail last weekend, that I have become the geezer with a story for every occasion. Pretty much every mile or so, I'd tell whoever was around me — Kenny, Lisa, or Heather — about something else that had happened at that spot another time I had been on this trail.
And it's not like it had to be a great story, either. I am not making the following, which I recounted to Lisa, up:
"It was about here one year that I looked down and saw a big adjustable wrench. I remember thinking to myself, 'Huh, that might be useful,' but I didn't pick it up. Then, about five hours later Dug had a big ol' mechanical that would have been easily fixed if only we'd had a big adjustable wrench."
At some point, everyone stopped acknowledging that I had just told (yet another) "I remember when . . . " story.
Fatty exists, therefore he talks. Not much you can do about it.
After finishing one of my "I remember when" stories, I pointed out, "The Kokopelli's just a big ride. Big enough that something's going to happen. Every ride on the Kokopelli's going to result in a story."
And it did.
Day 1: Hot and Climby
Kenny, Heather, Lisa and I started early in the day — about 7:30 AM — from the Slickrock trailhead in Moab, Utah. Our plan was to ride the 62 (or so) miles and 9000 feet of climbing to Dewey Bridge the first day, where we'd stashed my truck full of camping gear.
We were comfortable as we rode up Sand Flats road, which must be the worst-named road in America, being not even remotely flat. It's a long grind and a big climb.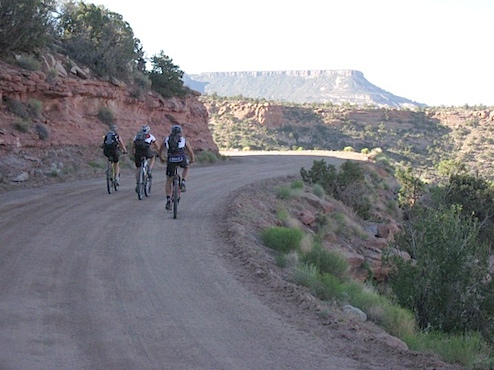 It was already warm by the time we got to the singletrack / doubletrack section that connects Sand Flats road to the La Sal loop.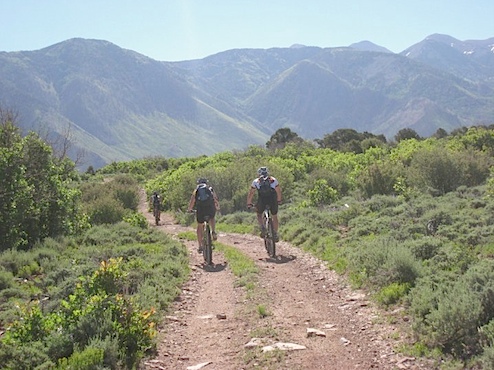 As we rode — the temperatures dropping as we went higher and higher — we saw a couple dozen runners heading in the opposite direction. Wearing race bibs. I asked and found that they were on the last leg of a multi-day stage race run of the Kokopelli: Desert RATS.
So we became their rolling cheering section, telling each of them one of the following:
Looking good
Looking strong
Keep it up
You're doing awesome
You're doing great
Beware of the badger around the next bend
OK, I didn't really tell anyone to beware of the badger, but I would have if it had occurred to me.
The climb up to the La Sal mountain loop road leads to a big (paved) descent, followed by a big (paved) climb.
It was then we all wished we'd started earlier. Like at about 6:00 or 6:30 AM. It was hot. Like 95 degrees Fahrenheit (or for those of you who prefer metric, 554.67 rankine).
Right at the bottom of the climb, I stopped and dunked my jersey in a roadside stream, then put the jersey back on.
The coolness wasn't just wonderful. It was exquisite. Indeed, I assert that this may have been the most intelligent thing I have ever done in my life.
We got to the top of North Beaver Mesa, where we ate lunch and refilled our Camelbaks and bottles, using the same canal the cows do to get their water.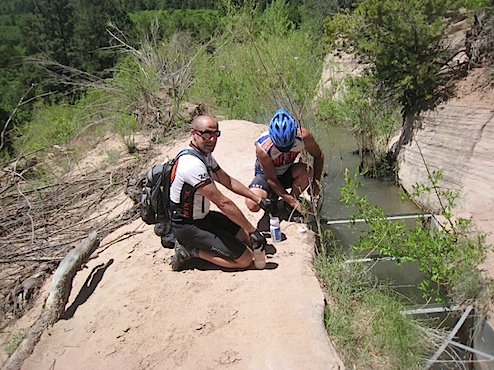 Hey, the cattle looked healthy; I'm sure the water was very clean.
We dropped into Fisher Valley, and then started up toward 7-Mile Pass, which begins with a killer hike-a-bike section.
Thirst
That's when the day stopped being merely hot and became hot. The sun was right overhead, we were pushing our bikes, there was no breeze at all, and you could — at least it seemed to me — feel the heat radiating from the rocks.
We were all hot. Tired. And slowing down.
And that's when Lisa let me know she was worried. "I don't think I've got enough water," she said.
Out in the middle of nowhere, in the hottest part of the day, where there's no chance of finding a stream, on a ride where you don't know how much further you've got to go, that's about the scariest feeling there can be. Those of you who have run out of water on a hot day with a long ride still in front of you know what I mean.
So I tried to ease her concerns by recounting the story of the time Rocky and I had done this ride and he had actually run out of water and become delirious and unable to ride.
To my surprise, this did not help.
So I tried another strategy. "Actually, I packed extra water for you without telling you, just in case the day got hot."
Yes, I know. I am a wonderful person.
However, I should probably point out that the "not telling" part was because I knew she wouldn't have let me carry water for her if she knew what I was up to; I was taking the chicken way out.
But let's just focus on the "wonderful person" part, OK?
Best Camp in the World
Once you climb 7 Mile Mesa, the hardest part of the Kokopelli Trail is behind you. It's more downhill than up, and before long you can see the Colorado River and its lush green banks standing out in contrast to the desert around it.
It's beautiful.
We dropped into the Dewey Bridge area, where we had stashed my truck. The nearby campground was mostly vacant, leaving us to pick the best campsite in the area — one with a giant tree providing shade.
First, though, we all took off our shoes and jumped into the Colorado River. The shock of the cold was amazing, and wonderful. The current was so strong though, that if you submerged yourself, you'd come up about 20 feet downstream.
Lisa and I — wanting to rinse the sweat and multiple layers of sunscreen and bug spray off — found a way around that problem. We took turns planting ourselves and then holding on to the other's foot, allowing us as much time as we wanted underwater.
After that, we toweled off, set up camp in the (glorious) shade, and made a spaghetti dinner.
Tomorrow we'd have more miles (80 instead of 60) but lots less climbing ahead of us.
Oh, and the temperatures were suppose to get warmer.