A Note from Fatty: If you're new here, you might want a little backstory, which you can get by reading the following posts: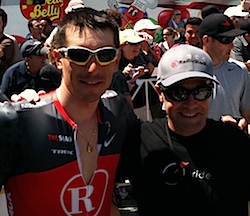 It's really a shame that I'm not a cycling journalist. Or a journalist at all, really. Because if I were a (cycling) journalist, maybe it would have occurred to me — at some point during the past five months or so — to prepare a list of questions or things to talk about during my ride with Johan Bruyneel and Viatcheslav "Eki" Ekimov, the director and assistant director of Team RadioShack.
And then I would have been more ready to take advantage of the kind of opportunity most cycling journalists dream of, but never get.
But I'm not a sports journalist. I'm I dork with a blog. So I just assumed that we'd talk about biking stuff, and I'd watch them at work, and then I'd write about what happened.
Which is what I'm about to do. The "write about what happened" part, I mean. The other part is done with now.
The Morning Before
The original plan for my trip to the Tour of California was to bring the whole family. There was just one problem with this, however. The Tour of California had the gumption to happen right during finals week for the kids. And without going into details, I'm simply going to say that missing finals right now would not be a fantastic idea for some of the kids.
Plus, none of them wanted to go. I think this has to do with an ongoing generational curse passed along from paternal Nelsons to their kids. Just as my father could not get me to be interested in hunting and fishing, my kids simply do not dig the bicycle.
So The Runner and I went.
The morning of the time trial, The Runner and I woke up and went on a run, going from our hotel to the race venue, where they were just starting to set up.
Now, I know that as a cyclist, I ought to despise running, but The Runner is making a convert out of me. While the logistics of riding while traveling can be pretty daunting, running gear requires no additional luggage. Plus, I have to say that running was actually a great way to get a sense of the part of LA. By the time we had run five or six miles, we had picked out all the restaurants we wanted to eat at for the trip, and knew exactly how to walk to all the places we needed to go.
And — I'm dropping a hint here — I need to stay in running shape because I'm working on a Team Fatty LiveStrong fundraiser that I think runners will like. A lot. More on that soon.
I Am A Very Important Person and Have the Lanyard to Prove It
After cleaning up, The Runner and I headed down to the race venue to pick up the VIP passes that Amgen had kindly provided us with. Since this was the first time I have ever had a VIP pass at any event, I had no idea exactly how much wonderfulness one of these passes gets you. Specifically, it gave us access to bathrooms with plumbing. And to a never-ending buffet.
Most importantly, though, it meant that whenever we saw event staff blocking an entrance, all we needed to do was wave our passes and waltz on through. It was like having the keys to the city.
Before long, I started keeping my nose in the air and referring to everyone without a magical lanyard as "OSIPs" (Only Somewhat Important People).
But really, the head-expanding part of the day hadn't even begun.
Hanging Out With The Shack
I was told I'd be riding with the first Team RadioShack racer to do his TT: Dmitriy Muravyev. His start time was 1:40, but I should be at the team bus by 1:00.
I showed up at the bus, which had a fence around it, and a two- or three-deep crowd all around it. Trust me, it felt strange — in the most ego-expanding way possible — to be escorted past the fence and allowed the run of the place.
So of course I immediately started asking if I could have my picture taken with pretty much everyone and everything.
Here's me and Eki: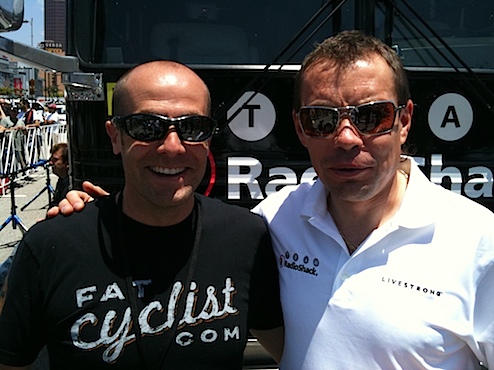 And me and Johan: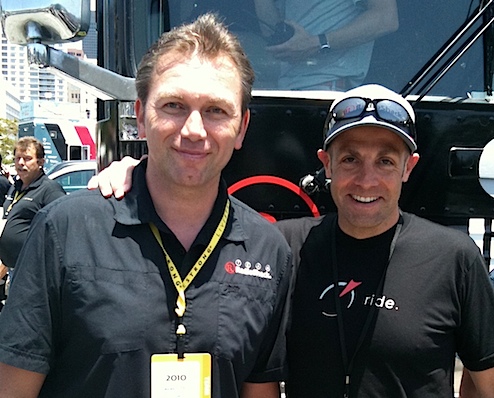 Note that in the photo with Johan, I have cleverly changed into a t-shirt from his new line of apparel, not to mention a Team RadioShack cap.
Hey, I know where my bread is buttered.
The Runner and I got a photo of us with Glenn, who took care of us both in Tucson and in LA.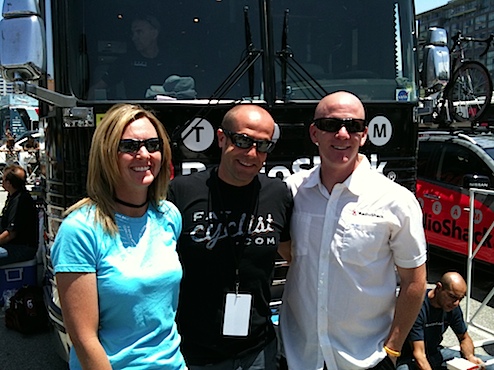 I'm going to interview Glenn someday soon. He's got some stories to tell.
And I'm always happy to see LiveStrong's Chris Brewer: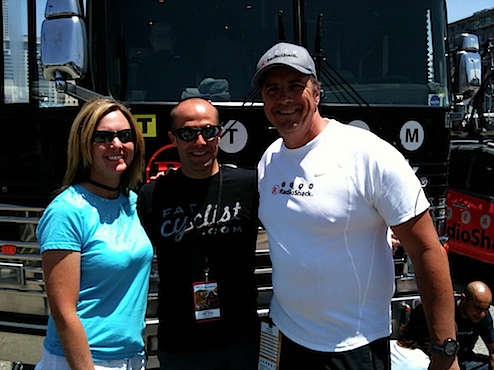 Then we went into the inner sanctum — the tour bus. Which was nice, but I didn't feel very comfortable inside — kinda like I was told I could hang out in someone's house, even though the home owner was inside getting ready for a very important business meeting in just a few minutes.
The weird thing though, was that the ghost of Keith Partridge was sitting inside. "He's been haunting the bus for years," said Johan. "We can't seem to get him to leave."
OK, I might have made that part up.
Go Time
Upon advice from Glenn, I didn't bother any of the riders as they started warming up for their races. "If they have a bad day," Glenn explained, "You don't want them using you as the reason for it."
So as Levi — usually the friendliest guy in the world — stepped out of the bus and started warming up, I avoided even making eye contact.
But I did get a picture of Dmitriy as he warmed up:
Dmitriy makes me feel much better about my own cyclist's tan.
Then, as Dmitriy finished suiting up, I took a peek in the mechanics' trailer: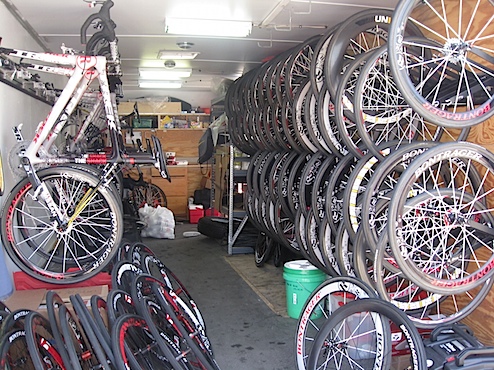 That's a lot of carbon.
Looking at my watch, I saw it was 1:30. Shouldn't we be getting in position? Oh well, if they weren't worried about it, I wasn't either. So I posed for a glamour shot in front of the team car we'd be riding in: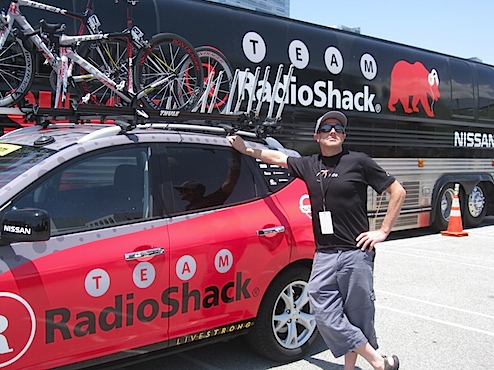 I am so vogue.
Seriously, It's Go Time
At about 1:35, Eki and Johan step out of the bus. "Let's go," they say. I climb into the back seat. "You're the mechanic for this racer," Johan tells me. Which is of course just fine, as long as the Dmitriy doesn't mind ten-minute tire changes.
I ask Johan and Eki to look back so I can get a picture. They oblige: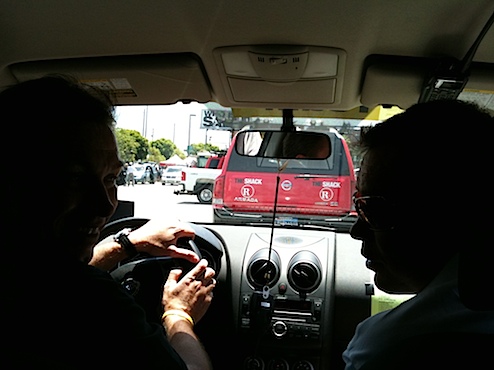 Seriously, that's really them.
"It's 1:38 right now," says Eki.
"I think we're going to miss his start," says Johan. "How do we get out of this parking lot anyway?"
All of this said very, very calmly, by the way.
Meanwhile, I am considering the fact that if I were driving behind one of my racers and I were in danger of missing his start, I would be completely freaked out.
"1:39," says Eki, as Johan pulls past a line of seven or eight other team cars, each of them waving him past. He's next.
"1:40 now" says Eki. Johan calm as can be.
We pull into the right spot for Dmitriy to go by. Bruyneel watches. Calm. Matter-of-fact.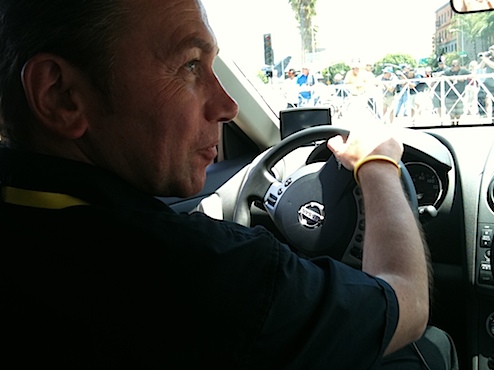 And then, approximately nine seconds later, Dmitriy goes by.
Johan floors it. My head snaps back. And now Dmitriy is just ahead of us: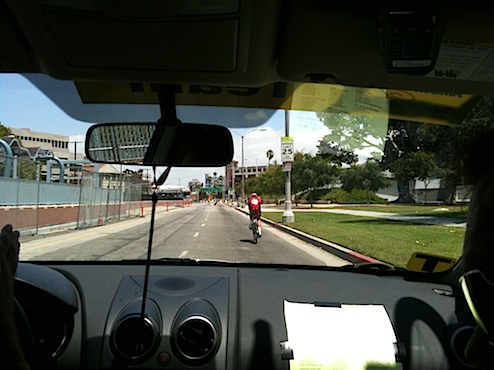 And this presages what the next forty-five minutes or so will be like.
Which is what I will talk about in tomorrow's post.
PPS: Team RadioShack put together the following video recap. I recommend watching it wholeheartedly. Which is to say my recommendation is wholehearted, not that I recommend that you get into a state of wholeheartedness before watching it. Although that wouldn't be bad, either. Anyways: