A Note from Fatty: You probably know Noodle from her incredible "100 Miles of Nowhere" video last year. Well, she continues to be a remarkable supporter of Team Fatty in our fight against cancer. Well, she crashed into a patch of poison ivy on Day 4 of her Trans-America ride to raise money for Team Fatty Austin, broke her wrist and blacked out, and had to be airlifted to the hospital. She's back in New York and on the mend, but I'm sure it would mean a lot to her if you dropped by her blog and left her a comment of support. You can also follow her on Twitter.
Fight Cancer, Look Stylish
Between the big LiveStrong / World Bicycle Relief fundraiser, my trip to Tucson and my trip to California, Johan Bruyneel had done plenty of nice things for me (and others lately).
But last night, I got this email from him:
Elden –

Back in Europe and I wanted to send you a quick email. First, it was so great to see you and Lisa on Saturday at the TT. We enjoyed having you by the bus and in the car for the ride behind Mura! It was an experience for me and Eki too, as normally there's a quiet mechanic sitting back there!!

Secondly, thank you for all you've done and continue to do for all these philanthropic organizations. Whether it be for LIVESTRONG, World Bicycle Relief, Amgen Breakaway from Cancer or your nephew in need of a new kidney, you continue to inspire me and remind me that it's about more than just winning bike races. From the comments I've read on my Twitter and Facebook pages and your blog, it's safe to say that many people are inspired by you as well.

From our discussions, I know you have some big fundraising goals for Team Fatty at the LIVESTRONG Challenges. So I was thinking of a way that I can help the 2010 Team Fatty. What about if we donated 100% of the profits from my online clothing store — from Wednesday, May 26 til the end of May — to Team Fatty's goal in support of LIVESTRONG? Whoever buys anything from the online store, we'll give all the profits to LIVESTRONG via Team Fatty. I think that may be a simple way to help you and your team out. Let me know your thoughts.

Let's also talk more about the other idea we discussed on Saturday. Something to think about when the season is over.

Need to go now.

Take care.

JB
Well. That's kind of awesome, isn't it?
Check out some of the cool stuff from the Johan Bruyneel Collection. I really dig the "Cobbles" t-shirt: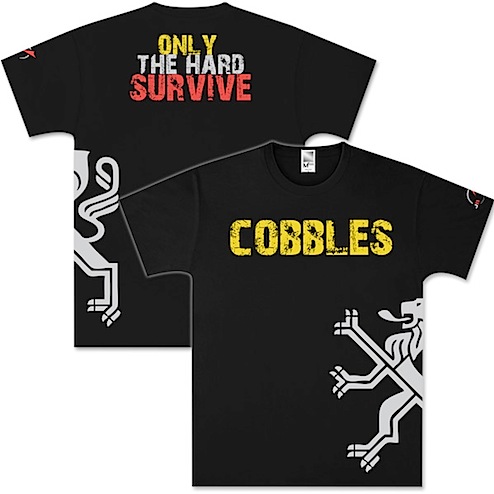 And the "Bruyneel Cycling" t-shirt is very cool too: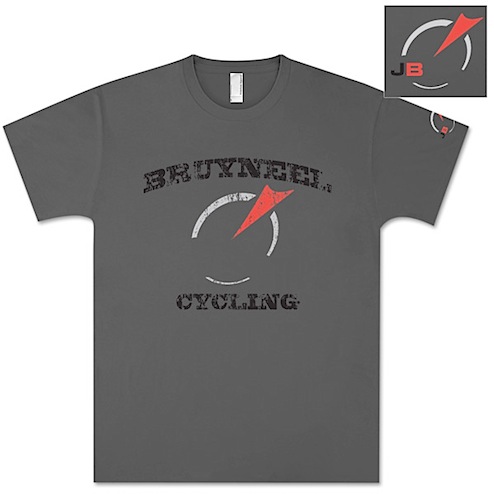 And I wouldn't mind having the "ride" jacket at all: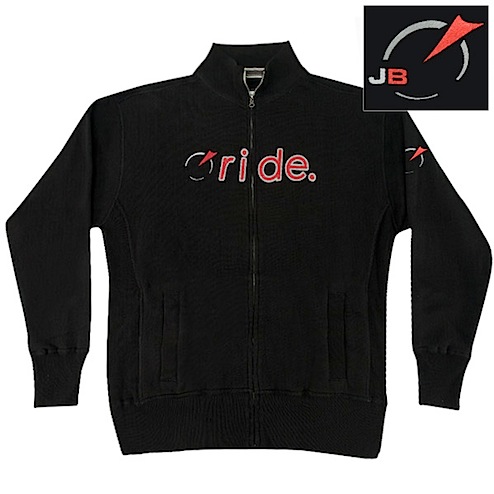 There's lots of other cool designs there, too. So: check out the Johan Bruyneel Collection here. You'll get some cool clothes and you'll be helping Team Fatty fight cancer.
PS: If you haven't joined Team Fatty in our fight against cancer yet, you should. For one thing, we're doing something important here. For another, the more — and sooner — you raise, the better your chances of winning something outrageously cool.
And I'm not being hyperbolic here; the stuff I will be announcing soon is going to make your jaw drop. And — get this — money you have already raised is going to improve your chances for winning every contest I run.
So, just hypothetically, imagine that I'm going to give away four really amazing prizes in the next few months (those of you who have followed this blog for a while might have an idea what an "amazing prize" might be). And suppose you sign up right now for Team Fatty in any of the four cities, and you raise $500 before the first contest is even announced. Well, that $500 gets you chances to win in all four of those big giveaways.
In short, join Team Fatty, raise a lot of money, and do it soon. You may win something nearly too awesome for words.
So get started. Pick a city and sign up: