A Note from Fatty to Utah Participants in the 100 Miles of Nowhere: If you're in Utah County or SLC, why don't you come do the 100 Miles of Nowhere with me? There'll be food, fun, movies, the guy from Ride the Divide, and probably some cool giveaways. Send me an email right away, letting me know you're interested. I need to get a headcount.
The St. George Ironman is barely a month a way, which means I should probably start training for it sometime within the next three weeks.
Ha ha! I'm just kidding, of course. I'm hard at work, training for the Ironman. Otherwise, how can I possibly hope to win it!
Specifically, I am concentrating on my transitions.
The Importance of Transitions
For those poor saps out there who don't know what a triathlon "transition" is, let me explain. The transition is the part of the tri (those of us in the know call the noble sport of triathlon "tri") where you stop doing one sport, change into a new outfit, and then begin the next sport.
It's also when you make a very important mental transition, telling yourself things like, "I am no longer a swimmer who is out for blood. Now I am a wobbly cyclist who can't hold a line."
Transitions are widely known as the third most exciting part of a triathlon. Partly because there's a good chance you're going to see someone naked, partly because everyone's so agitated and panicked that they tend to bumble about comically, tripping in their shorts and putting their shoes on the wrong feet.
By the way, in case you're interested, the second most exciting part of a triathlon is the start of the swim, because that is a huge, bloody battle and a fun place to make bets on how many racers, after the start, are left stunned and bobbing facedown in the water, having received a debilitating kick to the head.
A well-executed transition can happen in under two minutes, while a poorly-executed transition may take up to two and a half minutes. Which can totally make all the difference.
And that is why I have begun devoting ninety minutes each day to doing transition drills, developing my skills and technique.
My Transition Strategy
As an aspiring triathlete, it's very important to me that I do everything in the most efficient way possible. Toward that end, I am currently testing a number of transitioning strategies, timing them to see which is the fastest. Here is the short list from which I hope to soon choose a final transition technique:
Garanimals: In this scenario, I simply have everything I need for every event kept in one giant tote bag. Cleverly, I have sewn brightly colored patches of cloth onto each item belonging to each event. Everything for the bike has a green patch. Everything for he run has a red patch. So, when I get into the transition area, I simply begin grabbing stuff out. If it has the appropriate color of patch, I put it on. It's as simple as it is elegant. Sadly, I am red/green colorblind, so thus far I have had limited success with this this strategy
The Onion Method: I begin the day by putting on my running shorts and shirt. Over this, I put my bib shorts, then cycling jersey. Then my socks: a pair of running socks, covered by a pair of cycling socks. Then my cycling helmet, covered with a swim cap. Then, finally, my wetsuit. Then, as I finish each porition of the event, I merely peel off a layer, put on the appropriate shoes, and go. So far, the only problems I have are chafing, getting the wetsuit over all these clothes, and the fact that I am completely immobile and lose circulation to my arms and legs with this getup on. Which are minor problems, really; I'm pretty sure I can work them out..
Go for Simplicity: While both my above solutions are excellent in their own right, I've been considering just doing the entire race — the swim, the bike ride, and the run — in my awesome Aqua Sphere Icon Wetsuit. For one thing, I would save a huge amount of time otherwise expended in stripping the wetsuit. For another thing, I look and feel like a superhero in that wetsuit and would intimidate other competitors if I were to wear it. Especially if I wore a cape (a short one for the ride to keep it out of the moving parts of my bike, a longer cape for the run, so it would billow more fully). Best of all, I think I would lose about 80 pounds by wearing the wetsuit through the entire Ironman, so would finally be able to stop dieting.
My Transition Technique
Naturally, my transition strategy — no matter how brilliantly conceived — won't work if I can't execute it flawlessly. To ensure that I will be able to save the precious seconds in my race, I have begun serious training (all triathlete training must be conducted seriously) in transition speed and endurance.
For example, this morning I did 15 "reps" of transitioning from my wetsuit into my biking clothes. And I am exhausted. I tell you what: I have totally new respect for triathletes after that.
Tomorrow, my workout will be all about transitioning from cycling to running gear. Because this is an easier change, I plan to do "speed transition drills," changing back and forth between cycling and running clothes up to 50 times.
And on Saturday — my long workout day — I hope to do transitioning "bricks," where I change from the wetsuit to cycling clothes, then to running clothes. I will repeat this transitioning workout until I am simply too tired to zip up the wetsuit anymore.
This is ambitious, I know. But I — like all triathletes — am very serious about my transitioning.
In fact, I am so serious about my transitions, that I am focusing on them exclusively, figuring that if I can change clothes and get out on the course as fast as possible, the rest of the Ironman — the swimming, biking, and running parts — will kind of take care of themselves.
I can hardly wait for the transitions to begin!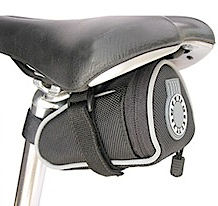 PS to 100 Miles of Nowhere Participants: You know how I said that participants in the 100 Miles of Nowhere would get a Banjo Brothers Mini Seat Bag? Well, the guys at Banjo Brothers took a look at their inventory and found that they don't have 500 of that Mini Seat Bag. So — awesome guys that they are — they're instead going to give participants the Deluxe Mini Seat Bag. It's the same size, but comes with better construction and little pockets that make it easy to organize the stuff in the bag.
Huge thanks to the Banjo Brothers guys for taking a little problem and turning it into a big win for the 100 Miles of Nowhere participants.
PPS: I hear that Willie of Willie's Dawgs in Brooklyn noticed my niece wearing her Fat Cyclist t-shirt a few days ago, and said he reads the blog. So: a shout-out to Willie, as well as to my niece, who is brave enough to wear a "Fat Cyclist" t-shirt to school. (My own children will do no such thing.)