This is my sister, Kellene: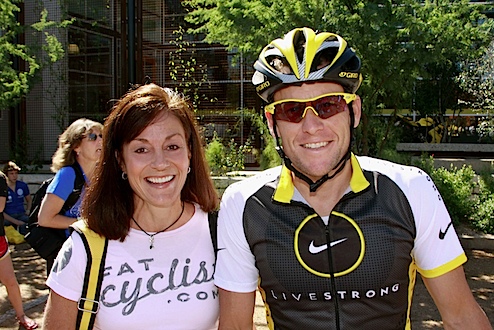 She's the one on the left.
Or, if you're a frequent follower of the blog, you might more easily recognize her this way: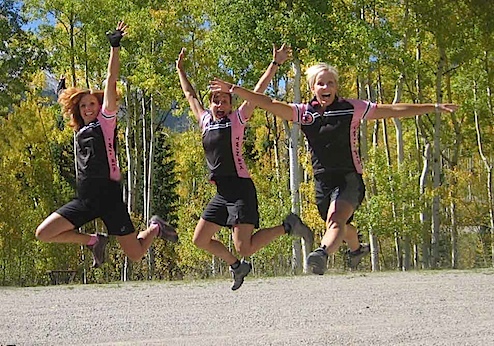 There, that rings a bell, doesn't it?
Kellene is — without question — the most helpful, giving person I have ever met. Last year, she lived at my house more often than she lived at her own home in Colorado. She took care of Susan, my kids, and my house so I could continue to work and keep my sanity.
At the same time she was helping my family, Kellene was also helping raise money to help the family of a friend of hers in Colorado — Justin Nye — who was fighting cancer, so they could pay their medical bills. By doing a dinner and auction with local businesses putting up most of the spiffs, Kellene helped raise more than $20,000 to help this family out.
To top it off, Kellene spends time each week tutoring disadvantaged kids.
This is just how Kellene is. She's pretty tough and she doesn't want anything in return for what she does.
But right now, she needs some help. And I'm hoping you'll help me help her. And if you do, You might win one of two very cool bikes — or one fairly uncool bike.
Dallas
This is Dallas, Kellene's son: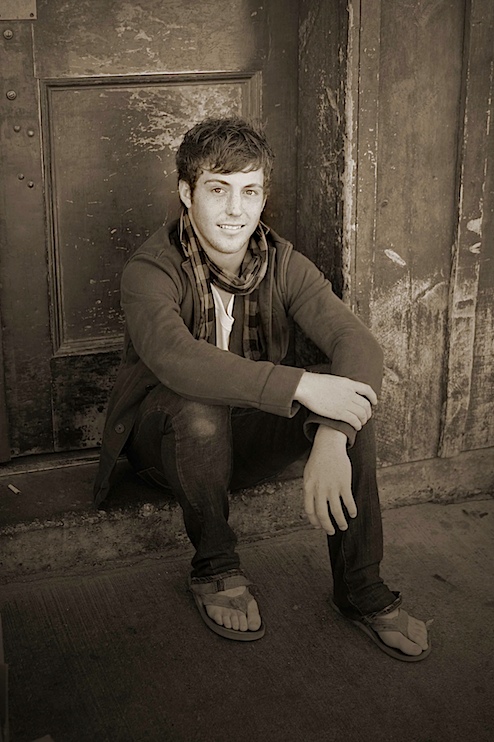 He's 22 years old right now, but has been dealing with kidney problems since before he was sixteen, when he went into acute kidney failure. He was in and out of hospitals for eighteen months while doctors tried to figure out what the problem was. They never diagnosed it, and when he was eighteen, Rocky — Dallas' dad — donated a kidney.
And things were good for about five years. Dallas worked in the oil fields to save money to move to the city of his dreams: NYC. He's been there for two years now, where he's gotten his real estate license and has built a small firm dealing with apartment rentals and leases in lower Manhattan.
The kid's the American dream, I tell you.
But then — right at the beginning of this year, Dallas' kidney started failing. A biopsy came back with — finally — a diagnosis: a rare, very aggressive form of Crescentic IGA Nephropathy. Which means he has an autoimmune disorder that produces antibodies that attach to the kidney and ruin the filtration system.
So Dallas has been in the hospital more often than not since the beginning of the year. He's undergone chemotherapy to stop the production of cells that were producing these antibodies. He's undergone seven rounds of plasma pheresis — a treatment that removes all the plasma from your blood and replaces it with donated plasma.
The good news is, this has worked. The bad news is, it's worked too late — Dallas' kidney is toast. Dallas has started dialysis and needs another kidney. Three members from Kellene's family will be tested (I wanted to, but Kellene says I currently have other fish to fry), and we'll go forward from there.
And meanwhile, the bills are getting scary.
Help Kellene, Win My Madone or My Sortie
Kellene and Rocky have medical insurance, but it's not going to cover everything. Not even close. Optimistically, they are going to be on the hook for $50,000, and very likely much more.
So this is my chance to do something to help. And I'm asking you to help me.
I'm going to have a contest to win three bikes. Now, since this is to help out a relative, not a cause, I felt a little bit weird asking companies to donate product.
So this contest is to win three of my bikes. And I think you'll find they're not half-bad bikes to win. Except one of them, which definitely feels like a consolation prize. But still: free bike!
Let's start with the road bike, shall we? You might recognize this bike: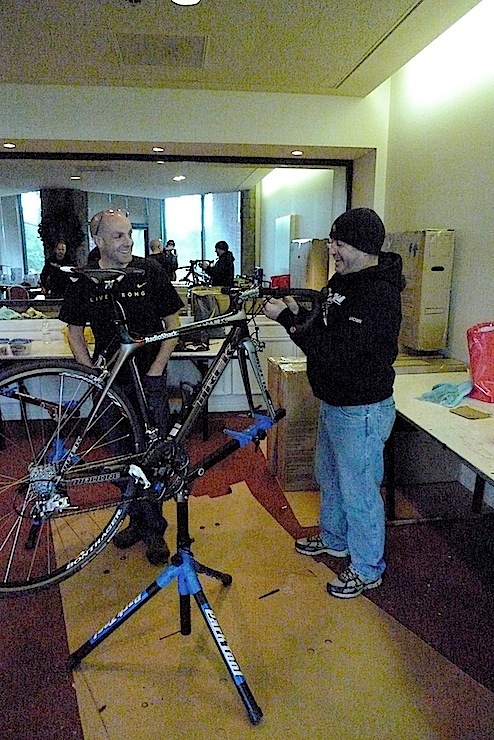 It's the Trek Madone, powered by SRAM Red components, I won for my ride with Team RadioShack. It's been ridden exactly once.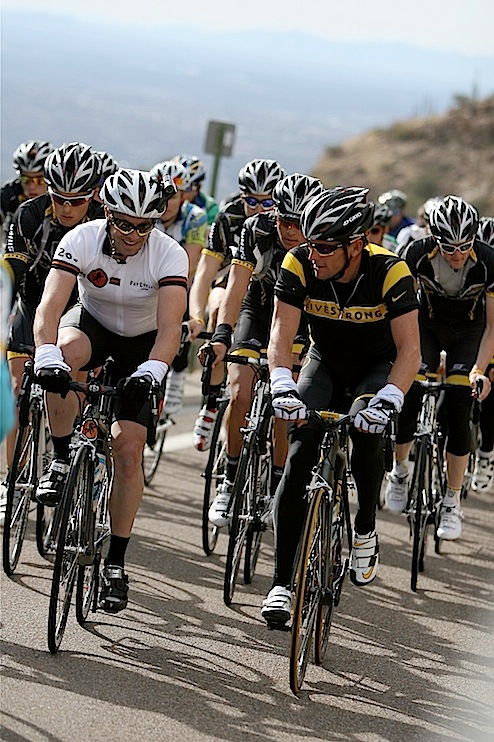 It still has the Fat Cyclist sticker on the headbadge and "Fat Cyclist" scrawled in Sharpie on the seatstay. It's an awesome bike (54cm) with an awesome story to go with it. And you can win it.
(And by the way, both Johan Bruyneel and Trek have given me the thumbs-up for giving this bike away.)
The second bike you can win is my Diamondback 2009 Sortie Black (size: Medium):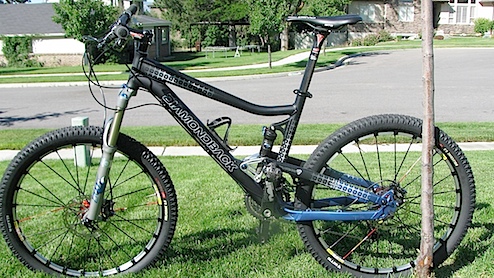 It's an all-mountain, 5″-suspension bike that has been upgraded to an almost ridiculous extent, the result being that it weighs only 26 pounds.
That's a decent weight for a hardtail. Go here for more details on this bike, which is in basically new condition. Or go to the Diamondback site for info on the 2010 version of this bike.
The third bike you can win is…my three-year-old, heavy-as-lead Lemond Fillmore singlespeed road bike with bullhorn bars and TT brake levers!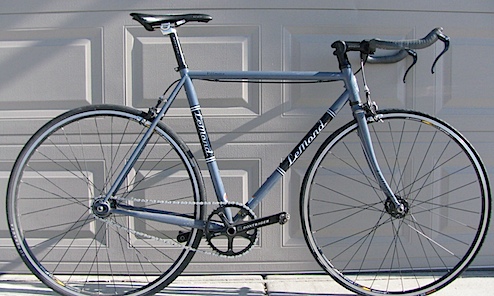 This is a total bottom-end, steel-framed singlespeed road bike. But it's in perfect working order. And the fact is I put a lot of miles on it last year, and have it to thank for getting me into good shape. I developed a good, smooth cadence by riding a lot of miles on this thing on the flats, and I got stronger by trying to haul it up mountain passes.
Oh, and it would take very little work to convert this into a fixie, if that's your thing.
How to Enter
This contest works much like other contests I've run. For each $5 you donate, you get a chance at the prizes. In this case, however, your donations give you a double chance, since both bikes will be awarded from the same donation list.
In other words, when you donate your $5 — or $10, or $25, or $50, or whatever — you're getting chances at all three bikes with each $5 you donate. Theoretically, at least, one person could win all three.
It's easy to donate. Just click the button below, then enter the amount you want to donate and fill out your credit card info.
Note: the Paypal email address is bwright [at] gllblaw [dot] com, and your receipt will show a donation to Brad Wright. This is correct; Brad is the person administering the nonprofit that the funds will go through.
And if you're too tall or too short to ride these bikes, may I suggest you donate anyway and then give someone who these bikes would fit an awesome surprise.
When to Enter
You need to enter now, because this contest is going to be short — less than a week long! The last day to donate is Monday, March 1, at Midnight MDT. I'll be emailing the winners Tuesday morning and announcing them as soon as I hear back.
And Rocky will be in charge of mailing the bikes out, because — trust me — you do not wanting me boxing up a bike and mailing it to you. Not if you want it to arrive in rideable shape, anyway.
Thanks
I've said, many times, that the very best thing about this blog is the generosity and kindness of the readers who are willing to help me out. So — once again — thanks for helping me pay back a little bit of the huge debt of gratitude I owe my sister Kellene.