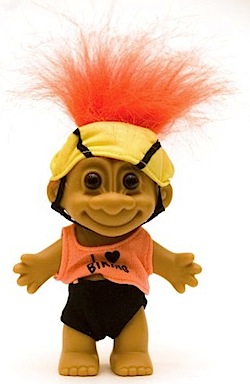 New Prize + Update on the "Help Fatty Help Kellene Help Dallas Get a Kidney" Fundraiser: In honor of a couple of comments posted by A Troll Who Wants to Know What Happened to This Blog, Philly Jen — fearless and awesome leader of Team Fatty Philly (join today!) — has added an additional prize to the fundraiser: The Troll House Cookies Bake Sale Prize. Yes, in addition to the three bikes I'll be giving away, one additional lucky winner will be sent a large batch of "Troll House" chocolate chip cookies, made and shipped by Philly Jen herself.
Not everyone can ride a 54cm bike (or two, or three). But who doesn't love a giant plateful of something homemade, sweet and delicious?

These special treats will even be walked under several bridges on their way to the post office for an extra dose of troll magic. The winner will also receive the ceremonial trophy pictured at right.
Also, as of this morning, we've raised $19,484.89 (the amount isn't in a round $5.00 increment because Paypal takes a small cut of each donation). That is going to help a lot.
For more details on the prizes, click here. To donate and enter the contest, click the button below:
And remember, the contest ends Monday at midnight, so don't delay entering!
And again, thank you.
Cheating in the Water
Last Friday, The Runner and I got something pretty awesome in the mail: Aqua Sphere Icon wetsuits, designed specifically for the swim portion of the Ironman (Full disclosure: I did not pay for these).
I had been wondering for a while whether a 2.4-mile swim was within my reach; trying out the wetsuits seemed like a good excuse to find out. So on Saturday we went to a local olympic-sized pool, grabbed a lane, and got swimming.
You know what these wetsuits are? They are swimming miracles. That's what they are. Suddenly, my legs stay on top of the water, whether I'm kicking or not. Which means that suddenly, I'm cruising through the water faster, with less effort.
I swam 2.5 miles (that's 40 laps — I did the last .1 mile to show the pool it hadn't beaten me) without particular difficulty. Took about 85 minutes.
By putting on an outfit, I had gone from being a really bad, blunt-instrument-approach swimmer to being a pretty decent swimmer. With no change at all in my actual swimming ability.
In fact, thanks to this suit, I was able to slack off on my swimming technique even more. Just to see what would happen, I stopped kicking altogether for several laps, just letting my legs float there, having my arms do all the work. This would be a terrible idea without the suit. With the suit, I moved along just fine. In fact, I now plan to use my legs as little as possible during the swim part of the Ironman, seeing as how I'll be using them quite a lot during the other two legs (ha!) of the race.
Meanwhile, The Runner, who has spent considerable time developing actual good swimming technique, did not get the same kind of benefit from the suit. Which is to say, these suits seem to really level the playing field. Which is great for people who are rotten swimmers — e.g., me — and not so great for people who have invested considerable time and effort in being good swimmers on their own merits.
The one thing both The Runner and I noticed about the wetsuits is how incredibly warm the insulation makes you. This, I'm expecting, will be my favorite thing about the suit when I begin swimming in the cold water of a reservoir on May 1.
In the heated indoor pool, however, the insulation left me feeling like I was swimming in a hot tub. Except larger. And with fewer bubble jets.
It was hot like riding in Arizona. But not a dry heat.
Here's how I looked afterward: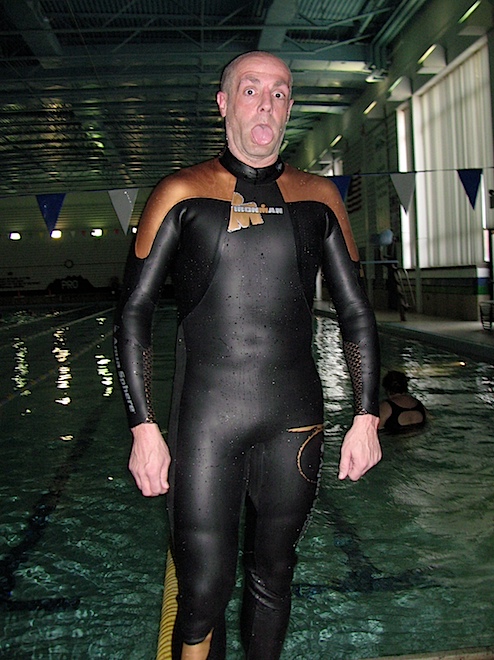 No matter how often I look at this photo, I just can't get over how darned sexy I look. Especially my wetsuit-compressed gut and my visible-through-the-wetsuit belly button indentation.
Fatty = Sassy.
The Problem with Wetsuits
Make no mistake: I am incredibly grateful for my wetsuit. Thanks to it, I have a prayer of finishing the swim portion of an Ironman alive and still able to turn over the cranks. Furthermore, this particular wetsuit is awesome. Wearing it, I can move my arms and legs as freely and comfortably as I do without anything at all on (no photo of that, for which you can be grateful).
But it feels kind of unfair to allow the use of these suits. While a wetsuit gives everyone who wears one an advantage over anyone who doesn't, it seems to me that they give poor swimmers proportionally more help than they give excellent swimmers.
Now, since I'm a lousy swimmer, I'm OK with that. But then I consider: what if there were a set of bibshorts that somehow moderated gravity, making you weigh 145 pounds, no matter what your previous weight was. Further, those shorts force you into a nice aerodynamic riding position and assist your upstroke, so you have a better, smoother cadence.
Well, yeah, I'm pretty sure I'd want those shorts. But they wouldn't help me as much as they'd help The Unholy Roleur. At least, not during the climbs.
As it turns out, an unearned advantage is most enjoyable when you're the one who didn't earn it.
But I'm still really glad I have this wetsuit.
PS: I've been interviewed and podcastified by helpabikeshop.com. Check it out here.