A Word of Explanation from Fatty: As a deep-thinking and high-minded person, I sometimes write an ode to important foods. I have, for example, written an ode to scrambled eggs. And to the Seven Perfect Foods.
But I only write poetry when my heart overflows. When there is a food that truly matters. In the past, I have published only one other ode, in free verse. It was to the clementine.
Today, I shall honor you with poetry again.
It is not for the calcium
That I know for sure
Because I get plenty of calcium
From ordinary milk
And from eating Ben and Jerry's ice cream
(New York Super Fudge Chunk is my favorite)
Why then, o chocolate milk
Do I love you beyond measure?
Why do I treasure you
Above all other drinks?
I ask rhetorically of course
For I in fact have many reasons
I read somewhere
On a long-forgotten day
That you are an excellent recovery drink
And that, I must confess
Was the reason I began buying you
At least that was my cover story
And it is true!
You are delicious after a ride
Or, as of late, after a run
It matters not whether the day is hot
Or if it is cold
You are delicious and make me feel better
I lift you up
Still in your one-gallon container
And I drink my fill
And my children cannot do anything about it
Because I'm the dad
That's why
And let us be clear
What I mean by chocolate milk
Which is the pure expression of creaminess
That comes cold in the dairy case
And is not powder that semi-dissolves in plain milk
That stuff is nasty
What makes you so delicious?
What makes you so creamy and good?
What does "From cows not treated with rBST" even mean?
And how is it possible that 1% milkfat
Still seems so thick and wonderful?
You are as mysterious as you are perfect   
O chocolate milk
I feel I have slighted you
For thus far I have treated you as if
You were nothing more than a post-ride drink
But in truth I drink you all the time
And you are incredible when used to make Oreo milkshakes
O chocolate milk
I drink you
PS: After this literary tour de force, I feel I hardly need ask, but I will anyway. Vote for me in the 2010 Bloggies. I'm nominated in the following categories: Best Sports Weblog, Best Writing of a Weblog, and Weblog of the Year. Click here to vote. Or, I swear, I will write more poetry.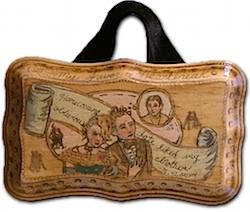 PPS : My sister Lori — over at LestWeForgiveProject.com — needs your love-and-heartbreak stories for an art project she's working on. In her words:
I am an artist who Needs to Know. As luck would have it, I have found some nice and seriously hot-looking indie people who also Need to Know at Urban Alchemist, a shop full of handmade stuff in Brooklyn. And so, we need your story of heartbreak and glory. I want to illustrate them, memorialize them on tiny carved pine plaques, hang them by the dozen in the shop window, and witness the undisguised shadenfruede of passersby and schoolchildren.

Is this wrong? Would you willingly participate? Ok, then.

These plaques are tiny, so I issue a challenge to you, the heartbroken and triumphant amongst Fatty's readers: Keep your heartbreak or triumph down to six words. Hemingway did it in what he considers his best story. You can too? Yes, you can too.
Click here to read more, see more plaques-of-woe and leave your own (very very) short story.