A Note from Fatty: Believe it or not, tomorrow is the last day you have in the "Win An Ibis, Take it Anywhere You Want, and Ride it With Andy Hampsten, Chuck Ibis, and Fatty" Contest. If you haven't entered yet, read the contest details here, then click here to go enter. Don't delay! Operators are standing by (except they're not really).
And now, Part III of "The Great Bike and Trail Pairing" miniseries, written and photographed by Chuck Ibis himself.
The Southwest is for Mojos
So far we've had a pair of pairings of idea bike and ride locations, mere suggestions for the winner of our contest. Maybe our winner can do us one better?
Today I'm thinking about a much broader geographical area, that of the great Southwest…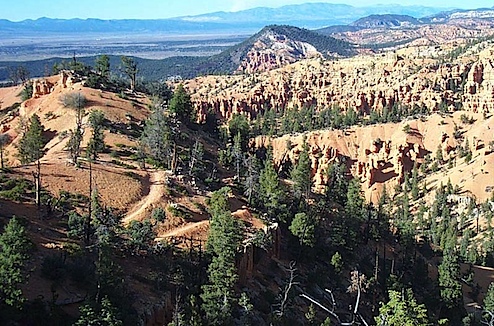 …and the Ibis Mojo.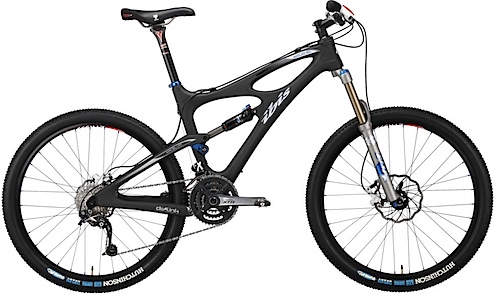 Think about Moab, Zion, Fruita, Thunder Mountain and more.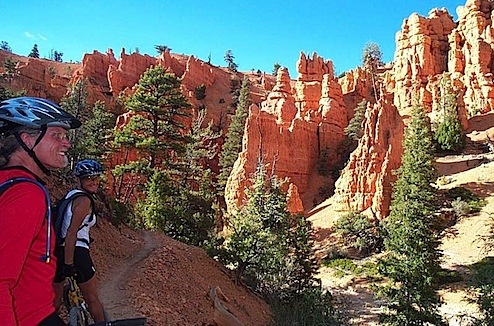 This one is about as obvious a pair as salt and pepper. Give the Mojo what you want as far as trail obstacles…rocks, ledges, jumps, lions tigers and bears…and oh my it will take what you can dish out.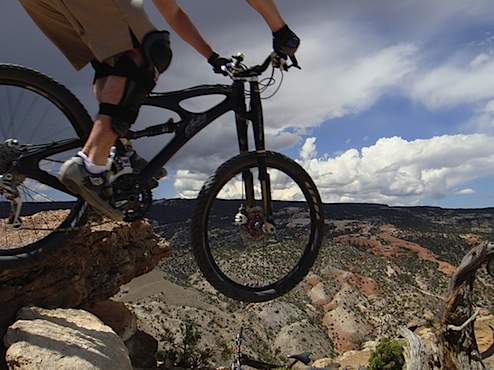 It's almost too wonderful to take in. Yeah, I mean both the view and the bike.
But here's the thing. If you don't enter, you won't win. You won't win the Ibis of your choice, with a ride in a place of your choosing, along with Andy Hampsten, Fatty and me, unless you go and donate to the Lance Armstrong Foundation. Do it here. Do it now.
(And now, back to the scheduled post of the day)
What I'm Going to Say In Austin
This week, I'm going to be in Austin for the LiveStrong Challenge and Ride for the Roses. And at some point, the Lance Armstrong Foundation is going to reward everyone who's worked so hard to raise so much money in this fight against cancer by…having me stand up and talk to them.
That hardly seems fair, does it? I mean, after all these people have done, you'd think the LAF would instead hire a troupe of singing monkeys or interpretive dancers to entertain these good folk.
But having a blogger talk to them? Ew.
But the thing is, I do have something that's been on my mind. It's short, but it's what I've been thinking.
Here it is. Or at least, here's how much I've gotten so far.
Fatty's Austin LiveStrong Speech
Lance Armstrong and I have some very interesting similarities. For example:
We both like bicycles, and have been known to ride them from time to time.
We both like the Tour de France, and have been known to participate in it from time to time (I consider viewing an important form of participation).
We both like the Leadville 100, and have each completed it a dozen times. What? He's only done it twice? Well, at least we both do it on rigid singlespeeds. What? He races on a full-suspension bike? With gears? Well, where's the challenge in that?
We both have earned a measure of Internet celebrity by writing about Lance Armstrong.
We are both within 3 years of turning 40. 'Course, My three years is in the opposite direction, but still.
There are some much more serious similarities between Lance and me, though. We've both been hit hard and personally by cancer. Lance fought it himself; I fought it alongside my wife. And it changed and focused both Lance and me.
I think Lance would agree that during your own battle, you are — rightly — focused on yourself and your own treatment. When you're fighting cancer, you've got to marshal all your energy — and the energy of anyone who is willing to stand with you — and engage the battle.
Eventually, one way or another, everyone's personal battle with cancer ends. Lance's ended with a cure and restoration to health.
Susan's and my battle ended with her passing away last Summer.
And this brings up another important way Lance and I are similar. Somewhere along the way, we've each realized that the fight against cancer is far too ugly, far too awful, and far too painful to treat as simply personal.
At some point, we've each decided that we've got to do something to help other people in the fight.
Now, there are a couple of other interesting ways Lance and I are similar. We're each the dad of four kids. Two boys, and two girls.
That's perhaps not so very unusual, but this part is: my girls are twins, and are just about three weeks older than Lance's girls, who are also twins.
And when I think about breast cancer and what it did to my wife, and the way it did the same thing to a grandmother I never knew, and how cancer has affected an almost ridiculous number of people in my family — my wife, my grandmother, my father, my sister, my stepmother, my stepfather — and then I think about my girls.
We've got to find more and better ways of treating this. Of detecting. Of someday curing it or better yet preventing it.
Because that's another way Lance and I — and most everyone else — is the same. We've almost all been affected by cancer. And the horrible thing is, we're all probably going to be affected by it again, sometime in our lifetimes.
So we've got to do something. For those close to us now, and for those who we don't even know right now.
Which is And that's why I'm proud to help raise money for the Lance Armstrong Foundation. I've seen, firsthand, the sense of purpose — of mission — in the people here. From Lance to Doug Ulman to Colleen O'Farrell to AnneMarie Rickes to Ron Kolenic to Chris Brewer to many, many others.
These are people who care about this fight as much as I do. And I've seen them care about it on a personal level and on a global scale.
I think the fight against cancer always starts as a personal battle. But for me — and for Team Fatty and for Lance and for the Lance Armstrong Foundation — it's grown way, way beyond that. The fight doesn't end with your own battle against cancer. It doesn't end at all. It just gets bigger.
And it never stops being personal.