After two days of hanging out, schmoozing, and generally doing my absolute best to counteract all the work I've done to become fit these past few months, it was finally time for the LiveStrong Challenge ride.
As befits an award-winning, beloved internet cycling superstar celebrity blogger, I arrived at the start line with just moments to spare, and pushed through self-importantly.
Then I acted like I had been there for hours.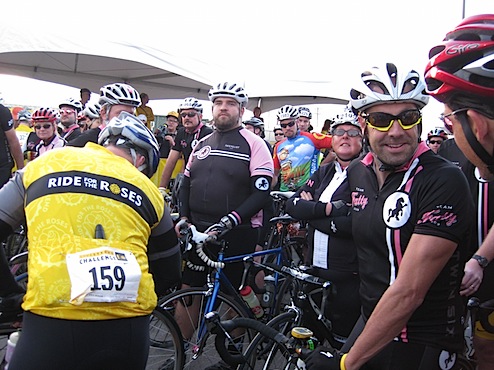 Luckily, I was not the last guy to arrive. Lance arrived and got to the start line a few minutes after I did.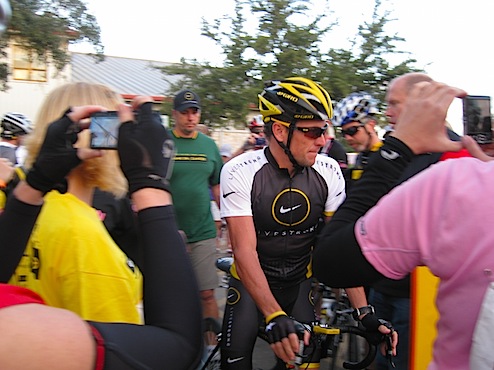 That's Chris Brewer in the green shirt in the background, by the way. An incredibly terrific guy and survivor who's made the fight against cancer his life's mission.
Plans, Changed
I had made no secret of my plans for the LiveStrong Challenge ride. Using the front position Team Fatty had earned to maximum advantage, I'd go out hard, doing my absolute best to hang with the fast guys for as long as possible. Then, once they dropped me (and I knew they would drop me), I'd try to finish as fast as I could and get to the finish line. After that, I'd greet and thank Team Fatty as they crossed the line.
Well, that plan changed before the ride ever started.
Lance's group of fast guys were positioned ahead of us. And then, to my surprise, they took off, while officials stopped us from going.
I guess Lance needed some "alone" time.
We didn't get to leave the starting gate until about six minutes after Lance's group did. And it seemed, um, unlikely that I would be able to make up six minutes on Lance and his group of fast friends.
So I decided that I'd make the second part of my plan the only part of my plan: Finish the ride quickly and hang out with Team Fatty.
Toward that end, I figured there was no special reason for me to ride the 90-mile course. I'd finish the 65-mile course sooner and see more people (Yeah, I could have applied that logic to its extreme and only done the 20-mile course, but I wanted to get a bigger ride in than that.)
The Ride
Once the ride did start, I did my absolute best to get to the finish line fast. MattC — Team Fatty San Jose Co-Captain — did an incredible job being my leadout guy. He completely demolished himself bridging me to a group of eight guys who were riding a very fast pace, after which he said, "That's it for me," and settled in to enjoy the rest of the ride.
So for the next few miles, I buried myself, trying to hang with this group.
The group quickly shrunk. Before long, it was down to just three of us, with the same guy pulling the whole time. I wouldn't be surprised if that guy managed to bridge.
As for me, I just couldn't stick at that pace, and finally dropped off.
And then, for the next ten miles or so, I time trialed. While there were lots of people out on the course — many people start the ride on their own, without bothering about an official start — I'm pretty sure that for about the first several miles, I was the third-placed person who actually started when the gun went off (i.e., not with Lance's group, and not with the self-starters.)
Then a group wearing Mellow Johnnies jerseys caught and passed me, letting me know my seatbag was dangling. I stopped and fixed it, at which point TC and MattC caught me and we rode together for a while.
But I was on a mission, so before long I gapped them and continued on.
65 miles can go by pretty fast when you're going hard, and there aren't many hills (in the 65-mile course, only one sticks out in my mind as being even remotely significant). Two bottles of water and three packets of Shot Bloks were all I needed for this kind of distance, so I didn't stop at any of the aid stations. I just blew through and kept working toward the finish line.
Kellene, meanwhile, was cruising the same course, taking pictures with people and having fun. Here she is with Delvis: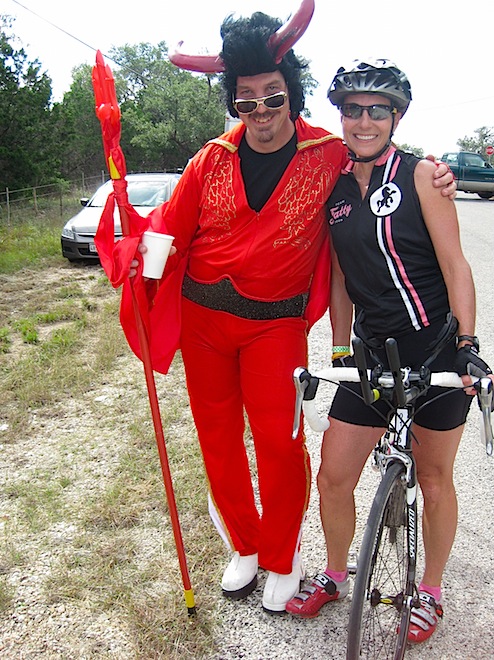 Yes, she is a little creeped out.
The Finish Line
I finished my ride in three-ish hours. I think. I retrieved my bag, changed into comfortable clothes, went and grabbed some food and drinks, did a couple interviews (yes, really), and then got back to the finish line, just in time to see Lance finish the 90 mile course.
At that point, I made myself a fixture, looking for anyone in a Fat Cyclist jersey crossing the line, and congratulating them and thanking them for what they've done.
Kellene wasn't far at all behind me, in spite of the fact that she had done the ride the way it's meant to be ridden: as a big ol' party.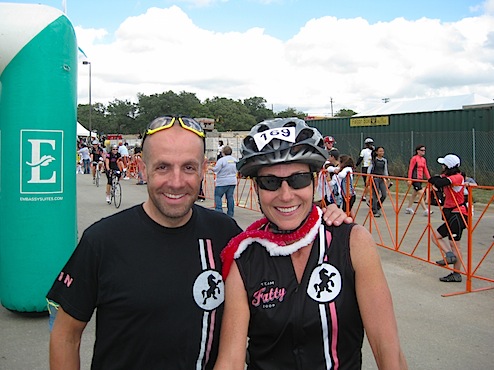 And after that, I just hung out an enjoyed myself, loving the fact that I have the biggest, most fundraisingest, friendliest, and generally awesomest team that has ever kicked butt in all four LiveStrong challenges.
And that's not subjective. That's quantifiable.
Here are a few of the photos. There's many more (post them in comments, Team Fatty!) that others took: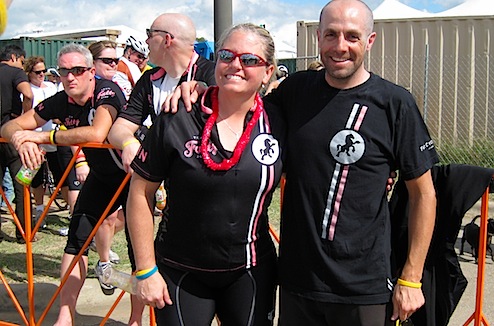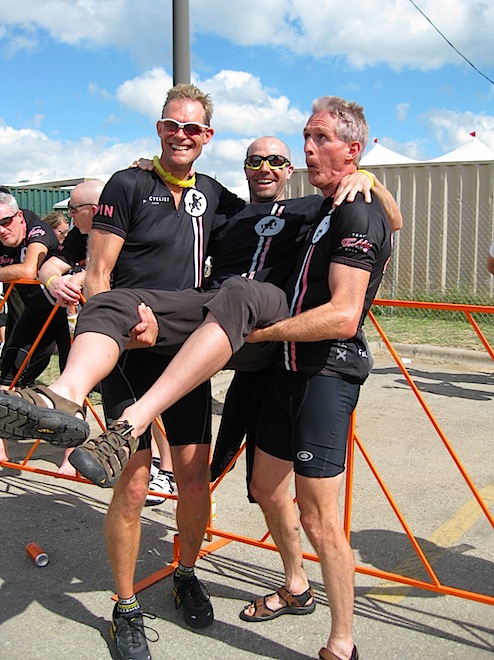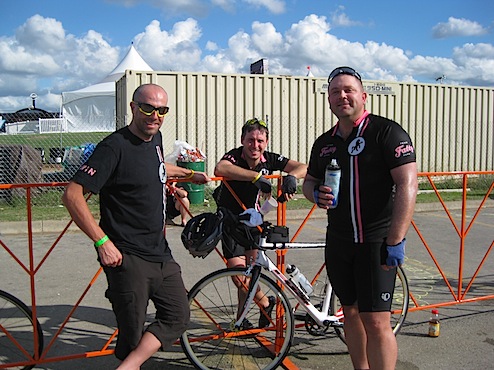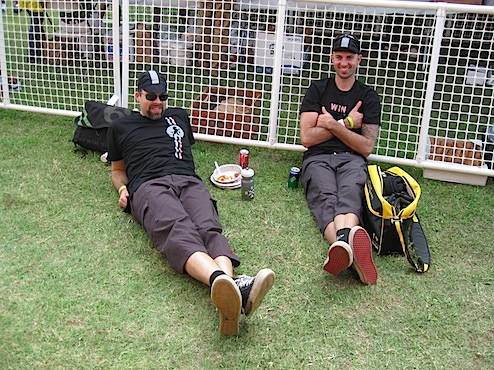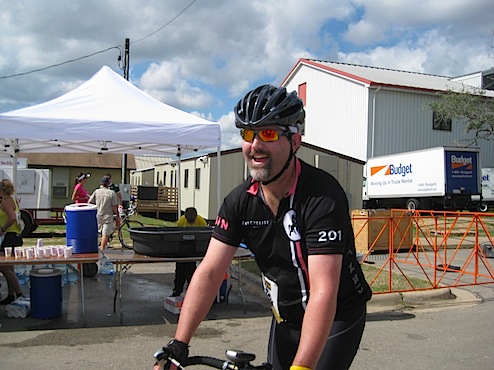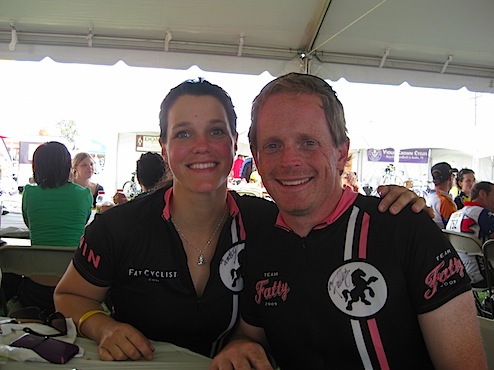 I stayed right to the end — tired, but not wanting to miss a single Team Fatty member who had stuck it out to the finish.
Eventually, the last rider came through. Those of us who remained made an aisle of people and tossed yellow rose petals all over him as he came through.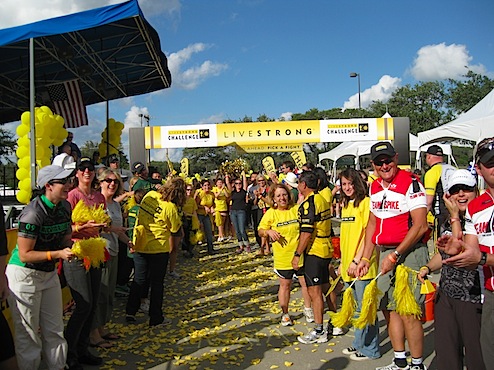 The poor guy — not a Team Fatty member — was totally cooked, though, and I don't think he enjoyed the attention right then.
Then, with the finish line to ourselves, Kellene and I tried getting in a jump pose.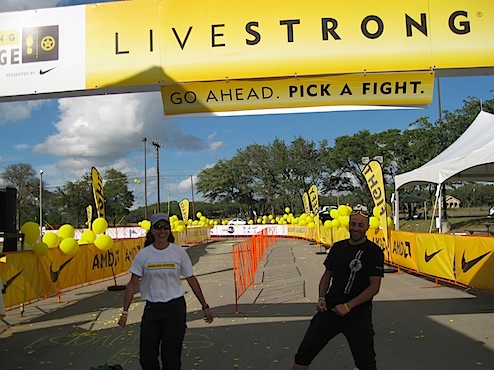 Not a single one of them worked.
I went back to the Ride for the Roses staging area to pick up my stuff and head back to the hotel, where I said bye to Bill — who met me at the airport and was practically everywhere during the event: an incredible volunteer! — and Fred, who took flawless care of hundreds of bikes and loaned me his very nice Cervelo road bike for the Challenge ride itself.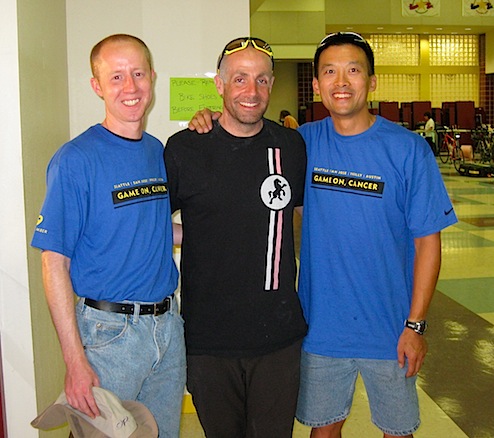 Seriously, the LAF staff, volunteers, and Team Fatty are some of the best, friendliest, hardworkingest people I have ever met. And they made this an extraordinary weekend.
I'll be back in 2010. And I have a feeling Team Fatty will be bigger and more awesome than ever.