Believe it or not, today — up until Midnight (MDT) tonight — is the last day you have to enter the "Win An Ibis, Take it Anywhere You Want, and Ride it With Andy Hampsten, Chuck Ibis, and Fatty" Contest.
Just in case you have forgotten, here is what you win with this contest:
You get a bike. But not just any bike. An Ibis bike. And not one we pick out for you. You get to decide which one suits your fancy best: a Mojo SL? A Tranny? The Hakkalügi? Or a Silk SL? Really, you can't go wrong.
You get to take it for a ride. Where would be a great place to take that new bike for a ride? Think about it long and hard. Cuz we're going to send you there.
You get to ride your bike with two famous people, and one beloved, award-winning, Internet cycling blog celebrity (me): Andy Hampsten and Chuck Ibis are going to go riding with you at your awesome place. Seriously. Andy. Freaking. Hampsten. And I'm coming too, because Chuck is awesome and because I want to meet Andy, too. And because I love you.
So, that's not a half-bad prize, is it? No sir, it is not. Especially considering the fact that even if you don't win, your donation is still doing a heckuva lotta good. Specifically, it's going straight to the Lance Armstrong Foundation, to help them bring the fight to cancer.
But guess what? Just to help those of you who are on the fence about donating get off the fence, today we're going to throw in a couple of last minute prizes (and for those of you who already donated, don't worry: if you win, you still definitely get these prizes).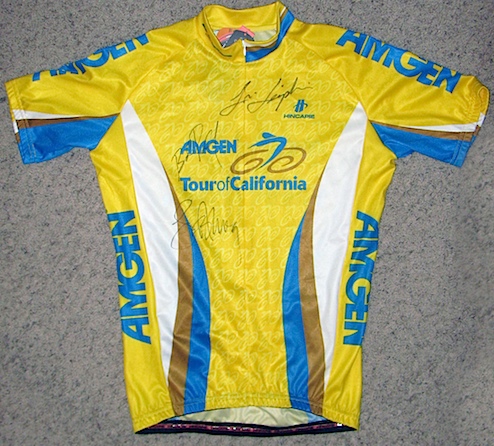 First off, you'll get this Tour of California jersey, which is signed by Lance Armstrong, Levi Leipheimer, and Bob Roll.
I've been holding on to this jersey for a long time (since the Tour of California), waiting for the right moment to give it away. And the last day of the last big contest seems like a good moment.
And, as if that weren't enough, you're going to get one more thing: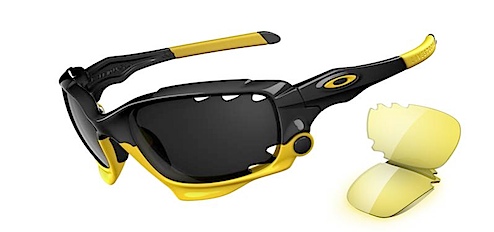 Yes, that's right. The winner of this contest gets a pair of Oakley LiveStrong JAWBONEs. Now, I have a pair of these, myself. And I don't mind saying that they are, bar none, the best cycling glasses I have ever owned. Changing out the lenses takes seconds. The glasses fit so comfortably. And they look good, even on a doofus: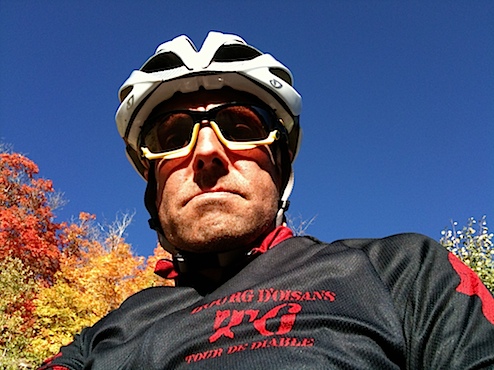 So, you know what I think you should do? I think you should read the contest details here, then click here to go enter.
Thanks.
And Now for a Little Bit About the Ibis Silk SL
You know, this isn't the first time we've given an Ibis bike away. Last year, we had a similar contest, and Friend of Fatty Matt Kreger won it.
Well, he's had that bike for a year now, and it's looking darned good: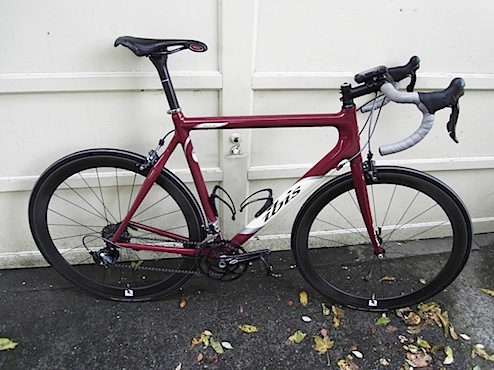 Along with this photo, Matt emailed me, saying, "As it sits, this bike weighs under 15 pounds. I love my Ibis Silk SL.
And let me add my own two cents. I also have an Ibis Silk SL — currently being built up as a 13-pound SS Road Climber's Delight project — and I love mine too.
This is a great bike. A really great bike. Which leads us to Chuck Ibis's final installment in…
The Great Bike and Ride Pairing Miniseries
It's time to talk about the wine country.
One of the things I've been lucky enough to do is spend a lot of time riding in the great cycling regions of the world and in particular Mediterranean Europe: Spain, Italy, France and Switzerland. Even luckier, I get to guide for Andy Hampsten's touring company based in Tuscany, where he's found some of the best roads on the planet. Here's an example (Courtesy of our friend Arnaud).
Not only do Andy and and I have hairy legs in common, we both share a love for riding in Sonoma County, where I live. It's also where another pro you might have heard of lives, named Levi Leipheimer. The point is, these guys ride all over the world in the best places, and one of their favorites (enough so that Levi lives here and Andy rides here and leads tours here) is Sonoma.
Here's a picture of me riding my Silk SL out on King Ridge road on this year's GranFondo route.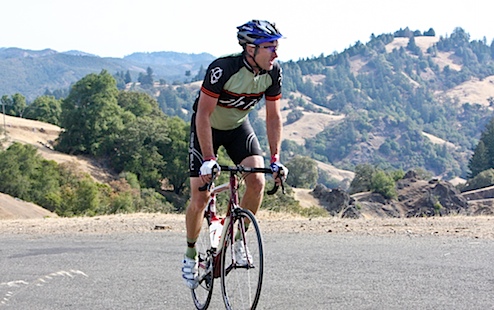 The "King" of rides around here is called King Ridge road. That's only the tip of the iceberg as far as our choices go. Years ago we made a water bottle celebrating our favorite rides in the area.

That's right, the Safeway pony is one of them.
Raffle Winner, if you choose any of these rides, prepare to smile. And for the rest of you, you might want to save this graphic. If you ever need a ride guide for Sonoma County (and over into Napa) this will serve you well.
After the winner's glorious ride in Sonoma, maybe a trip down to San Francisco (an hour south) will be in order.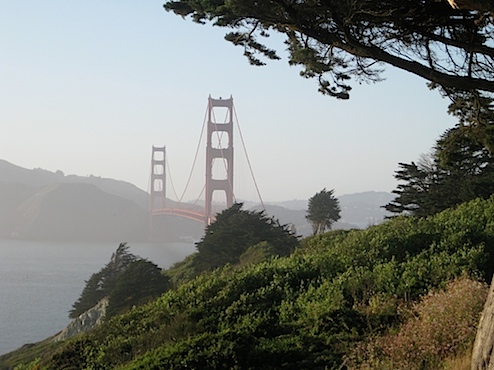 You could do worse!
PS From Fatty: This contest is seriously the best I can do. The last big contest of the year. The grand finale. I'm maxed out here. Exhausted, really. And you're fighting cancer when you enter. So, one last time: Click here to enter,

And I hope you win.