A Note from Fatty: Tomorrow I'm kicking off a huge new contest to raise money for the Lance Armstrong Foundation. As it often does, this one involves a bike, but this time it involves a lot more than a bike. Check back tomorrow for details!
I had good intentions. I was going to liveblog and post pictures frequently and everything.
Really, I was.
But maybe it's the sign of a good race that once 24 Hours of Moab began, I just wanted to ride hard during my laps, relax afterward, and not spend my time typing.
Sorry.
I'll try to make it up to you now.
The Most Mellow Pre-Race Jitters, Ever
Originally, Team Fatty was going to be Me, Kenny, Rick Sunderlage (not his real name), and Brad. Brad, however, got so deeply immersed in designing a new flavor of CarboRocket (hint: do you like nachos?) that he had to step down. Taking his place was Nick Rico, a co-worker of Rick's who's been riding mountain bikes — he's been riding single speed, but 24 Hours of Moab would be his first ride ever with a rigid fork — for only one year. I've ridden with Nick several times though, and knew he'd be plenty fast — he's been a strong roadie for years and years.
Everyone, meet Nick, from a picture I took when he was not expecting me to: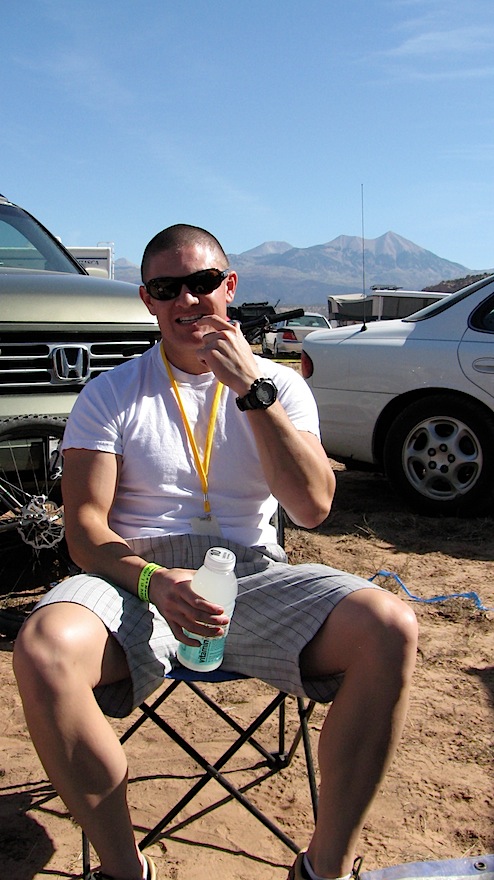 From this picture, you may deduce a number of things:
Nick has the longest hair of anyone on our team: 1/4″. Which makes me wonder: if you are a guy and you ride enough, are you bound to eventually either get a buzz-cut or shave your head entirely? I sure noticed a lot of guys at this race whose hair — or lack thereof — was dictated by suitability and comfort for wearing a helmet.
Nick has the legs for this kind of ride.
My nickname for Nick — Guns McCoy — is a good one.
Oh, and while we're at it, let's go ahead and introduce everyone else on the team. Here's Kenny, wearing his Daisy Dukes, which he would in fact wear for the first lap of the race.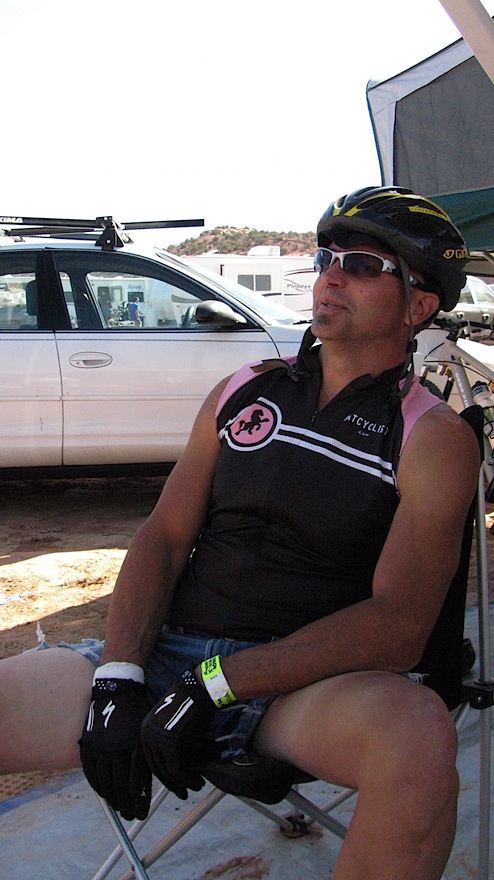 Kenny — foolishly, I think — volunteered to be the first rider on our team, which means he was volunteering to do the run in the Le Mans-style start. More on that in a moment.
And yeah, that photo's about 3/4″ away from being NSFW.
Rick Sunderlage (not his real name) was the second racer in the Team Fatty lineup. Rick may be the single most competitive person I have ever met. He contests every summit. Every sprint. Which makes him a good person to have on your team: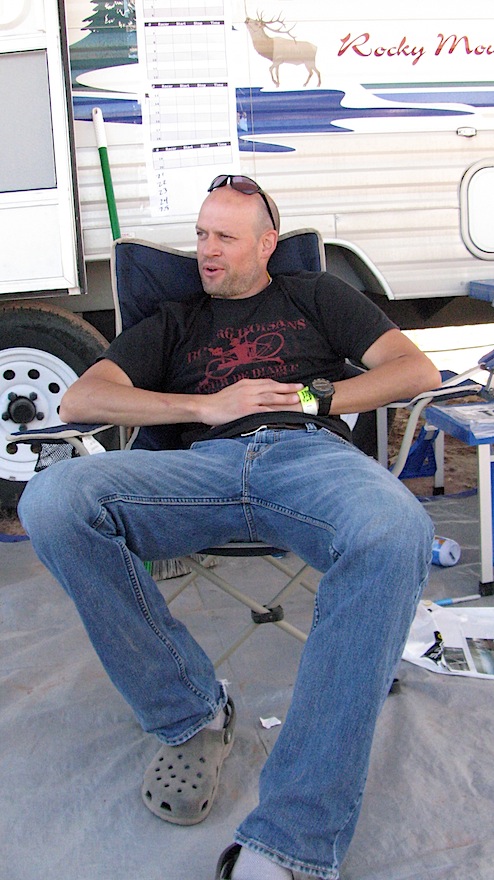 Oh, and while it may appear in this photo that his legs are 18′ long, rest assured that in real life they are no longer than 16′.
And here's me, showing off the team jersey, with my bib pinned on.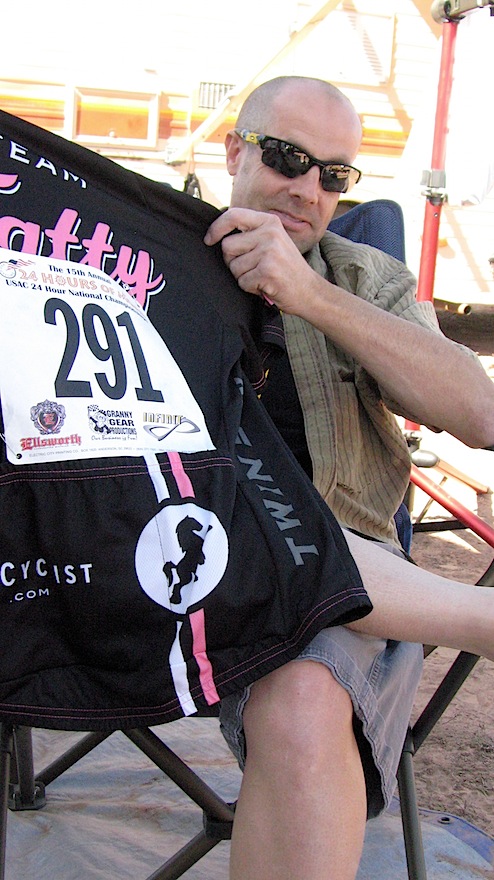 By the way, that green shirt I'm wearing is my "Going to Moab" shirt. For the past three or four years, I have worn that shirt every time I travel to Moab. Makes me easier to recognize. No, I don't have a special reason. Some traditions don't need a reason.
I was nervous for the race — it had been at least ten years since I had raced the 24 Hours of Moab, and I couldn't really remember the course. Plus, everyone kept looking at us like we were nuts when we said we were racing in the Singlespeed Rigid category.
But it was a slow-burn kind of nervous, because even after the race began, I had a couple hours before it was my turn.
So meanwhile, I sat in my camp chair, enjoying the perfect weather — sunny, a slight breeze, and around 74 degrees.
Every time I thought about the fact that I would not be doing the run at the beginning of the race sent a little wave of relief through my mind.
The run was Kenny's problem.
The Beginning of the Race
It's weird that the most spectacular moment of the 24 Hours of Moab doesn't happen on a bike at all. In order to alleviate the massive traffic jam that 365 teams would cause trying to get to the singletrack funnel at the start gun, the race has a Le Mans-style start, which means that someone from all 365 teams has to line up and run about 75 yards (guessing here — I'm terrible at judging open distances) to a tree, go around it, and then run to pick up their bike and go.
Here's a small sample of folks waiting at the line.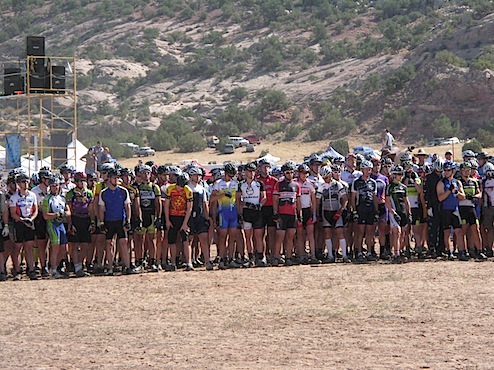 Some people wear outrageous costumes, in keeping with the party atmosphere of the race. There was a team that wore wrestling masks, there was a team that wore matching pink tutus and wigs, and there was this guy, who I thought of as "The Guy Who Puts 'Glad' in "Gladiator."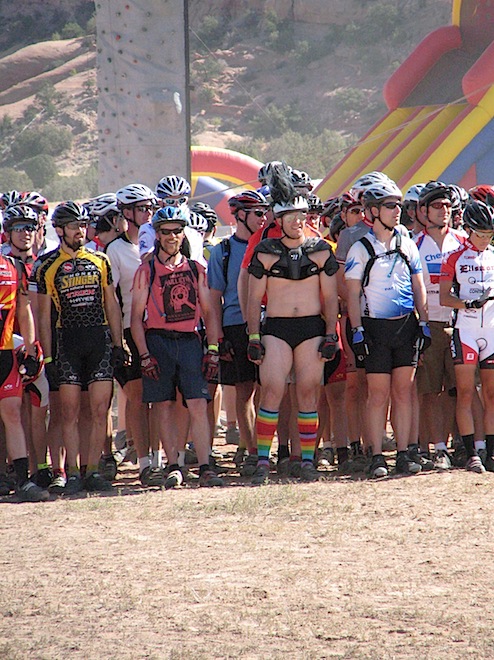 When the gun goes off, the chaos and dust from all the running is awesome.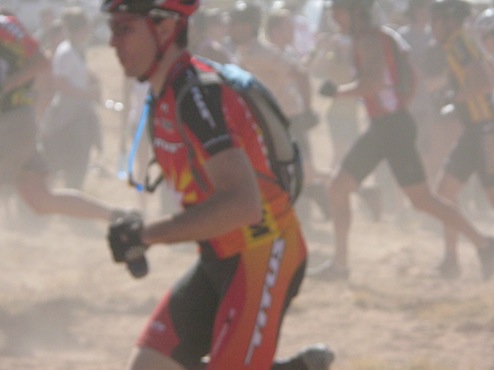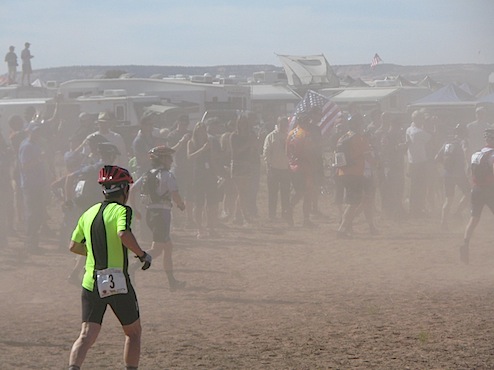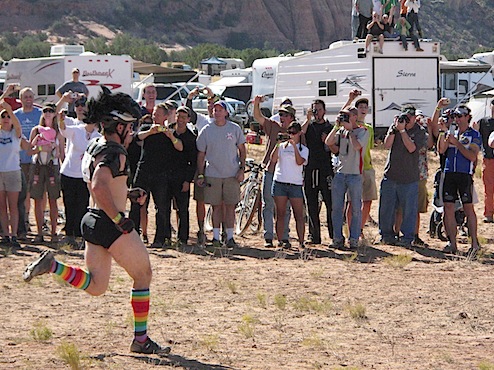 I love that for the first several seconds, The Gladiator actually was out front of everyone. I love even more that the next morning, while I was out on my final lap wearing tights, a base layer and a jacket, I came across this guy also riding a lap…and he was still wearing this outfit. Although his mohawk had wilted considerably by then.
Oh, I'm sad to say that amidst the chaos, I could not find and photograph Kenny running in his Daisy Dukes.
My First Lap
Like I have mentioned, it had been a long time since I had raced — or otherwise ridden — the Behind the Rocks trail in Moab, and I've never ridden it on a single speed, much less a fully rigid single.
However long it's been, it was plenty of time for me to forget how technical the course is. There's lots of sand. There are some serious ledges — some you've got to climb, some you've got to descend — and there are a number of places where all but the most accomplished riders (hint: not me) had to dismount and portage their bikes down and up what feel like sandy cliffs.
That said, I had a ball. I rode right at my limit, but managed to not go past it and blow up. I managed a number of tricky rocky sections I saw others walking. And my big wheels and soft tires — at 22psi — made it so I was able to climb and descend through the sandy sections that others were getting bogged down in.
I didn't crash, I didn't get passed a lot, and I did pass a lot of people. Still, since I wasn't wearing a watch or bike computer, I had no idea whether I was doing the team proud or ruining our shot at the podium.
I finished my first lap, handed the team baton over to the exchange official, swiped my RFID card to make it official, Nick swiped his card and got the baton from the official (this has to all be done in the correct order, and became increasingly difficult for me to remember as the race went on), and took off.
My first lap took 1:15:47 — about two and a half minutes slower than Kenny's first lap which included a two minute bunch mass run. And I was just over a minute slower than Rick's first lap. I couldn't decide whether to be happy or sad about that result. On one hand, I really had put everything into that lap; I couldn't have done it better or faster. On the other hand, I was slower than my teammates. On still yet another hand, I wasn't a lot slower, and the race was young.
Taking all this into account, I decided to be moderately pleased with myself, and puffed out my chest. Moderately.
Here's me, finishing up lap #1. Thanks for taking and sending me the photo, KanyonKris!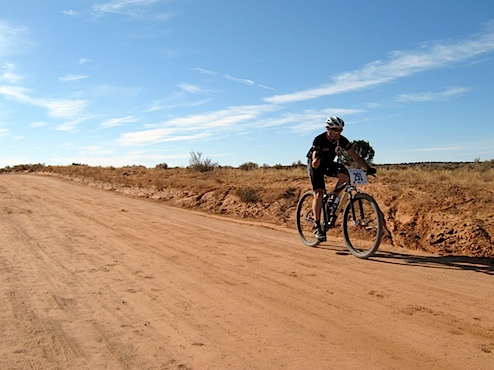 Oh, and sorry I flipped you off while you were taking the shot.
Second Lap: Cold and Dark and Fun
With our team doing about 1:15 laps, my second lap wouldn't begin 'til 7:39, and it's fully dark by then. I knew I'd be slower — fatigue from the first lap and my fear of the technical course would see to that. Rick came in — his lap partially in the dark — not much slower than his first lap, though — 1:20 versus 1:14.
And then something unexpected happened: I had a wonderful time. It had been years — since before the twins were born — since I've gone night riding, and I had completely forgotten how different and exciting it can be. I knew I could set my Princeton Tec Switchback 3 lights on high beam for the entire ride — they'll go for six hours at high, and I only needed an hour and a half or so.
When you're riding at night, your universe becomes very strange. On one hand, the giant vistas Moab is famous for disappear; all you can see is what your lights show you. On the other hand, if you look up, you see the stars — and away from the tent city on a clear night (which it was) you could really see the stars. I think I took almost an entire second to appreciate the stars during my night laps.
Ledges look steeper. The distant trail becomes invisible and therefore unimportant.
In short, riding at night has an immediacy that takes some getting used to, but is a lot of fun.
Full disclosure here: Princeton Tec outfitted Team Fatty with Switchback 3's for free, so have your grain of salt if you like. But the fact is these lights are terrific. They were trouble free, burn for a long, long time, cast a big, even light pattern, and can be charged in a car or through AC power. I was very happy with them, and everyone else on Team Fatty had a similar experience.
I finished my lap feeling a weird mixture of elation and exhaustion. While my legs and lungs hurt, I had just had 1:26 (about ten minutes slower than my first lap, which is reasonable) of fun. Yes, I had fun, during a race. Incredible!
Third Lap: Same as the Second
Except for the fact that it started at 1:24 in the morning and was a lot colder outside, my third lap was nearly indistinguishable from my second. The time difference? Nine seconds slower.
I wasn't the fastest guy on the team (that's definitely Kenny), but I think I could now lay claim to being the most consistent.
I Love Campers
Until this race, I have never used a camper. I am now a convert. Being able to change in a warm, well-lit, enclosed place, then being able to lay down on what amounts to a couch for a couple hours is wonderful.
Thanks for the loan, Ricky M. And good luck cleaning up your camper. That thing is a mess.
Fourth Lap: Where Am I?
My fourth lap started at 7:31 in the morning, by which time it's fully light. By then, I had gotten so used to riding this course in the dark that I was startled at what the trail looks like in broad daylight.
There's something about having the sun come up after you've been up riding all night. Even though you haven't slept (well, maybe I got an hour or two in there), you feel better. And knowing that this would be my last lap, I did everything I could to leave everything on the course. I was occasionally passed, but I passed people more often. Including — even on my single speed — on downhill grades (I was glad I had changed my gearing to 32 x 18 for this race).
This was strictly a race for my own satisfaction. By this point it was clear we could not, barring a major problem on Stomparillaz' part — win our category.
But it still felt good to push myself as hard as I could, and to surprise people with an "on your left" as I went by, climbing stuff on my single that people were walking with geared bikes.
If you take a look at our results versus Stomparillaz' (the team that won the SS rigid category), it becomes clear why they beat us: They were consistently faster.
Weird.
In the end, we were just happy that we kept them close enough that they couldn't quite lap us.
Podium and Aftermath
I needed to get started toward home before the awards ceremony began, so we got our medals, put our stinky Team Fatty jerseys back on, and got our own podium picture: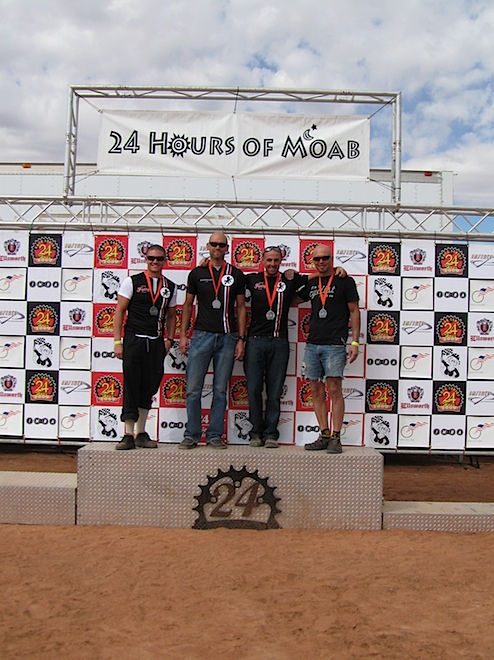 So yeah, we kind of promoted ourselves to top podium position here, where by rights we should have been standing a little to the left. Sorry, Stomparillaz!
And in the interest of full disclosure I should probably mention that since there were only three Singlespeed Rigid teams out there racing, we were going to get on the podium pretty much no matter what. However, one thing I am proud of is that we took 27th overall out of 365 teams. That's not bad.
And now, a day later, my legs actually feel fine. It's my arms that are cooked. The "rigid" part of "rigid singlespeed" class makes a difference on a rocky, technical course like this.
And only maybe a quarter of my stuff is unpacked.