A Note from Fatty: My friends Kenny and Brad raced the inaugural Park City Point 2 Point last Saturday as members of Team Fatty. They, um, well dominated the single speed division. Brad's report is here (and well worth reading). Here's Kenny's report.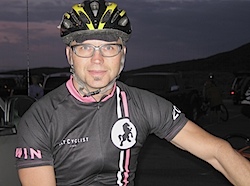 When I first started endurance racing there was always a good deal of travel involved. Races like the Leadville Trail 100, the Brian Head Epic and The Cascade Cream Puff, got me hooked on endurance mountain bike racing.
As these types of races became more popular, it became easier to stay closer to home. There was the e-100, the Perfect 10, and now the Park City Point 2 Point. I try to support local races when I can and it's nice to be able to sleep in your own bed the night before. The PCP2P has taken all the good things from past Park City endurance races and has put together what I think is Utah's premier endurance mountain bike event. Jay Burke and Shannon Buffeli have worked hard to put together a terrific race in a pristine mountain bike community.
Unspoken Competition
My buddy Brad and I have known each other for 8 to 10 years.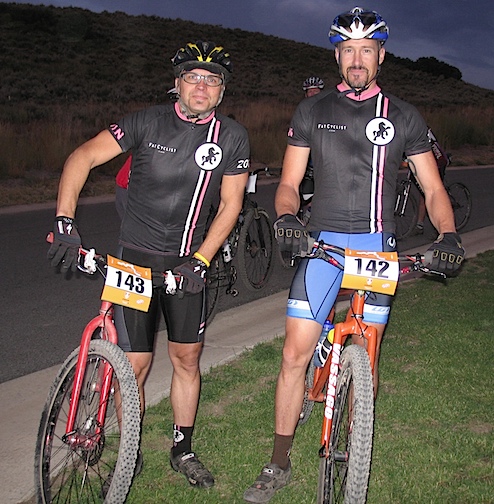 We've done countless races together and always finish close to one another. Sometimes he wins, sometimes I win. And when neither one of us wins, we always know which of us finished ahead of the other. We never really talk about it, but there is always an underlying competition and I know it's discussed between our Core group of friends.
My number one race goal was to win the single speed division, which would also mean beating Brad. I know that Brad had similar aspirations, because he predicted it on his blog. After that, I wanted to be in the top 10 overall finishers and get the sub 8 hour medallion.
The Race
Brad and I lined up together about 25 places from the front waiting for Jay to yell go thru his megaphone.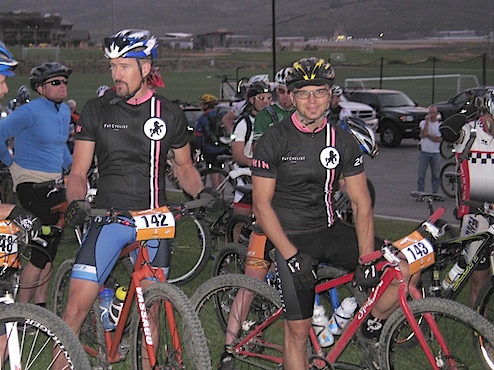 As I always do at the starting line, I was running a check list thru my mind. Gels, tube, water, carbo rocket, tools, pump….
Oh crap, I had forgotten my pump.
I looked back to where the car was parked, wondering if I had time to go grab it. Just then Jay said "Are you ready for the inaugural Park City Point to Point? 20 seconds" it looked like I was going to have to do the first 35 miles without a bike pump. What seemed like 5 minutes later, he yelled "Go!" and we took off.
My race strategy has always been as follows: I shut my brain off and pedal has hard as I can. I don't wear a watch or heart monitor. My brain can't process any of that information. I just ride hard until my body decides the pace.
This time, there was only a short shakeout before we hit the singletrack.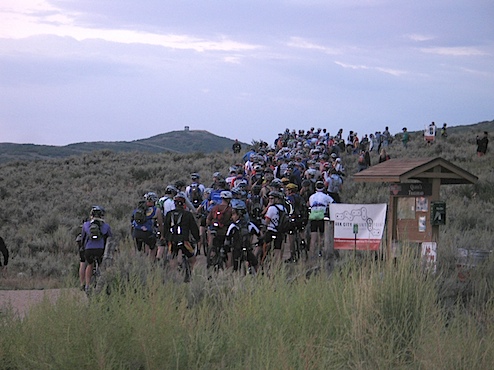 I was able to move up a few spots, but because of the nature of the trail, I was unable to pass, which meant I was not riding at the pace that my body was telling me to go. I was getting a bit frustrated, especially when we would hit a steep hill and everyone in front of me would shift into their granny gear. I was able to move up a few more spots and caught a group of riders that were riding about the pace that I wanted to ride.
Important Realization
Then it hit me, all of a sudden: This is an awesome trail. I'm going to be riding 75 miles of some of the best mountain bike trails anywhere. So, I should just chill and turn my brain back on, just enough, to enjoy the experience.
I started to look around. Park City is a beautiful place for a race. There were dark clouds with blue skies poking through, and just a sprinkle of rain to keep me cool.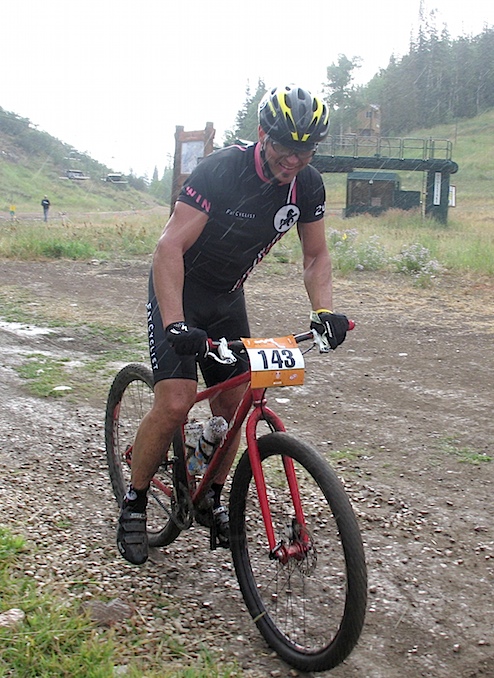 I looked back to see if I could see Brad. I couldn't see him, but what I did see was the most incredible rainbow ever. I think it was actually three rainbows stacked on top of one another.
I was able to keep this frame of mind through most of the race. My legs felt great. I was enjoying the climbs. I was loving the descents. I was in a great mood. I even started doing something I rarely do during a race. I started talking to the people I was racing with. I was caught by a guy on a single speed and introduced myself. His name was Mike from Midway and he was wearing a tuxedo for a jersey.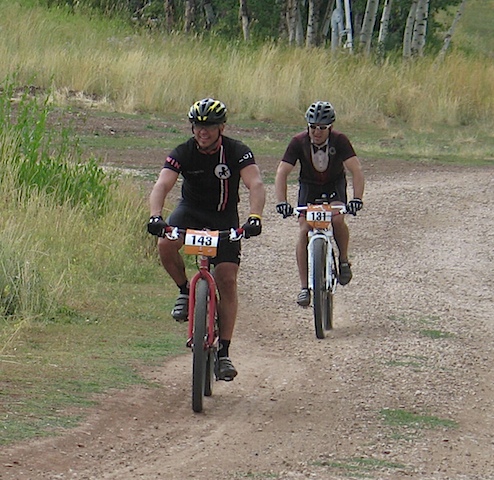 This didn't seem all that strange to me, because most of the guys I ride with all ride single speeds and have a great sense of humor. So, in my mind, single speed equals humor.
I rode with Mike for hours. I could tell he chose a really tall gear for this race. When the hills were long and steep he would get off and push. I'd get ahead a bit and then he'd catch back up on the flats. This happened over and over. He kept saying that his legs were cooked, but every time I looked back, there was that tuxedo jersey like a slap in the face. Not so funny anymore.
At mile 55, Mike and I left the Park city resort feed zone at the same time. My wife, who graciously agreed to spend her day supporting me, had let me know that Brad had been only minutes back at every aid station.
I knew the last 20 miles would start with a long sustained climb up the Spiro trail followed by lots of rolling flats along Mid Mountain with a descent into the Canyons ski resort. I knew that Mike, with his harder gear, would have a tougher time keeping up on the climb. I needed to put enough distance on the climb that he wouldn't be able to catch up again before I descended to the finish. I also knew that Brad would be close behind.
It was now or never.
I shut my brain off again and started to hammer. Mike and I climbed together for a while. I could tell that he was getting off to push his bike more than I was on the steeper sections, so I tried to stay on the bike as much as possible. After what seemed like endless switchbacks, I could no longer see that tuxedo bobbing in the distance.
As the trail leveled out, I realized that my legs felt fresh. It was as if my bike was designed for the trail I was riding. I could power the ups and coast thru the downs, keeping my momentum fast. I knew that only two things could stop me from meeting my goal; a crash or a mechanical.
I was riding out of my head and pushing the envelope. I was trying to ride smart, but I knew I had to keep my speed up. On some rough sections of Mid-mountain trail, I hit some sharp boulders that I thought should have bent my rims or at the very least ripped out the side walls of my tires. On one hard bump, I felt my ti rail break under my saddle.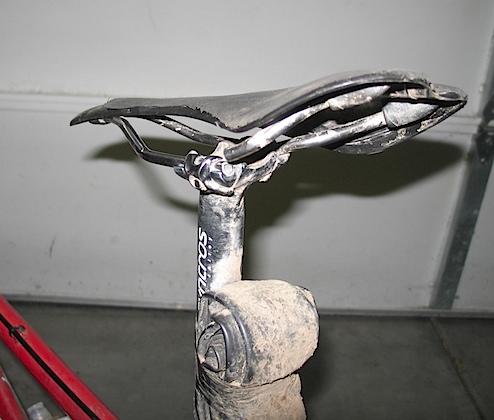 It made it awkward to sit and sometimes pinched the back of my thigh when I was descending, but I could tell it wasn't going to be a deal breaker.
Result
Before I knew it I was on a trail descending down to the Canyons ski resort. I could hear the music playing and I could smell the burgers cooking at the finish. I had given it everything I had and all I had to do was coast down to the finish.
I came up to a fork in the trail with a couple of volunteers standing near. One way led down towards the finish and the other turned upwards to an unknown climb. It's amazing the change of emotion that hit me when they pointed to the direction that I was supposed to go.
"Are you sure?" I asked.
I really thought they were just playing a joke. I was waiting for them to say, "Just kidding. Go that way, the finish is just minutes away." But, they didn't and I kept going, limping along, swearing under my breath.
After fifteen minutes of pure hell, I was on that down hill trail and I knew my race was coming to an end. I had held off Mike and Brad as I coasted on to the pavement and across the finish line. I was done.
I had ridden 75 miles and climbed over 14,000 feet, all on the best trails Park City has to offer. My finish time was 8:13 and I was 14th overall, once you subtract the duo teams.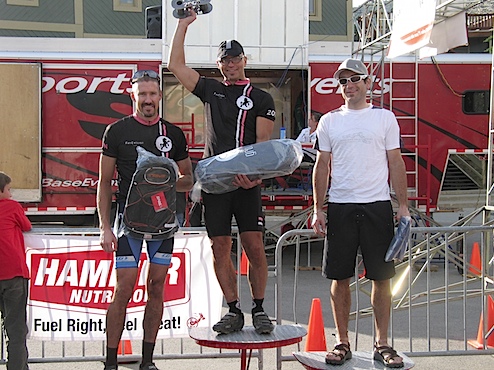 I took first in Single Speed, Brad took third. Team Fatty owned the day.
If anybody asks me, "What trails did you ride at the Park City Point 2 Point?" my response will be, "all of them".
As for Elden's dilemma about getting some color on his pasty white shins, I have my own solution… dirt.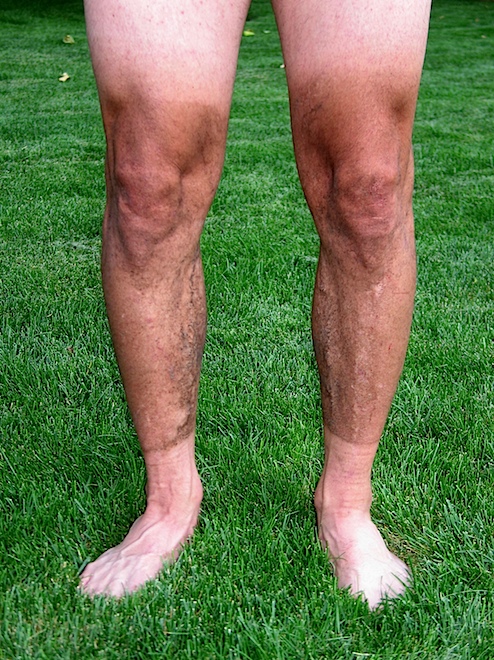 PS: Thanks again to Jay and Shannon for putting on a terrific race. It will be on my calendar for years to come.