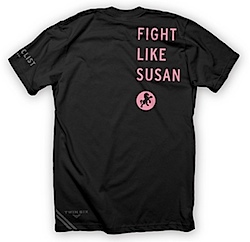 A Note About the "Fight Like Susan" T-Shirt: The stock of the "Fight Like Susan" T-shirt sold out very quickly, so the Twin Six guys have made it a pre-order item, just like everything else in the 2010 Fat Cyclist pre-order shindig.

This means you can order one now along with anything else from the Fat Cyclist clothing line (or by itself, of course) and it will arrive in November, along with the rest of the pre-ordered clothes.
Also, like the rest of the big pre-order, this will only be on sale until Tuesday, September 1.
Pre-orderable in all men's and women's sizes. $22.00
"How Are You Doing?"
I've kept myself busy in the three weeks since Susan died. The funeral. The race. Giving away a bike. Getting the kids ready and off to school. A trip to Philly. A speech. A big ride. New jerseys.
And several bike rides, in spite of a big ol' swollen knee.
Being that busy was hardly an accident. I am a busy person by nature, so busy feels normal. And normal feels good.
I can tell I'm giving people an answer they don't expect or want when they stop by my house and ask, "How are you doing?" and I answer, "Pretty well."
Some of them, in fact, demand a recount: "No, tell me how you're really doing." And for those people, I say, "You know, I am hanging in there." But I don't go deeper. I can't. I don't have the time for it. And I'm resistant to the idea of getting emotional on demand.
And the truth is, often I really am really good. Especially when I'm around my kids. I feel like we've pulled a little tighter since Susan died. They don't tease as often, and they tend to stay around me and each other.
And I'm finding that I have the capacity to take up some of the slack left by Susan: I'm consciously a little more patient, knowing that if I'm "bad cop," there's no "good cop" for afterward. Knowing that one of the things all the kids loved doing best with Susan was reading aloud, I am deep into the first Harry Potter book with the girls, and equally deep into Watership Down with the boys.
And I find that I look forward to the kids getting home from school more than I ever have before.
When It's Bad
I did a lot of grieving in the month before Susan died. More than I talked about here, it was clear she was slipping away. She was sleeping almost always, and only rarely did she remember what had happened the last time she had been awake.
It was genuinely more painful to have her present, but be in terrible pain and not lucid, than it is to finally have her be released from what cancer did to her.
But there are definitely times when things get bad for me. Like going into the now-half-empty closet. Or when phone solicitors call, asking for Susan.
Those kinds of things I expected.
What has caught me off-guard, though, is that a lot of the time it's when something funny or good or interesting happens that I get spun around. Something interesting will happen and my twenty-plus-year-old habit of thinking, "I need to remember to tell Susan about that" will fire, immediately followed by the thought, "I can't tell Susan about that."
And that hurts. Bad.
Worst, though, is when I accidentally start thinking about the future. Not the near future; I have an idea what that will be like: school, work, bike rides.
It's the distant future that gives me what feels like a panic attack. The future was something I thought I had figured out, at least generally, and I was really happy with that future. Now, though, I have no idea what the future looks like.
It's like when I've written something I'm happy with, and then I lose the document without saving.
But those moments are just that: moments. And then they pass and I've got plenty to do, and a lot of really great friends, family, and readers to help me get through this.
And that makes a big difference.