A Note from Fatty: The 2010 Fat Cyclist clothing pre-order extravaganza continues. Read details here, or go to the Fat Cyclist catalog page on the Twin Six site here. And for those of you who missed out on the t-shirts, more have been ordered and I will mention on my blog when they are back in stock. Thanks!
I'm going to need to break up my report on the Philadelphia LiveStrong event into two posts, because there's just too much here for one day. Mainly, I've got a 27 minute video of Philly Jen's and my speeches, which is probably asking more of your day than I ought to anyway.
Today, let's talk about the day before the big ride.
A Speech So Nice, I Wrote it Twice
Friday morning, I went on a nice ride by myself, and was happy to note that my right leg wasn't bothering me too badly. While I definitely had some pain at the top of the stroke, I could use my left leg to carry my right leg up and over.
I had my doubts about riding 100 or even 70 miles, but I figured I'd be able to do the 40-mile version by the time the weekend arrived. Not bad, considering I had thrown myself down a rocky embankment less than a week ago.
As I rode, I put the outline of a speech together in my head. I was feeling giddy about being able to ride again, so it was a fairly lighthearted speech. I had a nagging feeling that it didn't strike the right tone, though. I didn't worry about it too much, though.
I got home, wrote the outline down, packed, and got to the airport.
Then, sitting down in the airport with a delayed flight giving me 90 minutes of time to think, I reconsidered my speech. So I wrote a new one, this time writing down what I thought was important. I felt a little silly, crying as I typed there in the airport, but I no longer had any reservations about the right tone.
When I finished, I deleted the first speech. I knew the second one was the one I would give.
Cake
Colleen and Sandy of LiveStrong picked me up at the airport around midnight and gave me a ride to the hotel, at which point I discovered that I had forgotten my Ambien. Remarkably, I wound up not needing it; I crashed fast and slept well. Which is kind of a rare thing for me right now.
The next morning I spent bumming around with Pat and Jen, and then we went to an informal Team Fatty get-together, where we had this waiting for us: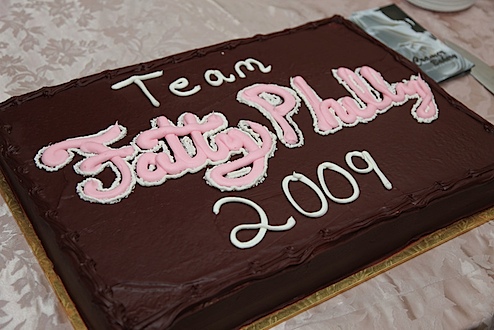 The photo (taken by our Team Photographer, Kevin, who took incredible shots for us through the whole weekend — see photos of the whole event here) doesn't really convey the sheer enormity of this cake, and it for sure doesn't convey the deliciousness of this cake. Huge thanks goes out to Team Fatty member "RayRay the Baker" Molnar of Cramer Bakery. I only regret that I didn't take a big chunk of that cake up to my room for midnight snacking.
For an hour or so, we all just hung out, eating cake and getting to know each other.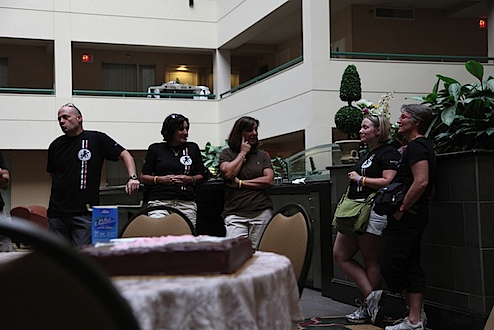 I don't think I've ever felt quite so at-home with a group of people I've never met before in my entire life.
The Speech
The Fundraising Appreciation Dinner, as I believe it was called, had great food, great speakers, and was totally dominated by Team Fatty, especially since most of us — not me, I wore something a little more serious since I would be giving a serious talk — wore Fat Cyclist jerseys there.
And our tables were right at the front row, as close to the podium as possible, which ensured I'd be looking at friendly faces.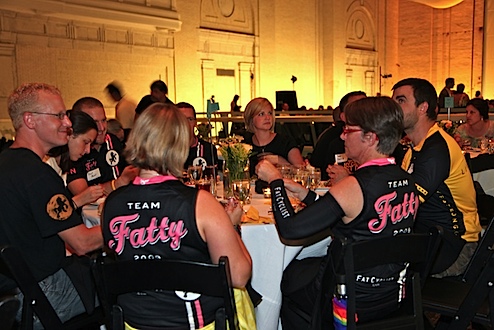 But still, I was incredibly nervous. I ate, but I don't remember the food. I talked with people and took my picture with lots of Team Fatty members, but all the while I was thinking about the time when I got up in front of a group of people to speak, then suddenly heard my pulse pounding in my ears so loudly I could hear nothing else and kept from falling down only by gripping the podium.
And in short, I was feeling a little woozy.
But John "College" Korioth — a good friend of Lance and one of the original members of the Lance Armstrong Foundation — gave a great speech. Good enough, in fact, that I got lost in it and stopped worrying about my own speech.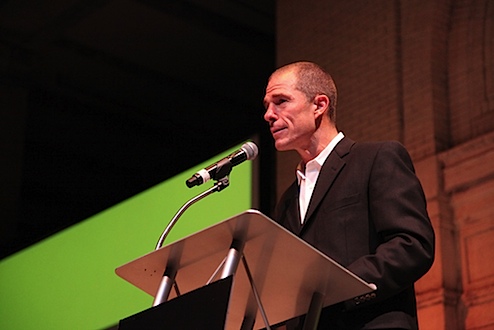 And then it was my turn. And here it is.
I admit, I have not watched the whole thing. It is simply too difficult for me to watch and listen to myself.
But everyone was incredibly kind afterward, giving me a terrific ovation, and giving Team Fatty the props it deserved.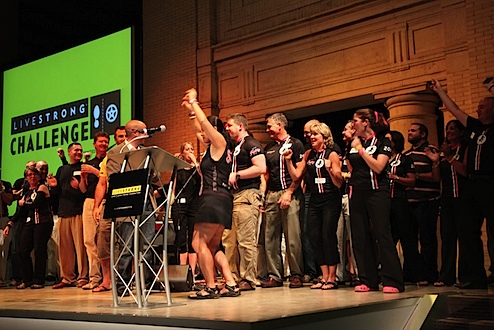 Jen's "Fat" dance was an especially big hit. I admit to being so dumbfounded that I forgot to join in the dance. At least, that's my assertion, and I challenge anyone to bring forth evidence to the contrary.
And then: back to the hotel for a few hours of sleep and a big ride the next day. But how long of a ride I was up for, I had no idea.
And that's what I'll talk about tomorrow.