A couple of days ago, a guest arrived. He'll be staying for the summer. Everyone, please give a warm welcome to the Diamondback Sortie Black.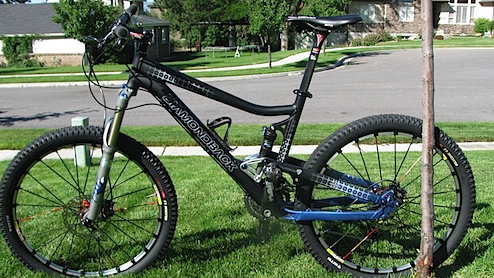 But you can just call him "Sortie."
Evidently, when I posted a video of Ricky and me riding Grove Creek on our fully-rigid bikes, it was just too much for Diamondback. They contacted me, saying, essentially, "You're doing it wrong."
And the Sortie, apparently, is the right way.
So they sent me one to play with for the summer. After which, I will return it in a much-more-used condition.
A Little Bit About the Sortie
I have to admit, the Sortie (especially the ultra-upgraded, limited-edition "Black" edition I'm currently gloating over) is a very sexy bike. Here are a few of the parts I've drooled on:
Knuckle Box suspension with Fox Float RP23 rear shock
Mavic Crossmax SLR wheelset
Hayes Stroker Gram disc brakes
Truvativ Noir cranks
SRAM XO shifters
Fox 32 Float RLC 130mm Air Fork
The rest of the bike is similarly hotted up, resulting in a mountain bike with 5″ of travel, front and back, that weighs 26 pounds out the door.
Let me say that again: This 5″-travel mountain bike weighs 26 pounds.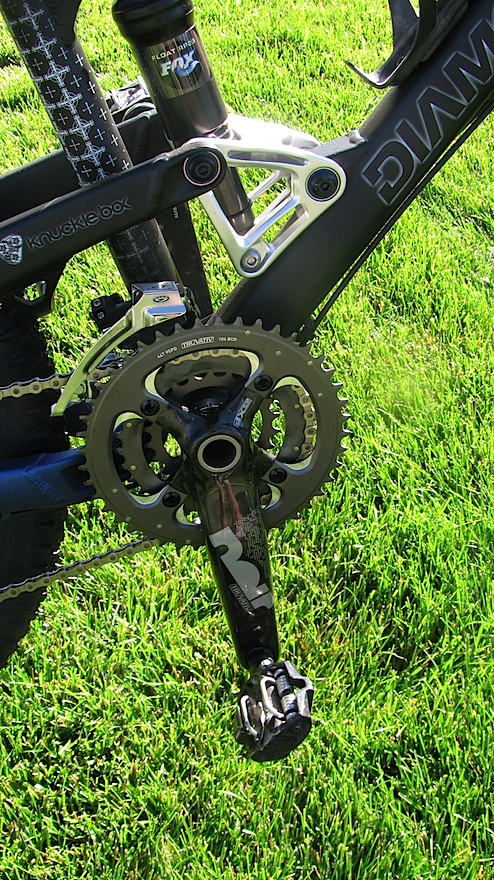 Which means I do not have to become a shuttlebug to start enjoying this bike.
Leap of Faith
I have spent long moments just staring at this bike. It's a beauty. It's also pretty much the exact opposite of what I've been trending toward lately. Consider:
Wheels: 26″ (my other mountain bikes — all four of them — have 29″ wheels). I am going to need to go to a bike shop and buy some 26″ tubes.
Suspension: 5″ [!!!] (3 of my other four mountain bikes have no suspension at all, and the other has a front shock, which I've been thinking about ditching)
Gears: This has 27. Right now I'm used to one.
Bottle cages: 1, which means I'm going to have to dig out a Camelbak if I'm going to go on a ride longer than 90 minutes…or 60 minutes in the heat of the day. Honestly, this is my biggest disappointment with this bike. I'm kind of off Camelbaks lately.
Weight: 26 pounds is light for what this is, but it's still 8 pounds more than the mountain bike I've been riding most lately.
So far, the only riding I've done with this bike is straight into curbs, just to see how the bike handles them. And frankly, I've been a little bit freaked out, because the bike just kind of absorbs the curb. I don't even have to stop pedaling, lift the front wheel or anything. Just ride through it, as if it weren't there.
This opens some interesting doors for some of my favorite downhills. Like Jacobs Ladder. Or the Suncrest Freeride Trail. Or, of course, Grove Creek.
And that's just the beginning.
I worry, though, that when I take the Sortie out, it will prove the bike version of the Peter Principle. Specifically, I have become a pretty fair descender on a rigid 29″ singlespeed, partly because a very simple, unfiltered bike lets me know precisely when I am approaching the limits of my skill.
I think this bike, on the other hand, will still feel like I'm in control, long after I'm not.
Tomorrow, I'll find out.
PS: Feel free to use the Comments section to tell me you envy / hate me.