A Proud-of-Sister Note from Fatty: Be sure to take a look at my sister's blog post today. In one day, she's went from $0 to $755 for her LiveStrong Challenge. All by not being afraid to ask people. For those of you who have signed up to be on Team Fatty but haven't gotten up the courage to start raising funds, take a lesson from Jodi and get started. You'll be amazed at how generous and helpful people will be when given an opportunity.
A What-We're-Doing-Makes-A-Difference Note From Fatty: You all know Heather Gilbert as the person who came up with the cool "Cadabra" name for the new Kona bike, and is now giving it away to raise money to fight cancer (it's not too late for you to enter that contest, by the way: click here to learn more). Well, Heather's also a doctor who fights cancer full-time, and she just sent me this e-mail:
I [just] had the opportunity to interact professionally with the Lance Armstrong Foundation today. I've got an unfunded patient whose cancer has recurred. Her only chance for survival is a bone marrow transplant — which, of course, she can't afford. The good folks at LAF are going to see if they can help her. They responded immediately to my request and have been incredibly helpful. It was a nice confirmation that the money we are raising is going towards a great cause.
It's great to be reminded that the money we're raising is going toward helping people fight cancer right now. And it's really good to know there are people like Heather who are making this fight their life's work.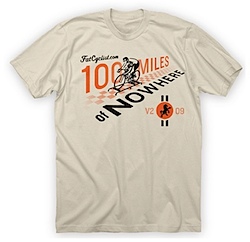 Tomorrow's the Big Race
I hope you've all been properly tapering and carbo-loading, because tomorrow is the big day: The Second Annual 100 Miles of Nowhere. Personally, I'm pretty nervous about the event, but am hopeful that I will be able to ride my own race, keep my head in the game, and stay focused.
If I do all this, I think it's possible — probable, even — that I will win the "Fatty's Upstairs Spare Bedroom" division of the 100 Miles of Nowhere.
Although I wouldn't be surprised if it comes down to the sprint at the finish.
Prediction for Fastest Time
I've been getting email from some participants letting me know what their courses are going to be like. There are some I think are definitely worth sharing.
I think the person who will turn in the fastest time — while simultaneously expending the least energy — will be Erik B, who has programmed his Tacx Fortius T1940 with a course that is downhill for all 100 miles.
A good an conscientious citizen, Erik contacted me asking if this was legal. I of course responded that it is not only legal, but pure genius. I did, however, make the following stipulations:
He must provide a graphic of the simulated elevation profile of his ride, for me to post and mock.
He must provide stats upon completion: top speed, elapsed time, average speed, average heart rate, max heart rate, etc.
He must do at least 25 of the 100 miles in an aero tuck.
Because he will be traveling tomorrow to go to a real race his wife is running, Erik's downhill-specific heat of the 100 Miles of Nowhere will not begin until Monday. I will be interested in his results.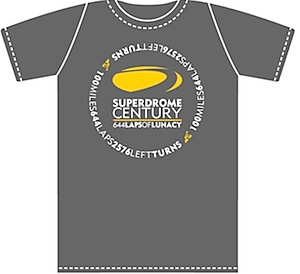 Prediction for Most Dizziness and Nausea
Will Swetnam is a LiveStrong fundraising powerhouse. He's one of the driving forces behind Cyclists Combating Cancer and is the creator of The Cancer Mosaic.
So when Will heard about the 100 Miles of Nowhere, he had a completely insane idea: Do it in a velodrome. And better yet, get a group of friends together and make it an event.
He got additional sponsors, additional prizes, and even made an additional event t-shirt. Since the local velodrome was already scheduled for tomorrow, the "Superdrome Century: 644 Laps of Lunacy" will be held next week.
I'm looking forward to photos and a race description, and I love the course pre-ride GPS track Will sent me: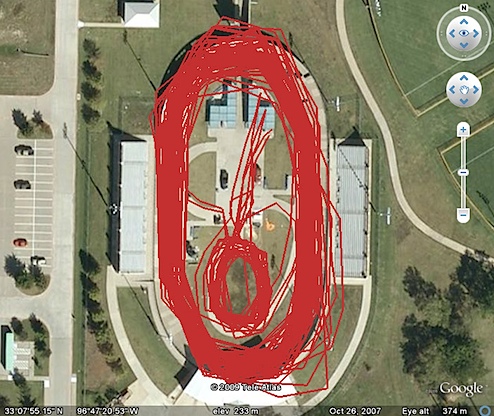 Seriously, I can't even imagine doing a velodrome century. That is going to hurt.
In a completely awesome way.
My Plans
I'm afraid that my own 100 Miles of Nowhere is pretty pedestrian in comparison. I'll be on my rollers, watching episodes of 24, season 7 I have saved up. And if I get through those, I'll watch some episodes of BBC's Robin Hood I've downloaded.
From time to time, I will go to the fridge and get something to eat.
Send Me Stuff
I'm sure your plans are more exciting than mine, though. Or maybe they're not. Either way, post a comment here about your prediction for what your personal 100 Miles of Nowhere race is going to be like.
And make sure you get someone to take pictures of you during the race, write up a brief race report, then send 'em in. I'll post a bunch of them over the next several days.
Good luck. I'm sure you'll win your division.