A Note from Fatty: Today is the last day you can enter the Win a Cadabra contest. Go here to read about what, how, and why, and then go here to donate. Thanks!
Huge congratulations to everyone who raced — or will soon race — the 100 Miles of Nowhere.
And an even huger thanks to everyone who sponsored it: DZNuts, Banjo Brothers, Garmin/Slipstream, CarboRocket, Clif Shot Bloks, Twin Six and ProBar. Without all the schwag, well, it would have just been an extra-long and incredibly awful training exercise.
Get Your Winner's Certificate
I have chosen to commission two well-known local artists to create the winners' certificates for the 100 Miles of Nowhere, and am pleased to unveil the blank versions here:
Version 1: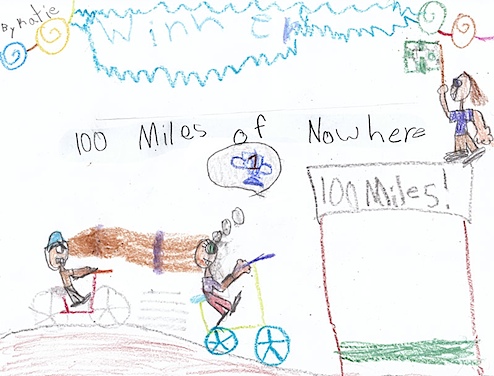 Version 2: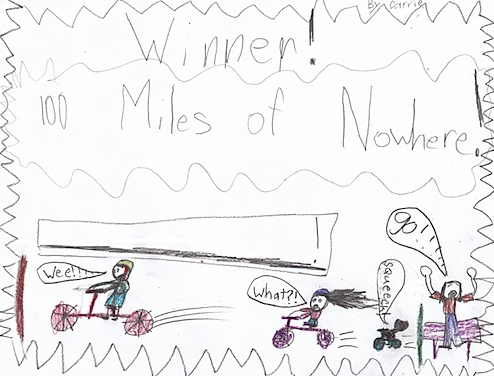 To get your personalized winner's certificate (I plan to pay my 13-year-old $0.25 for each certificate, letting him learn a little about Photoshop and earn some money at the same time), send me an e-mail with the name you want on the certificate, the division in which you won, and your finishing time (i.e., how long the race took, not what time you finished it).
I — or rather, my son, acting as a proxy for me — will email you back your certificate as a ready-to-print PDF. I recommend printing it on very, very expensive paper, triple-matting it, framing it at a custom frame shop, using their very most expensive materials and museum-quality glass, and then hanging it in a prominent place.
Like in your garage.
And now, here are your stories from the day.
Doug: Recumbent Exercise Bike in His Own House Division
I used an indoor, recumbent exercise bike that's got a built in computer for "distance", "speed", heart rate, cadence and power. I didn't bother to try and use my Garmin 305… I would have only been able to record the HR information anyway.
I started sometime after work and getting things set up a bit. I completed it all, just after 1 AM the next morning. Here's some of the results reported:
Elapsed time riding: 375 minutes (6.25 hours) — does not include breaks
Miles: 100.0
Average speed: 16.1 mph
Average cadence (estimated): around 90
Calories: 2529 kcal
I didn't put in too hard of an effort, as this machine really puts a lot of stress on my knees. Putting higher resistance levels, especially for long periods of time, feels like climbing a super steep hill in a big chain ring for me, and I wasn't going to do that for 6+ hours. I had to take breaks every 30 minutes or so and get up and walk around for a minute or two. Every hour, I mixed up a new bottle of CarboRocket to keep hydrated, and for two of my hourly breaks sometime in the middle, I took a bit of a longer break to get some solid food.
I did pretty good for a couple of hours, watching some DVDs and switching to the Universal Sports broadcast of the Giro. Toward the end, I kept questioning "why am I doing this", but kept on going. It was pretty anti-climatic when the miles went from "99.9" to "0.0". I was kind of hoping for a kill screen or something like that. But, that has been my longest ride ever (indoors and out), by far. My knees and quads were killing by the end, but were fine the next day.
But, yeah, I did 100 miles, and I went nowhere.
Chris and Andy: Manchester or Possibly all of New Hampshire Division
Chris and Andy went head-to-head in their garage, using no resistence, massive gearing, and watching Revenge of the Nerds.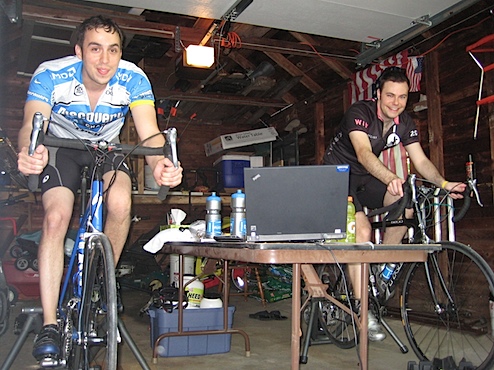 Aaron P: Qatar Division (Yes, Really: Qatar!)
This was my first century attempt of my life. I've only been riding since November and only consistently since February. My wife and I live in Qatar where we teach elementary school. When I heard of this event, I had no choice but to sign up. My mother-in-law was diagnosed with lung cancer a couple of months ago and it's been tough being half way around the world.
I decided to do my ride outside as I don't have a trainer or rollers here. I picked a stretch of road that we ride often at the Losail International Circuit where they hold Moto GP races. The track has some access roads around it that are well lit and very low traffic so a lot of area cyclists frequent it there and have group rides to do laps after dark. I took one stretch of it and rode it roundabout to roundabout, 50 times.
Alarm went off at 1:45 AM and I popped up and made some oatmeal. Grabbed the breakfast burrito my wife had whipped up the night before (what a great domestique!), filled the cooler with ice and headed out the door. Got to the course at about 2:45 and wanted to be on the bike by 3:00.
There was the normal jitters before an event. Am I ready for this? Will I embarrass myself? Will I get smoked by a guy on a knobby tired singlespeed? Will someone be wearing the same jersey as me? As luck would have it, I was the fittest, best looking rider with the best bike at the race, but not too nice a bike that I seemed silly to be on it and be so fat. It was all right in the sweetspot.
I put the iPod on, fired up my favorite podcasts and hit the road. First pedal stroke at 2:58 AM, right on schedule. I rode as long as my first bottle held out and stopped at the car to refill. Checked the computer, 42 km (26 miles) in and feeling really good. Light was starting to crack over the horizon and my pace was higher than I expected.
Got back on the bike and rode another 20 km when my wife and a couple of friends on the way to the airport in Doha stopped by to say hi at 5:30. My wife, LIndsay, stayed around for the rest of the ride handling all the domestique duties. She was awesome and I couldn't have done so well without her. Got a few rolling bottle exchanges, cleaning the sunglasses, keeping the food coming.
Rolled on to the 100 km mark and took a break for some food and hydration. The quads were definitely getting a little sluggish at this point. If I stood too long I'd get some cramping. Tried to drink more water and calm them down, but what are you going to do?
The sun was still coming up and making the day quite a bit hotter. It was getting into the 38 C (100 F) area and I was trying to get done as fast as I could. Another cyclist showed up, a triathlete and he got in and rode a few laps after we offered him some water from the cooler and explained what the hell we were doing out there. 135 km down.
25 km to go and I was feeling good that I was going to finish and quicker than I had originally thought. I was counting down the laps and my rear was getting more and more sore (longest time I've been in the saddle and my DZ Nuts didn't get to me obviously before the race). The last few laps I definitely was thinking about the people this event would help, my mother-in-law, my uncle, my grandfather I never met, my wife and her sisters who have a genetic condition predisposing them to colon cancer, Susan. The thought of everyone else riding this ridiculous and pointless event for such purpose pushed me on and I raised my fist as my odometer rolled over 100 miles. I limped in to where my wife and two friends were waiting, cheering me in.
We headed home as the mercury climbed to 42 C (108 F) and fired up the grill for some celebratory burgers and dogs.
Finishing time: 9:30 AM

Final Distance: 161.97 km (100.64 miles)

Saddle time: 5:39:51

Average Speed: 28.5 kmh (17.7 mph)

Max Speed: 41.7 kmh (25.9 mph)
Joe R: Freewheel Rumble on Ridgewood
Just finished the Freewheel Rumble on Ridgewood against former TdF namesake Neil Stephens. On the line was the "Liege Jaune" (Yellow Cork), which would decorate the Champion's handlebar for the next few months.
The setup was 2 stationary trainers, without resistance, in my garage, while watching Hell on Wheels and Breaking Away. To add some difficulty to the event, I placed a box fan up front to create a bit of a headwind.
Unfortunately, I was not up to the challenge and was beaten to the finish by nearly 30 minutes! My first thought was, "he must be on something" but I didn't have any evidence.
After having a short conversation with my opponent I was shocked to discover that he had not paid to participate in the event. He was, in fact, a bandit. I don't know about you, but from where I come from, they hang people for less.
After consulting with a course official (my beagle, Rocky), Neil was disqualified and I was declared the Champion! I've never been prouder of myself or my ability to use the "rules" to my advantage. I can't wait to defend my title next year!
Mikeonhisbike and Jenny-Jenny: Marysville, WA Division

Here's a picture of Mikeonhisbike and Jenny-Jenny at the start of our ride this morning. 24 is in the background on the TV.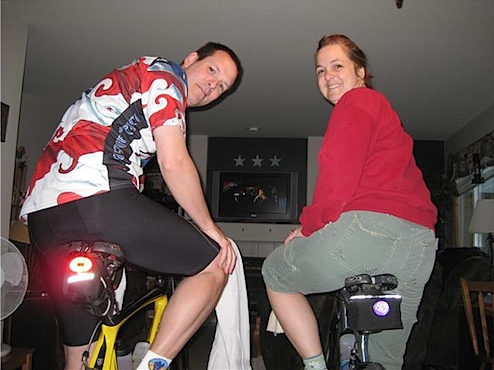 We've never seen 24 before so we borrowed the first season from a neighbor. I agree with you, it made for some great trainer TV watching. Thanks for putting this event together, although it was tortuous at times it was a lot of fun and a heck of a challenge. By the way, Mike won the Marysville WA division of the race.
More Race Reports Soon…
My copy-and-paste fingers are getting tired. I'll post more race reports later today.