A Note from Fatty: Winners of the "Meet BSNYC" contest are being notified by email today. Once I've got their OK, I will announce their names.
Finally. Spring is here. The weather is great, and I just can't think of anything I'd rather do than get outside and ride my bike.
Except, that is, ride my rollers in the dead of night for 100 miles.
So, uh, why don't you join me?
What The 100 Miles of Nowhere Is
The basic idea of the 100 Miles of Nowhere is that no matter where you are, on May 23 you're going to either ride your rollers, trainer, or a very small outside course for 100 miles. Or if that sounds like too much, you can do 50 miles. Or 25.
But, ideally, 100.
And since you will be the only one racing in your age group, gender, category, and region, you are clearly going to win your age/gender/region/category group.
Yeah, that's right. I'm guaranteeing you are going to win. How often do you get that kind of assurance in a race?
Oh sure, as you ride, you will certainly have qualms, and may find yourself saying things like, "I can't believe I'm riding my trainer for 100 miles," or "I can't believe I'm paying to ride my trainer for 100 miles," but then you'll remind yourself, "But I'm doing this for a really, really good cause."
And that cause, of course, is helping Team Fatty raise money to fight cancer. Out of the $75 registration you pay, $50 will go straight to the Lance Armstrong Foundation (the other $25 pays for boxing and shipping and stuff like that — trust me, nobody's making a profit here).  
And best of all, if you wear a GPS during your ride, you'll get to upload an awesome ride track. One that looks like this: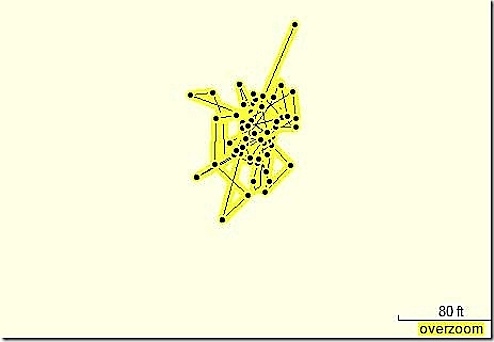 Your friends will be so jealous.
What You Get
As I believe I have mentioned before, one of my most practical superpowers is the ability to ask people to give me stuff without feeling ashamed.
And for the 100 Miles of Nowhere, I have used this power on your behalf.
Here's the valuable schwag you're going to get when you do this race.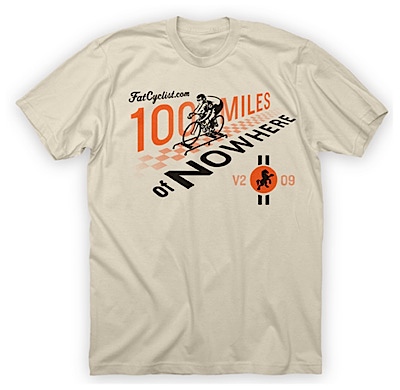 An event t-shirt, designed and produced by Twin Six . Twin Six designs all my jerseys and t-shirts, and they've never ever ever disappointed. This will be one shirt that definitely does not become a rag used to wipe the grease off your chain. Not for several years, anyway. Value: $22.00
A tube of DZ-Nuts. Yes, really. If you use chamois cream, it's high time you try DZ-Nuts. If you have never tried chamois cream, I cannot think of a more perfect time to begin. As I have noted in my review, this is good stuff. Value: $22.00
A Banjo Brothers Seat Bag: These bags open wide and perfectly hold exactly what you need for a roadside tube change: tube, tire levers, mini tool, CO2 can and adapter. And a couple of rolled-up bills in case you need to buy a Slurpie. Every road bike should have one of these. Value: $10.99
TWO Garmin / Slipstream Camelbak Podium Bottles: I recently got one of these bottles for myself…and I liked it so much that I ordered a six-pack of them. They're the only bottle I use now. Somehow, CamelBak has made the bike water bottle better. A lot better. And the Garmin / Slipstream graphics look great. And how cool is Team Garmin / Slipstream for helping raise money for the Lance Armstrong Foundation? Value: $20.00
CarboRocket Single-Serve packs: How weird is it that one of my very best friends invented what I consider to be the very best sports drink in existence? You'll get four single-serve packs (perfect for making one bottle's-worth), letting you try each of the flavors: Kiwi-Lime, Raspberry Lemonade, and maybe some exciting new surprise flavors Brad's cooking up in his kitchen right now. And, I daresay this is a good opportunity for you to try them out. Value: $6.00
Clif Shot Bloks: The fact that I will, if left to my own devices, eat Shot Bloks recreationally, tells you everything you need to know about them. They taste like jam, and look terrifying when microwaved. Value: $2.00
ProBar : These things taste far too delicious to be organic, and yet they are. And they're far too delicious, I might add, to be an energy bar. And yet they are. Value: $3.29
All told, your 100 Miles of Nowhere schwag box has right around $84.29 worth of product, and it's all stuff you'll actually use, as opposed to the cheesy bag, limp shirt, lame hat, and coupons you won't use that you get with a lot of your races.
But That's Not All
Your entry into the 100 Miles of Nowhere also qualifies you for some frankly awesome random "door prizes."
You might win, for example, the use of — for up to five nights — a beautiful condo in Moab, UT: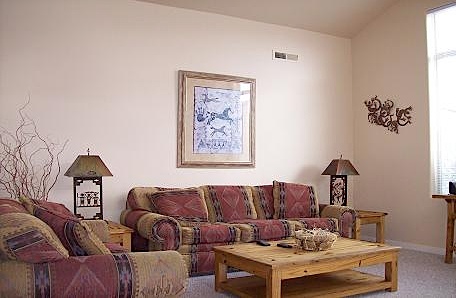 Maximum of 5 nights, no pets, use it or lose it — but seriously, if you've ever considered coming to Moab for an MTB vacation, this could turn your trip into a seriously styling vacation.
Or you might win a $75 gift certificate good toward a wide variety of gear at UltraRob's Cycling and Outdoor Gear store.
And finally, you could win one of two subscriptions to Cyclocross Magazine. Nice!
Register Today
Registration for the 100 Miles of Nowhere is open now, and will run for one week — 'til 5:00PM CDT April 30. After that, it's closed, so don't wait 'til it's too late!
Men: Click here to register. Women, click here to register. Then choose your shirt size and you're all set. Twin Six will send you your swag box in plenty of time for the event.
Then, on May 23rd (or on a day close to the 23rd that's more convenient to you), do the ride. Make sure you take pictures and send them in; I'll post 'em here.
Got questions? Comments? Ideas? Post them in the comments section and I'll answer the best I can.
This is going to be fun. In a very weird way.