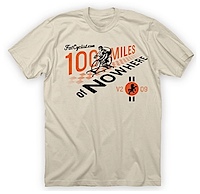 A Note from Fatty: The "Meet BSNYC" winners have all been sent email, and all the people who won a t-shirt have responded. The person who won the grand prize, however, has not. So. If you donated some money for this contest and haven't checked your email in a while, well, maybe you should.
Another Note from Fatty: The response for the 100 Miles of Nowhere has been huge. I am getting really excited for this strange event. And you still have time to register. Go to yesterday's post for details.
Also, I have added a section at the Fat Cyclist Forum for discussion about the 100 Miles of Nowhere. If you are looking for someone in your area to do the race with, post a message there.
I have been coping with a cold for about a week, now. I've been through the sore throat stage, the watery eye stage, and the stuffy nose stage.
Through it all, I have been taking daily advantage of one of cycling's great little secrets: when you're on the bike, you feel fine. Your head clears up. You can breathe. Your throat stops hurting, and your body stops aching.
Well, maybe your body continues to ache, but it's a different kind of ache.
A couple days ago, for example, even though I had been feeling miserable the whole day, Brad and I went riding on Corner Canyon, to see if the warm weather we've had for the past few days has opened up Jacob's Ladder: the highest trail in Corner Canyon, and a crazy, rocky, rollercoaster of a descent with sharp embedded rock everywhere and exposure on both sides.
The whole time I was riding, I felt great. In fact, I felt like I was descending better than I ever have in my life. Even Brad noted in his blog that I had a banner day, descent-wise.
So — even though I still felt awful — we went and did it again the next day, this time taking the helmetcam. Here's the video:
Obviously, I'm still learning to use this camera. Lessons learned from this ride include that I need to adjust the mount on the helmet so it doesn't point down so far, and to try to tilt the mount up for rear-facing mounts, so I get more of the rider instead of just the trail.
Still, you wouldn't have thought, looking at this video, that I had been feeling sick as a dog the whole day.
Off to RAWROD
The thing is, I'm about to rely verrrry heavily on the "I feel fine when I'm on the bike" effect. Because today I head out for the Ride Around White Rim in One Day (RAWROD) 2009. Even though I have a near-constant hacking cough that is sometimes so fierce it doubles me over, I am not missing this.
After all, I'm sure that the "I feel fine when riding" effect will hold over the course of a 100 miles of mountain biking.
Right?