Soon — oh, so soon — I'll be heading over to SLC Bicycle Co. to unbox and build (or rather, to have built) my Gary Fisher Superfly Singlespeed. The bike I've been thinking about for half a year.
Half a year is a long time. Long enough, one would suppose, to make final decisions about every aspect of the bike.
But there's one thing I still haven't made up my mind about: What should I do for the handlebars?
Here are my choices:
Probably, I'll try out all four of these eventually, but I'm still agonizing over which to go with first.
I'm interested in your recommendations.
LiveBlog of the SingleFly build begins around 10:30am MDT today! (Just three more hours!)
10:42: Here's the box: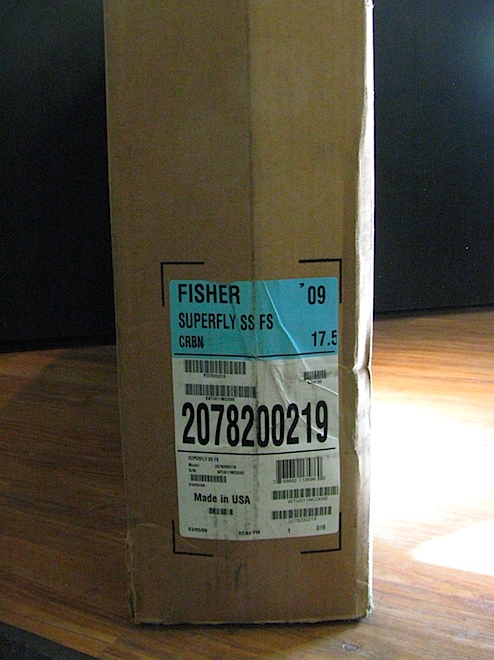 And here's Troy, who's building the bike: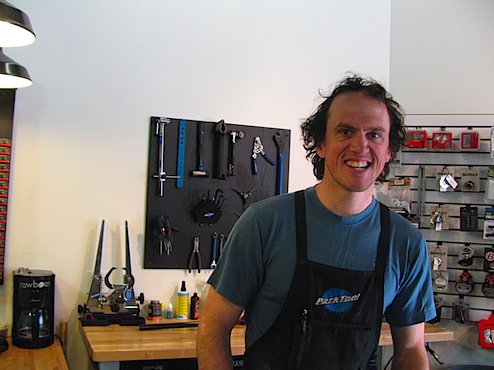 And here's the unboxing: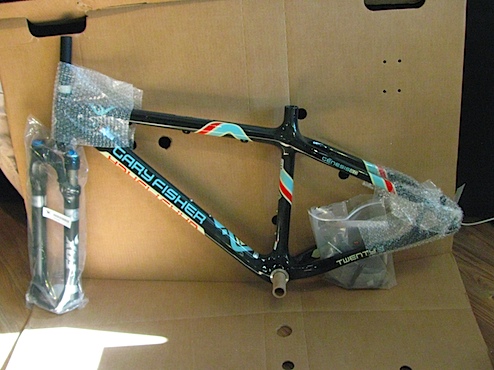 And now we're set up on the workstand, ready to get started: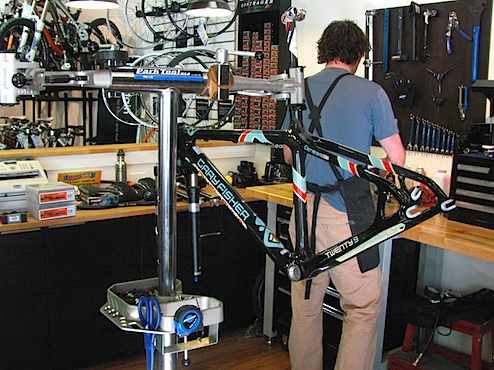 More in a few minutes…
10:56: Troy's got the SLR saddle and On-One carbon fork on and is getting started on the Noir cranks.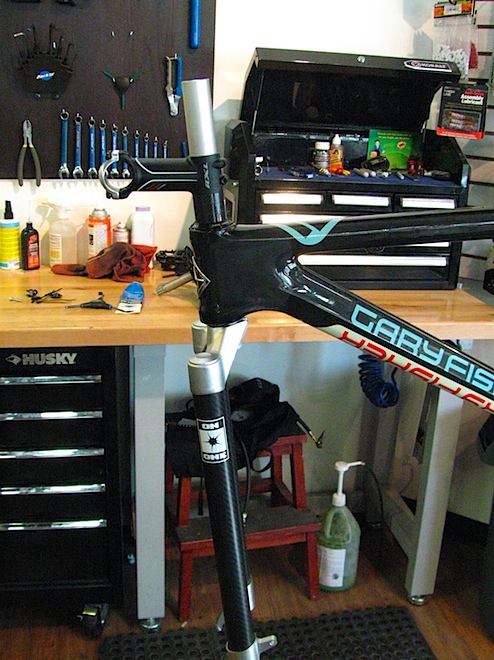 These cranks are a thing of beauty.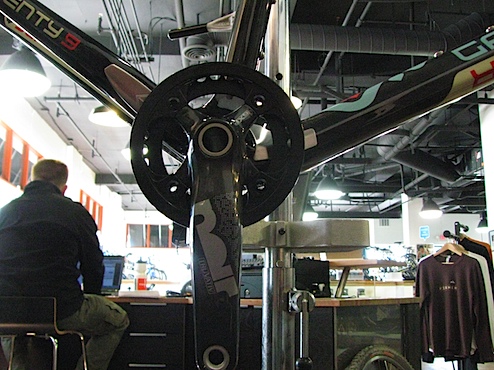 The dropouts are, too.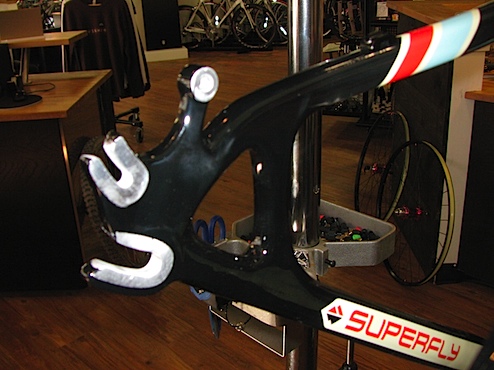 Just so you get what I was like this morning. I was so anxious to get everything together and out the door, I very nearly forgot to bring the fork and saddle.
It's still totally possible I've forgotten something equally important, but haven't realized it yet.
11:07: For those of you who gave input on what handlebar I should use, thanks. I've made my decision, though it was pretty much by default. I didn't want to go with the J-Bar as my first setup, and both the On-Ones require a shim (which is not in stock) to work with the stem I've got. So I'm going with the Bontrager SL-Big Sweep.
Though I would like to call out that Brent at Twin Six emailed me with an interesting option for future consideration.
11:45: Mark (SkiBikeJunkie) just joined me here to say nice things about my bike. Which, I might add, is an invaluable service.
The handlebar's on, and the tires are mounted with sealant in.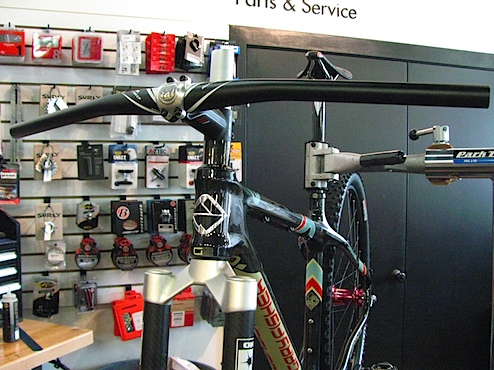 Mike Curiak did a fine job with these wheels: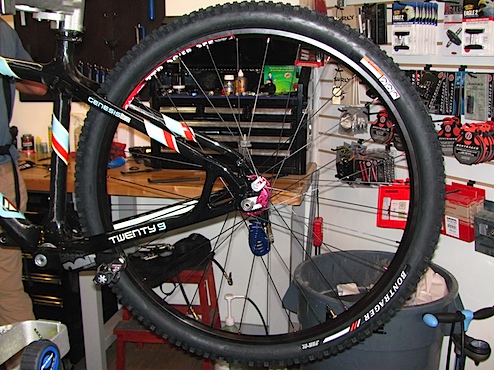 It's all coming together.
11:52: I have decided on a 20-tooth cog, instead of the 18-tooth cog that comes with the Chris King hub.
Because I am a big fat pansy, that's why.
12:25: The fork's cut down (with a little extra up top for tweakage reasons), the handlebar's on. Troy's working on the front brake right now.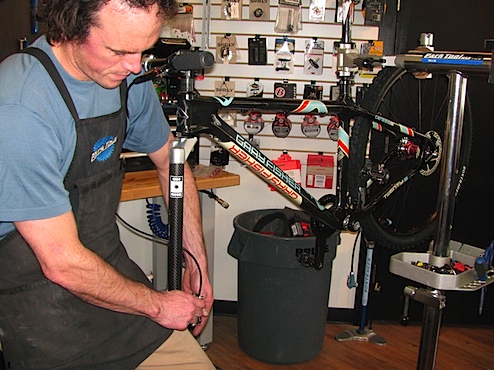 This thing is beginning to look a lot like a bicycle.
1:16: The shop's really busy right now — everyone's coming in during their lunch hour to get bikes fixed up for the weekend — so I'm just hanging out while Troy helps other folks.
1:17: Hey, this is interesting: The Team Fatty jersey pre-order last week raised $13,296 for the Lance Armstrong Foundation. Not half bad!
2:21: Something's was weird with the anchor bolt on the cranks — it stripped before it even got tight. Luckily, Troy has another one on hand and is going to try again. Then I'll take another photo.
2:29: Troy just let out a whoop; the second bolt worked fine. Here's how the bike looks so far: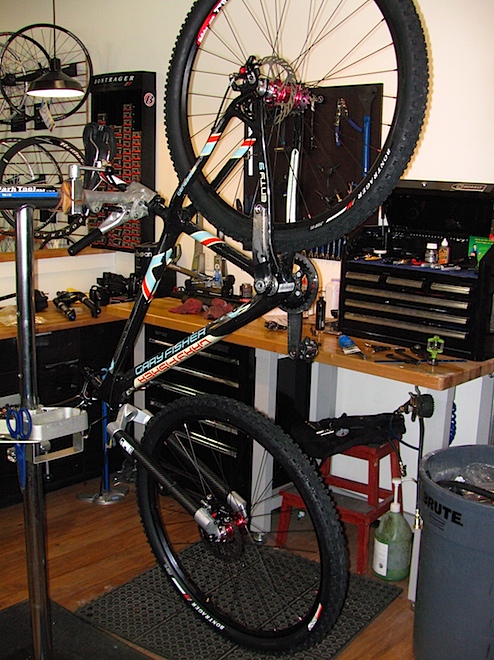 Oh, and I especially like this:
Avid, Fisher, Chris King, and Surly: all getting along together just fine. And in a few minutes, there'll be an SRAM chain on there, completing the bike company porridge.
2:57: Getting darned close.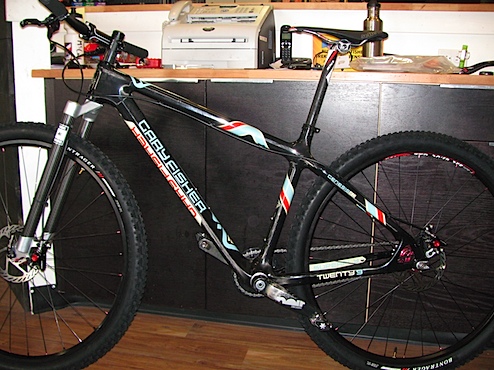 Now we just need to get the saddle positioned, get the bottle cages on, and…I'm going riding on my brand-new bicycle.
Anyone want to guess how much it will weigh?
3:11: Here it is! All built and ready to ride.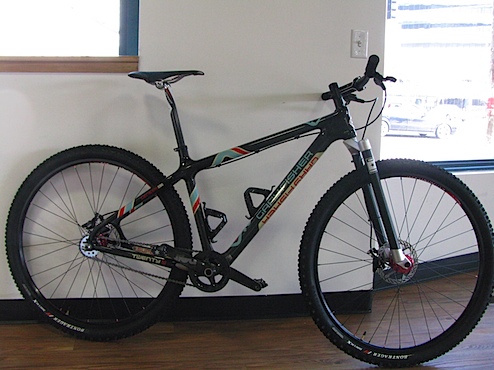 Annnd… here's how much it weighs, as shown (i.e., with pedals, bottle cages, and everything else):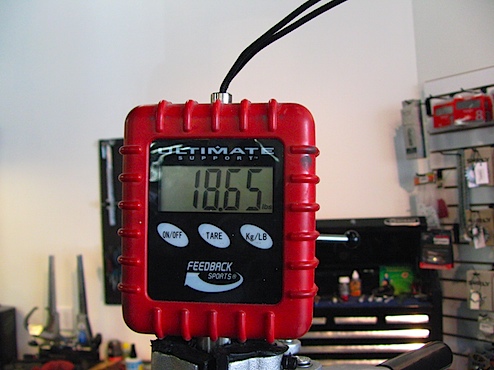 Yes, I am the proud owner of a sub-19-pound mountain bike.
Holy smokes.
I'm going riding!