Susan's sitting here by me, making bracelets — I'll show some photos soon. I'm sitting here, eating a turkey and avocado sandwich (with, of course, Gulden's Spicy Brown Mustard).
Seems like a good opportunity to do a liveblog.
3:05 While Phil and Paul talk about today's stage, here's a photo of Fat Cyclist reader Karyn at the Pasadena finish line: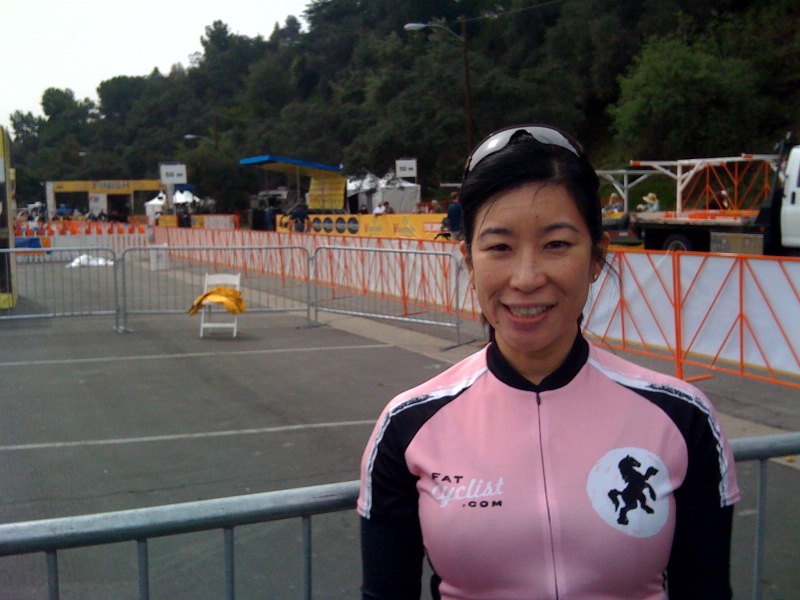 Karyn says she "Met another Fatty who saw my jersey and said hello." Yes, we are just one or two steps away from world domination.
3:08 It looks like the broadcast begins pretty much right as the peloton crests the summit of the big climb. Which means they're getting into the broadcast right after the part that I care about.
Pffff.
3:11 The "Breakaway from Cancer" commercial just aired again, making Susan cry — and not in a "how touching" way, but more in a really crappy lousy way. When this woman perkily talks about how she's "not a survivor, [she's] a THRIVER," does the Breakaway from Cancer foundation consider that there might be some cancer patients out there who AREN'T thriving, and who might NOT get to go outside and play basketball with their children?
Seriously, Breakaway from Cancer people, shame on you for not thinking about how PEOPLE WHO HAVE CANCER might feel about your unrealistic, idealistic ads and how they portray what life with cancer looks like.
3:12 OK, I'm calm again.
3:18 Looks like there's a breakaway with quite a few people in it, including George Hincapie. As a rule, anytime George does anything, I root for him.
That said, a two minute gap with a mostly downhill road doesn't sound super promising to me. Am I missing something?
3:19 You know, if there were one thing I'd change about this race — not the coverage, but the course itself — it would be to add a mountaintop finish. I love mountaintop finishes, where the the strongest climber wins the stage. With stages like this, the climbers get to the top, only to be overtaiken by the peloton by the end.
It makes me sad.
So here's my big question for the day: what is your favorite kind of way for a stage to end? Mountaintop? Bunch sprint?
3:26 Armstrong has flatted. He uses his heat vision to seal the puncture, then inflates the tire with his super breath. He never slows down.
Wow, I'm beginning to think there's something different about this guy.
3:29 Tim comments that his favorite kind of a stage finish is:
With a breakaway powering away and holding the peleton off. Especially if it is a solo all day suicide break, a la Jacky Durand. Jacky Durand is my hero.
Yeah, I love those suicide breaks, too. And if it's a suicide break up with a mountaintop finish, I'm in heaven.
3:30 Here's something I think longtime Fat Cyclist readers will be excited about: in tomorrow's stage, AL MAVIVA will be joining me for liveblogging duties.
It'll be interesting to see if I can get a word in edgewise.
3:32 Bob Roll is is talking about the Shimano electronic groupo. I love the fact that we can now easily tell which pieces he filmes a while ago, because he still has hair.
I'm not alone in thinking that Bob looks much, much better without that scruffy tuft of fluff, right?
3:33 Seriously, already at ads?
3:34 A "No Fear" energy drink is followed by an ad for 5-Hour Energy, which talks about how bad all the sugar in those energy drinks is. I'm sure the No Fear energy drink people don't have any problem with that, though.
As an aside, during the one summer I worked as a midnight – 6am DJ, the only time I ever got into trouble was when I ran Coors and Budweiser commercials back to back.
3:36 Mancebo is down. He's crashed into the loose scree on the downhill.
3:37 Everytime I see a crash like that, it screws up my descending for years.
Yeah, I just made Mancebo's crash about me. Can't help myself.
3:38 Paul's doing a "Breakaway 101" bit. It's really good and informative — something I think someone new to the sport would really understand. This underscores my belief that Versus DOES NOT NEED non-cyclist types — Hummer, Mathur — to appeal to the people new to the sport.
Phil and Paul do an excellent job describing the mechanics of the race, whether you're new to cycling, or a huge cycling nerd.
3:41 My Monday post, by the way, will be a post about Rasika Mathur, the improv comedienne who's been doing those bits we've all been enjoying so much.
I expect Rasika will not be ordering a Fat Cyclist jersey once she reads what I have to say.
3:44 Lotsa people in the back of the peloton crashed on the downhill.
3:45 The lead group is staying away pretty darned well. 4:20.
I would like to go on record as endorsing the likelihood of a Hincapie stage win.
3:46 I'm thinking about those big crashes happening on the downhill. Man, I hate having anyone even remotely close to me when I'm doing a fast road downhill. A fast downhill road crash is much scarier to me than a mountain bike crash.
3:49 Hummer pronounces palmares as "palm-airs." I love this guy.
3:54 Gap's down to 3:25. Team Astana doesn't care about the chase group. Why should they? I'd guess, in fact, that they're kinda excited about the idea of George taking a stage.
4:03 Vaughters is going to be talking with Phil, Paul, and the other guy after this break. My guess is that Vaughters will be nattily dressed.
4:06 The break has split up. Vand De Velde didn't make it into the lead group.
4:07 Vaughters says that he wishes Zabriskie would have won yesterday's TT.
Shocking!
4:08 Lead group is doing a lot of mini-attacks. Seems to me this plays into Hincapie's favor. That dude's seen it all.
4:09 For those of you who like actual information in your liveblogs, well first of all: what are you doing here? Second, here's who's in the front breakaway group, copy/pasted from CyclingNews: Rinaldo Nocentini (AG2R La Mondiale), Markus Zberg (BMC Racing Team), George Hincapie (Team Columbia – Highroad), Fränk Schleck (Team Saxo Bank) and Hayden Roulston (Cervélo TestTeam).
4:11 Vaughters agrees with Paul that the breakaway will succeed. of course High Road (Hincapie's team) wants it to work, and Astana doesn't care as long as it doesn't get to far ahead (right now it's right at 3:15).
4:12 Vaughters points out that as long as Van de Velde stays close to the front breakaway, Garmin/Slipstream has a shot at the team classification.
I'm disappointed that they didn't show Vaughters, because I would have really liked to have gotten some outfit ideas.
4:15 You people have no idea how disappointed I am that nobody has, in two days, commented on the change in my banner.
4:15 Hummer called palmares "palm-airs" again. I wonder if Phil and Paul have a headache at the end of the day from rolling their eyes so often.
Or maybe Hummer asked Bob Roll how to pronounce the word.
4:17 Nice attack off the front! Zberg, George, Schleck stick.
4:19 And Schleck is off the front!
4:20 I know I'm on-record as being pro-George, but that was a hardcore move by Schleck. If he can make that stick, I'm all for him winning.
4:21 Oh, don't go to ads! C'mon Versus.
If the stage ends during ads, I am going to write a very sternly-worded open letter.
4:23 Versus, when you do stuff like this, you lose me to the Web.
4:24 The breakaway has caught Schleck. 'Course, we didn't see it, because we were watching ads.
4:25 This is the last lap for the lead riders. So one of the lead group will definitely win.
1 KM to go!
4:26 Roulston (CTT) and Weening (Rabobank) are up front. Uh, George? You're running out of time.
4:27 Boonen, Weening, Elmiger, Zbero lead.
4:28 Why are they showing Leipheimer!?!
4:29 Attack by Vandevelde and Schleck. Hincapie bridges.
4:30 Paul says Hincapie has a diesel engine. I thought that Jan had patented that.
4:31 Weening goes. Looks good.
Nocentini chases.
4:32 Nocentinie, Weening, Roulston up front. They look pretty cooked, tho.
4:33 Chase group trying to catch up. All 7 together.
15 seconds back.
4:34 Evidently I was way wrong about 1Km to go a while back. I should avoid smoking crack when liveblogging.
4:35 1K for real now. Seriously.
4:36 Weening, Nocentine, Roulston.
4:37 I cannot tell who won. Nocentine thinks it was him.
4:38 Nocentini was right. He did win, by like a quarter inch.
That was a really terrific 3-way battle in the straightaway. Those 3 duked it out old-school.
Big ol' drag race finish.
4:39 And the peloton comes in.
And I'm just happy Versus didn't go to ads as the led group battled it out for the win.
4:48 Check out some of the bracelets Susan's been working on.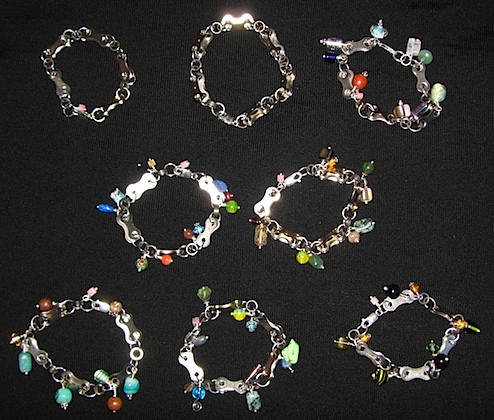 We'll be sending out about 35 of these bracelets on Monday.
4:51 Podium presentations. Bob Roll talks with Levi. I would hesitate to call it a news-packed interview.
4:53 That's it for me. Join me and Al Maviva tomorrow for the final stage. And, oddly enough, for my final LiveBlog.