Yeah, I know I said I wasn't going to Liveblog today's stage, but I'm fickle.
2:43 I'm just catching up with the part of the stage I've got recorded — and there's Bobke getting shaved on Versus! Please please please someone tell me they've got that moved over to YouTube. And then get me a URL.
Watch the Video!
2:45 For those of you who can't watch it on YouTube, here's what goes on.
Hummer (voice over) Speaking of LiveStrong, Bob Roll put out the call to his fans, his people that follow his every beck and call. He said if you can get five thousand donated to LiveStrong, I will shave my head.
And believe it or not, this morning at the Astana bus, that's what happened.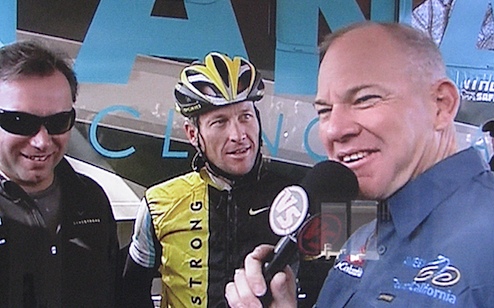 Bob Roll: Earlier in the week an issue was challenged that if we could raise 5K, that I would have my head shaved.
Bob Roll: I didn't say who, but wanted to find the steadiest hands in the peloton…
Lance: Have you ever been bald before?
Bob: No, never.
Johan Bruyneel: It's about to happen.
Bob: Yeah, we've raised the money, so it's about to happen right now. Johan Bruyneel will do the honors. And I have a very good witness also [looks at Lance]. Go ahead, I'm ready!
And then the shaving commences…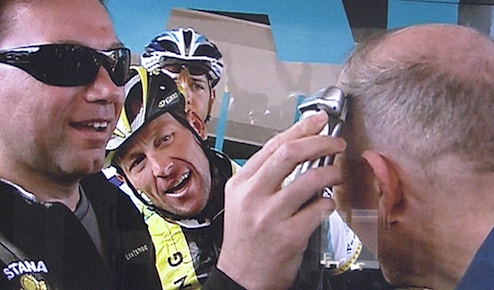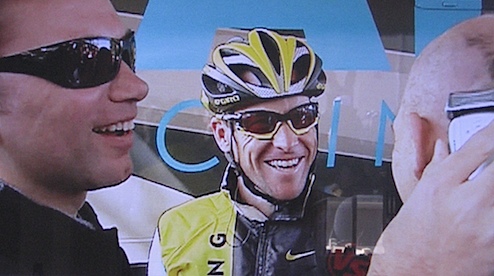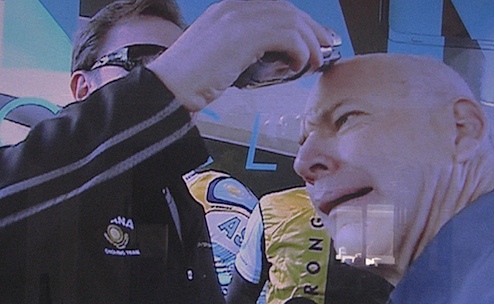 Armstrong (concerned): Ahhhhh.
Bob (now half bald): And good luck on today's stage. What do anticipate?
Armstrong: I can't talk to you today. Maybe tomorrow! (Laughs and walks away)
Hummer (voiceover): Lance had to put the sunglasses on to protect his eyes of Bob Roll. You can go to austin09.livestrong.org/bobroll to make your donation — maybe it's just to buy Bobke a hat, so we don't have to look at that ever again. But a great cause indeed and Bob Roll's always up for a good cause himself.
Yay, awesome! I'm going to put pics up in just a minute, and I'll get a YouTube of it up as soon as someone can let me know it's available.
3:07 I'll get back to the LiveBlogging once I get the photos up and otherwise continue talking about this.
Huzzah!
On TV you can't really tell, but there is a massive crowd gathered around to watch (following two pictures taken from Astana site):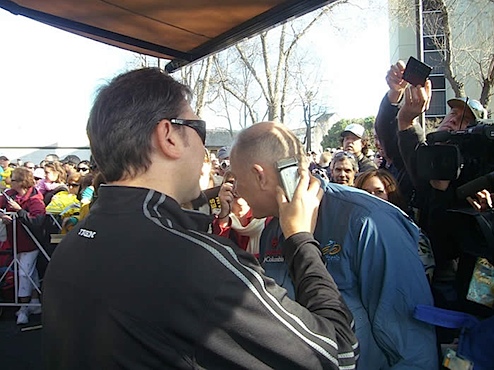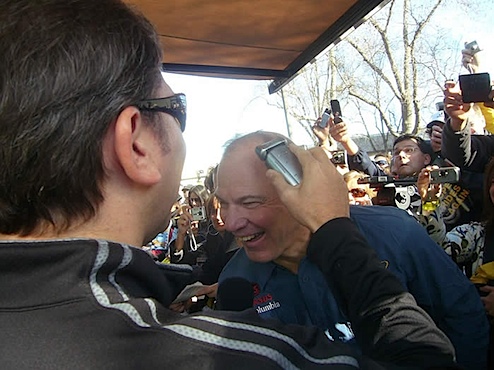 4:13: OK, I'm having a hard time getting caught up today, because I keep seeing stuff like this: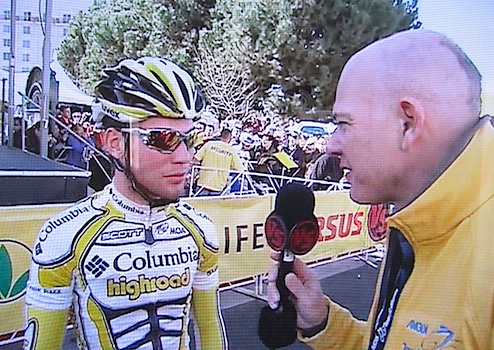 Evidently, Johan missed a spot!
Or, really, a stripe.
4:20 You know, I shouldn't even call this a liveblog of the stage. I'm just liveblogging my excitement about how a bunch of us got together, raised a bunch of money to fight cancer, and got one of the coolest, funniest, nicest guys in cycling journalism to shave his head on TV.
And also, it's very cool to have Scot sending me a picture of a woman at the Tour wearing a Team Fatty jersey. That's Rosemary — a Friend of Fatty — heading off to get a signature on a jersey, to auction/raffle to raise money for her own Team Fatty LiveStrong Challenge, by the way. Go Ro!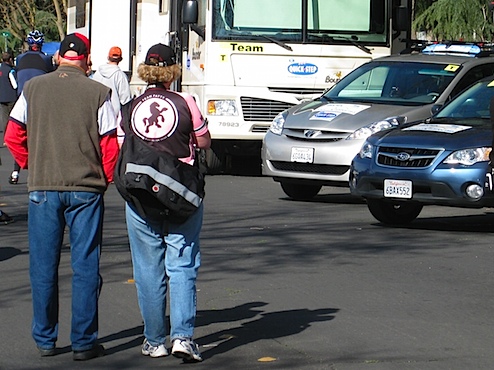 Hey, that looks like a Banjo Brothers messenger bag, too. Awesome!
4:31 And now a nice head-and-shoulders shot of Bob, with his new hair: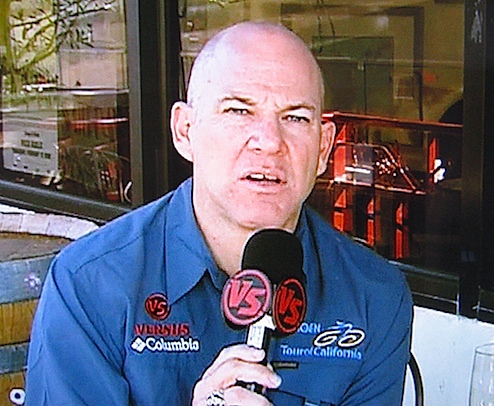 Once he gets it cleaned up, it's going to look just fine. It's a good look for him.
Seriously, it is.
4:38 Ok, I totally failed to Liveblog this. Can you blame me?
4:39 Cavendish in a two-fer. Good for him!
4:47 Bobke asks Leipheimer what he thinks of his new look. Leipheimer replies (accurately), "It's a little rough; I'll give you some tips." Ha!
Scot sends this photo: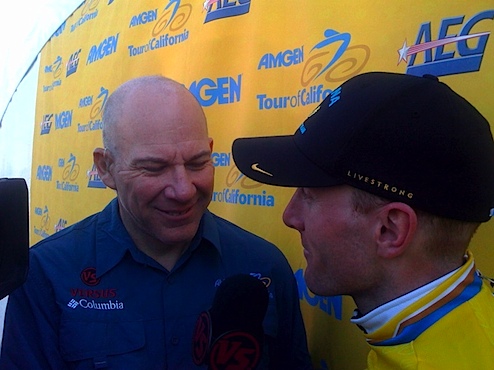 PS: In an interview with Frankie Andreau on the remarkably sophisticated Amgen Tour of California Tracker site, Bob referred to my blog as "fatty cycles dot com." OK. Fine. www.fattycycles.com just happened to be available, and now it points…here.