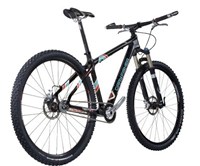 I'd like to kick today's post off by saying that I am incredibly proud of Fat Cyclist readers. Together, we have — in under two months — raised $88,000 $89,000 $90,000 $91,000 $92,000 $94,000 $95,000 $97,000 $99,000 to help the Lance Armstrong Foundation fight cancer.
We're going to be crossing into six-figure territory very, very soon now.
And I'd like to make it clear that the current big raffle — for a rare, high-end, not-for-sale-anywhere carbon fiber Gary Fisher Superfly Singlespeed mountain bike — is still underway. Click here for details on how, and then go here to donate for your raffle tickets. All proceeds go directly to the Lance Armstrong Foundation, which I have can vouch for, firsthand.
The raffle for this bike ends this Saturday, so if you're going to donate, you need to do it now.
How — And What — Susan's Doing
I know perfectly well that a lot of you check in on my blog mostly to find out how Susan's doing. (For those of you visiting for the first time, Susan has been fighting metastatic breast cancer for about two years. As of last October we've moved to hospice care.) And I haven't said much about her in the past couple of weeks
The truth is, I haven't talked about how Susan's doing very often because it's kind of a mixed bag, and because some days it's a lot easier for me to write a jokey post than to go into details of our life.
Pain and Panic
A lot of the time, Susan does hurt. And while she doesn't complain anywhere near as often as she ought to, she's hurting worse, and in more places. And she's weaker — I now do a lot more of the lifting than I used to when she moves from her bed to a chair.
What's awful for me about this is the fact that I can't do anything to fix the problem. The only thing I can do, really, is to offer Susan more pain medication. And so I do that.
Constantly.
If Susan took pain medication every time I offered it to her, she'd be comatose.
Sometimes — usually at night, after everyone else has gone to sleep and I have time to think — I start thinking about how much Susan's going through, and how little I can do to help her, and I get this weird mix of panic and helplessness. I get terrified that there's got to be something I could do for her, but I just don't know what it is, and I'm failing her.
I'm not like that every night. Not even very often. And I've got Ambien for when I am.
You know, sometimes this blog isn't very funny.
New Normal
What's startling is how quickly the kids — especially the younger ones — adapt. A couple of weeks ago, for example, one of the twins came in, distraught. I asked her what was wrong. "One of my friends says she's not allowed into our house because mom's sick," she said.
I started to explain that was probably because the friend's mom wanted to keep things nice and quiet for Susan, that she didn't know Susan prefers to have the house noisy and full of kids having fun."
"I know that," said my little girl. "But I didn't know mom is sick!"
Which is to say, she no longer thinks of bedridden with an oxygen tube hooked up as anything but normal for her mom.
And the boys — well, at ages 15 and 13, they've learned some skills that are going to be handy when they go to college, or start families of their own. Which is to say, they now know how to cook a few meals for the family, know how to do the dishes, know how to do laundry, and even know how to take care of twins. I rely on them to pick up my slack, and they help out gladly. In fact, they volunteer.
Let me point out again: these are 15- and 13-year-old boys doing all this.
New Skill
And meanwhile I have picked up a lot of new skills. The one I think I am most pleased with, though, is my new ability to style the girls' hair. Behold: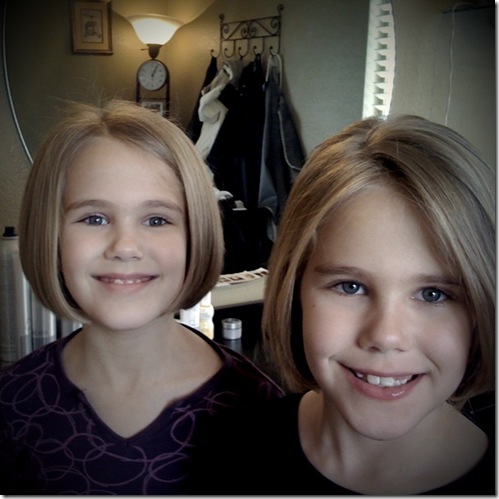 Yes, I cheated, by getting short haircuts for the girls that even I can fix to look nice.
So now I don't have to send the girls to the neighbor to have their hair done every morning before school (although I will be forever grateful to the neighbor who volunteered to do just that).
It's almost as if I'm becoming competent or something.
4000% More Awesome Than a Yellow Latex Wristband
The piece of good news we had a couple weeks ago — Susan's neuropathy has backed off, so her hands work again — has held beautifully. I can't really describe how glad I am to see Susan happy and busy, for hours at a time, making jewelry.
She enjoys it so much, in fact, that many times she forgets her pain until it gets pretty severe. Ask anyone who's dealt with cancer in the bones how often they forget their pain and you'll get a pretty good sense of how absorbed Susan gets in her jewelry.
Here are a few she's made, incorporating bike chain links into her designs: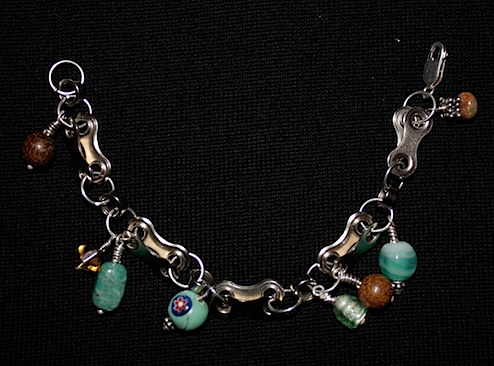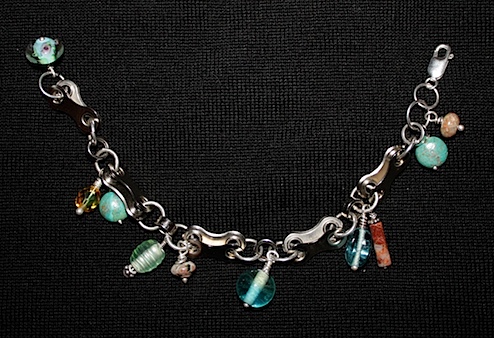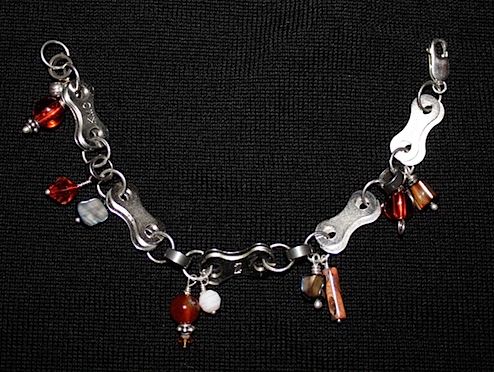 Want One?
What's really cool is that Susan wants to use these bike chain bracelets to raise money for the fight against cancer. Kind of like you might wear one of those yellow bracelets, but a little more personal. And a lot more awesome.
Every one of these is handmade (I do the grunt work of degreasing and disassembling the bike chains), and every one of them is different. You won't know what pattern Susan chose for you until you get the bracelet. And I think that's part of what makes this idea great.
If you would like a Susan Nelson original, here's what you need to do:
Go to my Philadelphia LiveStrong Challenge page: http://philly09.livestrong.org/fatty.
Donate $100. If you donate in multiples of $100, I'll assume you want multiple bracelets.
If you have special instructions — like you want it shipped to a different address than the one you fill out in the form, or you have an extra-large or extra-small wrist, or if you want a men's bracelet instead of a women's (men's bracelets will not have the beads), forward a copy of the donation receipt to me

[email protected]

with your request. I'll get back to you with any followup questions I have.
Please be patient. The one thing I do not want to do is start making Susan think she needs to tire herself out doing this.
[UPDATE: More than 80 (!!!) of you have donated $100 to get a bracelet — that's incredibly exciting, and remarkably generous. Susan has now asked me to say that she doesn't want to take any more on until she finishes making the ones already in place. That makes good sense to me. I'll let you know when Susan's ready to do more. I'm guessing that'll be at least a month away, though.]
Meanwhile, I would like to make an observation: Susan rules.
PS: Some of you may be curious as to whether a donation to get a bracelet doubles as a donation toward raffle tickets. The answer is: Yes. When you donate to get a bracelet, you automatically also get entered in the raffle to get the awesome Gary Fisher Superfly Singlespeed.