This morning I had a poser of an ethical dilemma I had to solve. Luckily, I solved it easily, thanks to a little help from a friend. I'll explain more about this in a minute.
Caps for Sale
But first, I want to let you know some very cool news: My good friends at Twin Six have just let me know that Fat Cyclist cycling caps are now in. Behold (click either for a larger version of the image):
Here's the left side: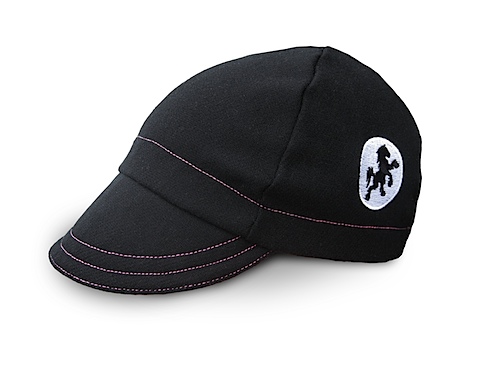 And here's the right: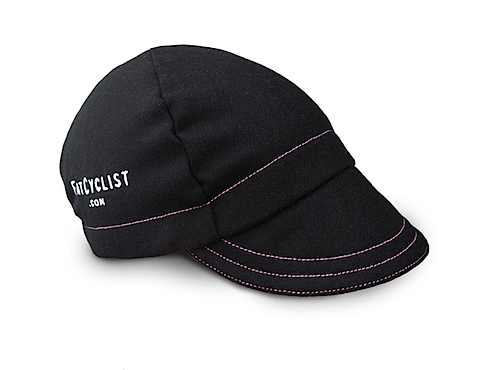 They're soft wool, they're extremely comfortable (I know; I wear one pretty much every moment of the day), the graphics are embroidered — not screened — on, and they're $30.00. Seems to me that a cap like this might make a fine Christmas gift — as long as you order by Friday. But why wait? If I were you, I'd order one now.
2009 Fat Cyclist T-Shirt Now In
You know what would go great with that hat? The new Fat Cyclist T-Shirt would, that's what. Here's what it looks like: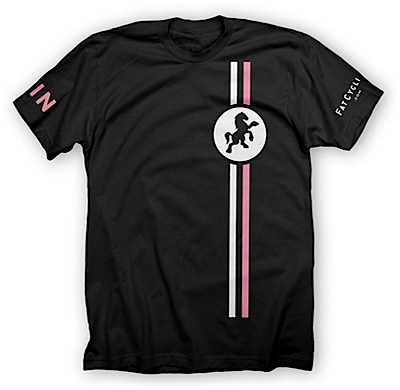 I love this new shirt. It's black (which is slimming), it's $22 (which is also slimming), and it's cotton (which is comfortable). And it's available now, both for men and for women.
I'd suggest that this might make a fine Christmas present, but you already knew that.
Why I Love the Twin Six Guys
As you may know, Twin Six has been designing and selling my jerseys (and t-shirts and bibshorts and women's shorts and hats and armwarmers and socks) ever since I've had them to sell.
And, as you may know, they do an incredible job.
What you may not know is this. This is Twin Six: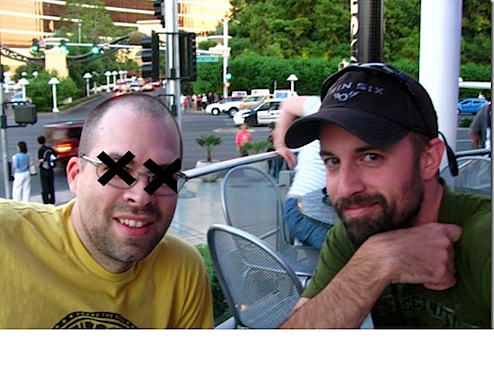 Yes, that's right. Twin Six is two guys — and two part-timers — in Minneapolis. They'd put the "small" in small business, if it weren't for the fact that they're both about 7′ tall.
Which is all prelude to the fact that last Friday, Twin Six joined Team Fatty by setting up their own LiveStrong Challenge Fundraiser page — and then immediately donated $6600.00 to it.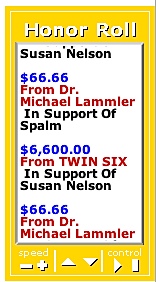 Yes, that's right. These two guys just basically donated their company profit for the year toward fighting cancer.
Weirdly, Dr. Lammler seems to have pitched in $66.66 to their page, bringing the Twin Six total to $6666.66. In support of Spalm, evidently. That guy's such a kidder.
This makes Twin Six, in addition to being really excellent guys to do business with, the current top fundraisers for Team Fatty.
Why Mark Should Love Twin Six
Here's the thing (and here's where I'm getting back to the ethical dilemma, by the way). That much money in your fundraiser page buys a lotta raffle tickets. 1333 of them, in fact.
And so it shouldn't be much of a surprise that Twin Six won the Masi Soulville 10 in the raffle drawing last Friday night.
The thing is, the Twin Six guys won it fair and square — like everyone else, they created a LiveStrong Challenge page and contributed their own hard-earned money to it. Then they had won the bike by luck of the draw, bolstered by the fact that they had improved their odds of winning by being extremely generous.
But I didn't feel good about it. I was worried it wouldn't look right to some people. So I called Ryan (he's the one who's eyes aren't crossed out), planning to walk him through how he won but how it didn't seem right to me.
I never got to my speech.
"No, no no no no no no. No," said Ryan as soon as I said they had the winning ticket.
And so I drew an alternate — Mark M — to win the Soulville. Mark is, by the way, a good guy who is — like a lot of us — fighting against cancer for intensely personal reasons. And he's excited to get the Soulville. As he should be.
A word of advice, Mark: you may want to go buy a Twin Six jersey or two, just to balance out the karma a little, you know?
Why You're Going to Love Twin Six
So, right this very minute, the guys at Twin Six are hard at work at the special Team Fatty: Fighting for Susan jersey design. I haven't seen the preliminary designs yet, but Twin Six has never disappointed me yet.
If you're a member of Team Fatty, you'll definitely want to pick one up. And you may want to pick one up even if you haven't signed up for the LiveStrong Challenge, because Twin Six is going to be making a hefty donation to the Lance Armstrong Foundation for each one of these sold.
I know I'm gushing, but these guys rock.