A Note from Fatty: Today's guest poster is the author of one of my daily must-read blogs: Jill Homer, of Up in Alaska fame. Jill is a journalist and cyclist in Juneau, Alaska. She completed the 2008 Iditarod Trail Invitational, a 350-mile winter ultra race that follows the famous Iditarod Trail in Alaska. She wrote a book about her experiences, which would make a great Christmas gift for the aspiring winter cyclist. It's available at http://www.lulu.com/content/4691423. I've already ordered my copy.
Hi. My name is Jill Homer, also known in Google searches as "Jill in Alaska" and "That Crazy Cold Chick on a Bike." Thanksgiving is coming up, so I'm writing a guest blog post on fatcyclist.com today to talk about how thankful we are as cyclists that winter is finally here. I know, I know. It's been a long summer, and I'm sure that like me, you've grown weary of all the dry trails, warm sunny afternoons and daylight. But now that it's winter, many of you are probably wondering "how can I extract the most enjoyment out of my bicycle?"
The answer is: Snow. I'm not talking about the light dusting on the road during your morning commute. I'm talking about winter off-road riding on trails carved into snow. And since this idea for some reason seems to be an affront to most cyclists' sensibilities, I am here to impart my vast wisdom about the art of riding a bicycle on snow by answering some common questions.
And just in case you feel the need to question my expertise, I'll have you know that I have been a winter cyclist in Alaska for three years. That may not seem like a long tenure, but what I lack in experience, I make up for in volume.
1. Where exactly can I ride a bicycle on snow?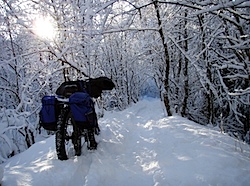 Snowmobile trails are a great place to start: Wide, well-packed and often extensive, they offer great opportunities to venture out into the woods and weave around snow-laden trees even in the dead of winter. If snowmobilers haven't yet run over your community, or if you object to riding in the wake of noxious exhaust fumes, hiking trails that are used by snowshoers and cross-country skiers also provide fun, often more technical singletrack for the ambitious snowbiker. If you live in far northern climes, frozen lakes and rivers, dog sled trails and ice roads also are tons of fun.
2. What kind of bike do I need to ride on snow?
You don't necessarily need a winter-specific bike. Any mountain bike will do. However, those 2-inch tires they put on regular mountain bikes have plenty of disadvantages. Riding "skinny" tires on snow often feels like trying to ice skate through loose powder: You cut in and stop. Fat tires, which can be as wide as 4 inches, spread the weight like a snowshoe and float much better atop powdery surfaces. Plus, those monster truck tires and the fat frames that fit them will always generate plenty of attention (i.e. envy) from fellow winter trail users.
3. What if I can't afford a winter-specific bike?
The general rule for skinny tire riders is "When in doubt, let air out." Running regular tires at super-low pressures will help alleviate much of the ice-skate effect. Plus, you're riding on soft snow, so you don't have to worry about slashing the sidewalls.
4. Do I need studded tires?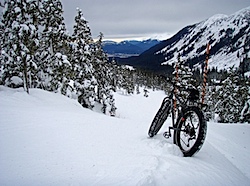 The short answer is no, although they don't hurt. Studded tires work wonders on hard ice, but they don't do much for snowy trails. Still, glare ice is something all winter cyclists encounter no matter where they ride, so think of studded tires as added insurance.
5. What about downhill riding?
I thought you'd never ask. As an Alaskan, I like to ride to places where I can see Russia, you know, just to check out the scene and make sure Vladimir Putin isn't doing anything sinister that day. This generally means riding up high in the mountains, getting a great workout and carving some wide tire tracks into the local ski hill. But what goes up must come down, so you want to make sure you have a good set of brakes on your bike. Rim brakes are no good, because rims can ice up and the calipers can get clogged with snow that is wafting off the tires. Disc brakes, preferably mechanical disc brakes, work much better. After that, downhill snow biking is just like any downhill biking: Slide your butt over the back wheel and hold on.
6. Help! My bike is fishtailing out of control and my brakes are already locked up!
When this happens, there's a good chance you're already slipping sideways down the mountain. My best advice is to lay the bike down and ride it out. It's only snow, after all. Be grateful this didn't happen to you on talus.
7. What do I wear?
Easy: Anything that keeps you warm. The truth is, there's no standard clothing for winter cycling. I like to tell the youngins that back in the day when I started winter cycling, back in 2005, we wore four pairs of cotton socks and fleece pajama bottoms when it was 10 below and we felt fine, just fine. But I've since learned a few truths to keep in mind when choosing your gear:
Circulation over insulation: Those four pairs of cotton socks will do nothing for you if your toes are squeezed into a tiny pair of shoes. Frostbite will happen before you realize it because you can't feel your toes anyway. The best footgear to go with is a comfortable pair of boots a couple sizes too large, a heavy pair of wool or synthetic socks and a liner sock.
Breathe, breathe, breathe: If the temperature is below freezing, there's not much chance of getting wet from precipitation. Sweat, however, can be your worst enemy, and it will freeze in the strangest places (beneath your coat, for instance.) You want to layer up with plenty of breathable base and mid-layers, and make sure your outer layer breathes as well. If you start to feel warm, take something off. Never let yourself sweat too hard, unless you're interested in conducting an experiment to see which of your layers will freeze solid (Warning: You may become one of those frozen layers.)
Happy hands and head: Gloves and hats are very important. Keep your hands and head warm, and the rest of you is likely to follow.
8. What do I drink?
I hear there are many forms of hard alcohol that won't freeze. But if you're interested in hydration, the best solution is an insulated water bottle strapped to the bike. Others have all sorts of solutions for Camelbaks, but I've never had much success with keeping the hose from freezing.
9. What do I eat?
My favorite foods that don't freeze: Nuts, chocolate, Pop Tarts, dried cherries, sunflower seeds, and the most perfect food ever invented: Peanut butter cups.
10. This all sounds so awesome! When do I start?
Why not today? After all, if you're a snow biker, a whole new cycling season is just beginning.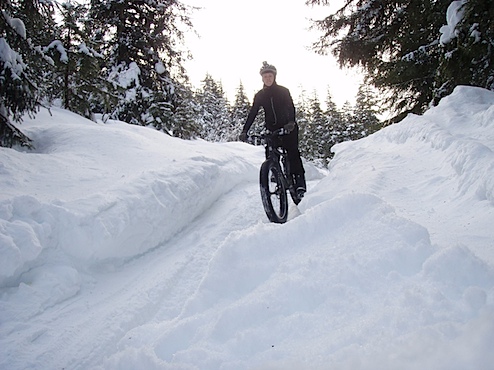 PS from Fatty: Seriously, go buy Jill's book.