A Note from Fatty: Be sure to check out the photo my sister got yesterday on her blog.
I am now a grizzled Interbike veteran, and so I would like to offer you a piece of advice to those of you who have not yet ever visited Interbike, but hope to someday.
When you first step onto the expo floor and you see all the carbon and Ti and aluminum and steel and gears and cables and tires and wheels and pedals, do your utmost not to throw your hands in the air, squeal, and run around in circles yelling "I'm in heaven I'm in heaven I'm in heaven I'm in heaven!" until you fall over.
Because others will not necessarily appreciate your candor, that's why.
But that's how you'll feel. Seriously, it's a bike geek's dream, and there's enough there for you to see for days and days and days.
And then, when you realize that you only have a couple of days to see months and months worth of bike-related wonderfulness, you will be tempted to run up and down the aisles as fast as you can, grabbing information at a breakneck pace, an idiot grin on your face.
Yeah, don't do that either. Trust me, I know what I'm talking about.
So, anyway, after I finally got Kenny to calm down and get his shaking under control, we went and checked out some of the most awesome stuff there is to see.
With a definite emphasis on not looking at complete bikes.
Fatty is Starstruck
I'm pretty sure I've made my hero-worship of Scot Nicol / Chuck Ibis a matter of public record. So it shouldn't surprise you at all that the first place we made a beeline for was the Ibis booth, which is a Streamline trailer, so that I could finally get a picture of me with Scot.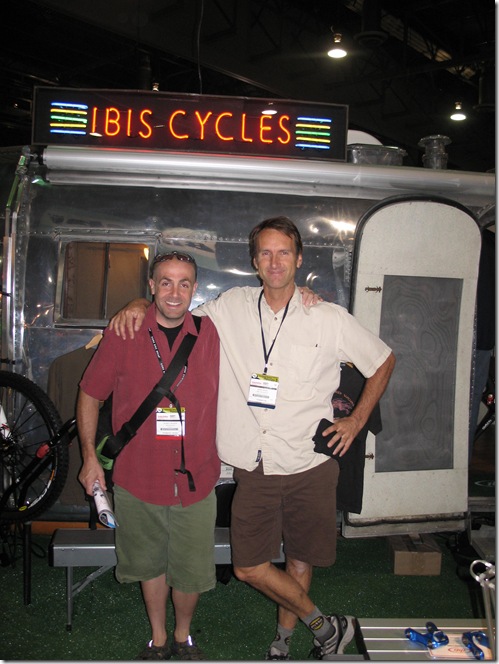 For some reason, he declined to autograph my chest. Jeez, how uptight can a guy be?
I then waxed nostalgic about the only bike I've ever truly regretted selling — my Ibis Ti Mojo. Scot agreed that I was stupid, which didn't help me feel any better.
But the cool thing is, Ibis is in fact doing a special run of the Ibis Ti Mojo again. I'll have to look under the couch and see if I have a few thousand dollars there.
Booth Babes, Part I
Then, as I was talking with Scot, all man-to-man and stuff, some booth babes walked by.
Kenny's attention was diverted.
"Hey, would you mind posing for a picture with the Fat Cyclist?" Kenny asked.
Well, of course they would be happy to.
So here we are.
It's kind of sad, really, how the one on the left had to kind of crouch to not be 8″ taller than I am. Also, it's kind of sad that it's impossible to tell what their outfits are promoting. Seriously, you can't tell, even in real life. Kenny tells me that he spent a good ten minutes staring at these girls and he still doesn't know what their outfits were about. And finally, it's kind of sad that I blinked as the photo was taken.
Not that any of you noticed that I blinked.
Booth Babes Part II
Kenny and I were very interested in a very innovative quick release skewer setup called "Clix." Instead of having to loosen the skewer by unthreading it, you just pull out the spring loaded tab. It's fast and easy and really nice, especially for folks who have to remove wheels all the time — like I do any time I mount my bike on the truck's fork-mounted rack.
In addition to its actual merits, Kenny was interested in seeing if he could win the speed wheel change competition Clix had going on — whoever during the course of the show could remove one wheel and then put another on would get $500.00.
Kenny took about nine seconds, which — at least at the time — put him in second place.
And of course, as a top scorer, Kenny was required to pose for a picture with the Clix booth babes.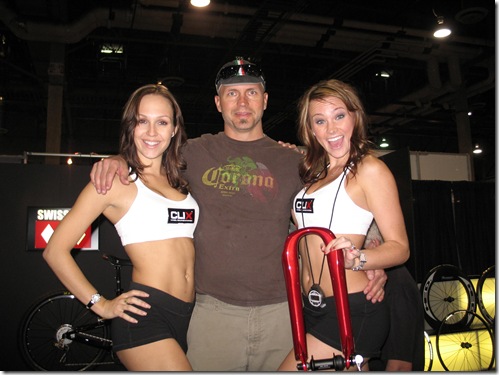 Imagine, if you can, his disappointment.
Tasty
When at Interbike, you can tell yourself you're just objectively looking at all the bike wares there are to see, but that is of course a lie. There is some part of you that is at the show to look for something you want for yourself. In my case, that item is an adult-sized Big Wheel.
In Kenny's case, it was an all-carbon bike saddle.
Kenny was not disappointed.
He found the Selle Italia SLR C64, and was unable to resist licking the glossy 85g miracle.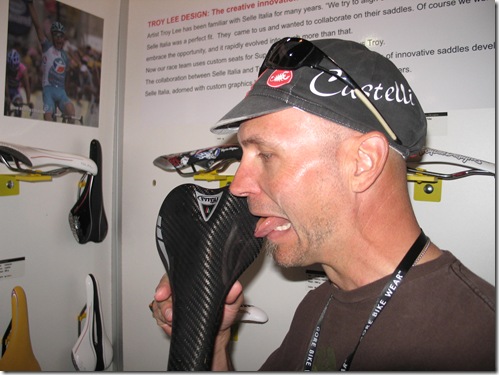 Kenny's that way about carbon fiber. It's a curse.
Oh, and I found the thing I was looking for, too.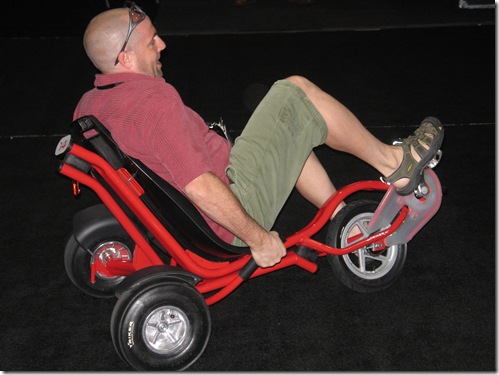 But I didn't lick it. That's not my way.
I Am A Very, Very Important Panelist
Of course, the day wasn't all goofing off for me. I sat in on the Web 2.0 panel, where I gave away a whole bunch of Fat Cyclist t-shirts (pretty sure I gave away about 60), to distract folks from the fact that I had nothing meaningful to contribute to the conversation. Here's me, sneaking a look at my iPhone because somebody had asked me something about my site stats and I couldn't remember what numbers I had most recently made up.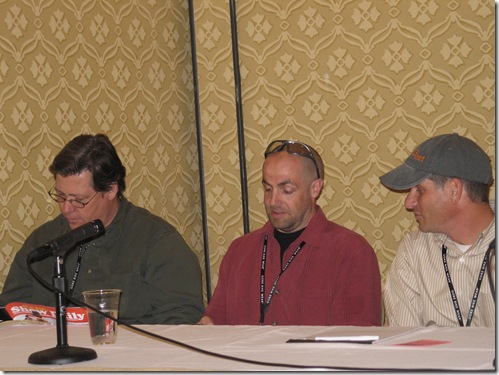 "Uh, yeah, it's just like I said: I get 20,000,817 hits per day."
And here's the rest of the panel.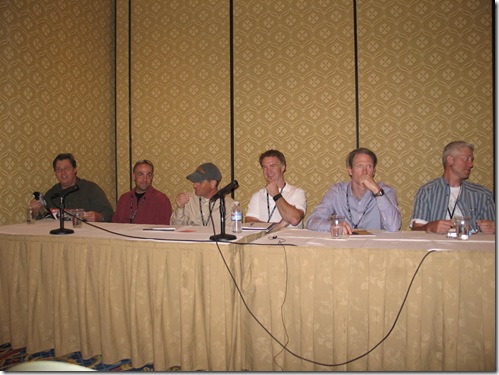 And you know what's really cool about this whole panel thing? Andy Freaking Pemberton (second from the right in that photo), publisher of VeloNews, gave me his business card after the panel. Which just goes to show: he hasn't ever read my blog.
OK, really I did make what amounts to what I consider to be one really good point in the panel, which I will reiterate here: Web 2.0 is just a fancy and obscuring word for "neighborhood." Use the same techniques you would use to be a good neighbor when you build your site — be available, helpful, interested, interesting, and fun — and you'll be just fine.
I'd tell you what the other people said during the panel, but I was too busy looking for opportunities to interrupt them and make the conversation be about me.
Oh, Oakley
Kenny and I capped off the day with a stop at the Oakley booth. There, Alyssa showed the upcoming-but-still-in-development replacement for my beloved Racing Jackets: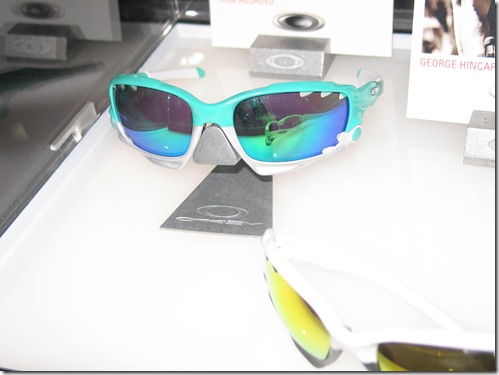 I'm afraid I might have gotten a little strident with regards to this news, seeing as how I replaced my seven-year-old Racing Jackets with yet another pair of Racing Jackets.
So I'm kind of slow to change. Fine.
Anyway, I told Alyssa that I demanded I be made a beta tester for these new glasses, seeing as how I'm all emotionally invested in them and stuff.
"Sounds good," she said, edging for the nearest exit.
But before all that happened, we all took turns vamping it up with some of Oakley's finest.
Alyssa tried on some men's glasses: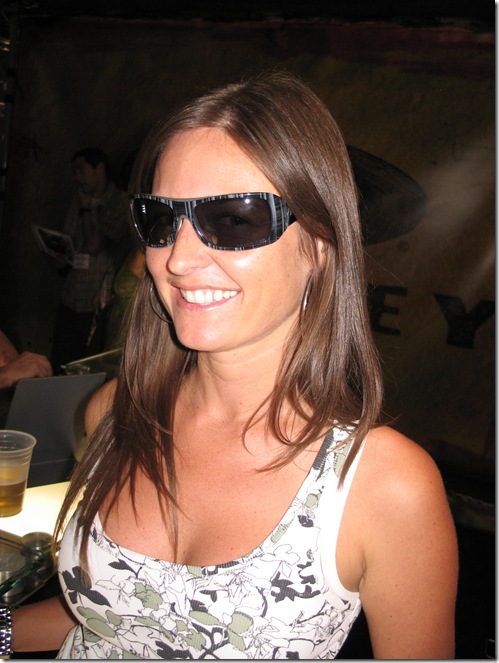 And then Kenny tried on some Bono glasses: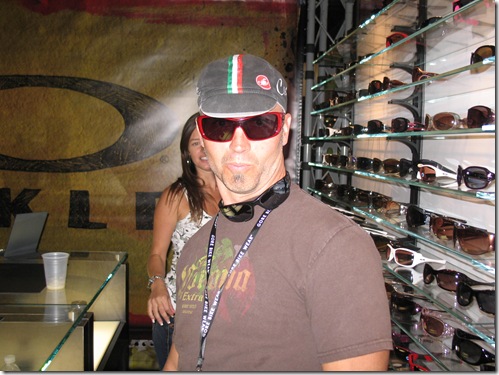 And I went for the recently-reissued Frogskins.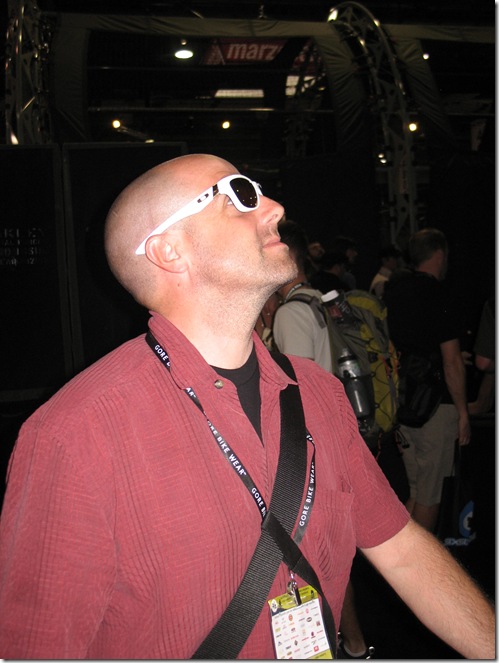 I am, after all, a product of the 80's.
Tomorrow
First thing tomorrow, Kenny and I are going to the press conference Lance Armstrong is doing, wherein he will give us details around his return to pro racing.
And then, of course, I will give you the straight scoop. Including, quite possibly, pictures.
After which, Kenny and I are going to go goof off on the convention floor some more.
I confess, I am having fun.
PS: Over at BikeRadar.com, I talk about my delightful experience with the Rock Racing booth.