It's been a while since I've talked about how Susan's doing. There are a couple of reasons for this, neither of them very good.
The first reason is that how Susan is doing is complex — it's not as simple as saying, "She's doing really well" or "she's not doing so great."
In some ways, she isn't doing so great. Something I don't think I've mentioned on this blog, for example, is that the day before I was supposed to go to Leadville, I decided not to go. Susan had fallen, twice. One of the times she fell was against the sharp threshold of the shower, badly bruising her shins and nicking one of those shins.
Now, a nick wouldn't normally be much of a problem, but remember: Susan's on coumadin (a blood thinner meant to prevent any more blood clots forming in her legs). She started bleeding profusely, and I was more than mildly freaked out. We got it under control, but I did not want to leave her to go on a trip. And I wouldn't have, except Susan made me. She said I wasn't allowed to send her on the guilt trip she'd go on if I didn't go on my Leadville trip.
So I went, but first I made sure Susan had lots of help.
And even though Susan's now done with the radiation on her spinal cord, she hasn't got much of her mobility back. She can get around with a walker in the house, but only slowly, and everywhere else she's in a wheelchair now. Susan observed last night that there's no way she could get into any of our friends' houses now, and going to the book club she likes so much is going to be difficult, too.
In other ways, she's doing really well: her mind is clear and sharp, which I am incredibly grateful for. The scooter has turned out to be a terrific thing to have; she and I have been taking the girls to school, and that's really the highlight of my day.
Pills, Pills, Pills
Another piece of great news is that Susan's made it through her first two-week course of pill-based chemo (Xeloda, if you're curious). It didn't go entirely smoothly — after the first few days, the inside of Susan's mouth developed a painful batch of blisters. So she stopped, let the blisters fade, and then started again with a slightly lower dose — four pills per day instead of five. Since then, the side effects have been manageable.
But the Xeloda is just the tip of the pharmaceutical iceberg. Susan's now on a huge array of drugs — or, excitingly, is either getting off them or is getting to take a break from them. And what's striking is that a lot of the drugs you take as part of your fight against cancer are to fight the side effects of your cancer treatment.
Here's what's either on the pharmaceutical menu or has recently been on the menu:
Xeloda: The chemotherapy pill. Having taken this for two weeks, Susan now gets a week off before taking it for another two weeks. There's no finish line for this kind of chemo; Susan will be taking it indefinitely. This stuff's expensive — our copay's about $500 / month.
Zofran: The Zofran is to combat the nausea the Xeloda otherwise brings on. Susan takes it half an hour before taking the Xeloda. Since she isn't taking the Xeloda right now, she also doesn't have to be taking the Zofran.
Decadron: A steroid used to fight the side effects of the radiation. Susan just finished tapering off the Decadron — you're not supposed to quit it cold turkey, or you'll incur serious problems. Susan's really glad to be done with this, because it weakens her already-weak legs and puffs her face up.
Prilosec: An over the counter heartburn medication Susan was supposed to take to counter the side effects of the Decadron — upset stomach and even ulcers. Yes, the Prilosec was a medication to counter the side effects of a medication which was used to counter the side effects of the radiation. It's like a row of dominoes. Now that Susan's off the Decadron, she's off the Prilosec, too. Yay!
Coumadin: A blood thinner to prevent blood clots in her bloodstream, which are a side effect of Susan not being able to move her legs around much. This stuff's tricky — don't take enough and it doesn't do any good. Take too much and it becomes poison. So Susan has to get tested every week to see what her PT levels are (I don't know what PT stands for), and then her dosage gets altered. Currently, Susan takes a half pill on even days and a full pill on odd days, and the dosing could easily become even more complex than that.
Seroquel, Ativan: A combination of drugs that help Susan get to sleep, something she's been unable to do on her own since the tumors got into her brain.
Lortab: For pain.
This may seem like a lot, but Susan and I are both excited about the fact that — for this week at least — Susan doesn't have to take any of the first four drugs on that list.
A Brick for Susan
Susan and I continue to be surprised and amazed at the kindness people show us. A couple days ago, Susan got a letter from the Huntsman Cancer Foundation, saying that:
Because of the many donations we have received in honor of Susan Nelson, we would like to have a brick made honoring you. It would be placed along the walkway between the Huntsman Cancer Hospital and Institute. It is a beautiful location, offering sweeping views of the Salt Lake valley.
You may remember that Susan had her hip replaced at the Huntsman Cancer Hostpital, and the treatment she received was nothing short of stunning. So I love that Susan's being honored there, and I love that people are donating to this really excellent organization.
I expect some of the donations this letter was referring to are from the raffle for the 29″ SS townie done at the Frozen Hog race last February.
Thanks to all of you, again.
MikeRoadie's Speech
A couple of days ago, MikeRoadie — a frequent commenter on this blog and the guy I've been helping raise money for for his LiveStrong Challenge, though we've never met in person — emailed me a photo from his speech at the dinner honoring the top fundraisers.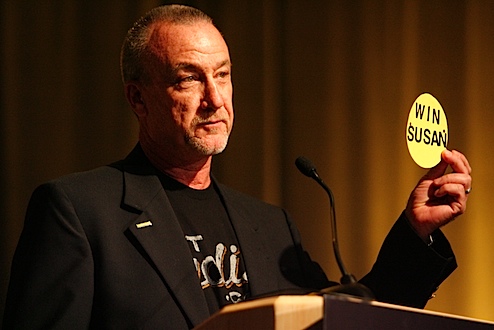 I replied, "Waitasecond. You gave a speech, there? What did you say?" And MikeRoadie — lucky for us — still had his notes, which he sent along.
Since the speech is all about you — the folks who raised $37,500 in the Ibis Silk SL Raffle — I wanted to reprint it for you.
There is an old saying we've all heard, "If you want something done right, better do it yourself". This is especially true when it comes to our mission. No one else is going to provide the funding for life-saving cancer treatments. The government can't be counted on to do it for us.

It takes an ARMY, and that army has to grow everyday! Sick or well, rich or poor, busy or not; there is something that each one of us can do everyday to spread the message.

I'd like to thank FatCyclist.com and its readers; a thousand of my closest friends, none of whom I have ever met, for making it possible for me to be here tonight. I'll be riding tomorrow in support of Fatty's wife, Susan. If you see me on the road, please stop and have your picture taken with me a show of support.

WIN Susan. Live Strong, everybody.
This is my favorite speech, ever, and not just because it's only one minute long.
And here are a few of those photos MikeRoadie is talking about in his speech: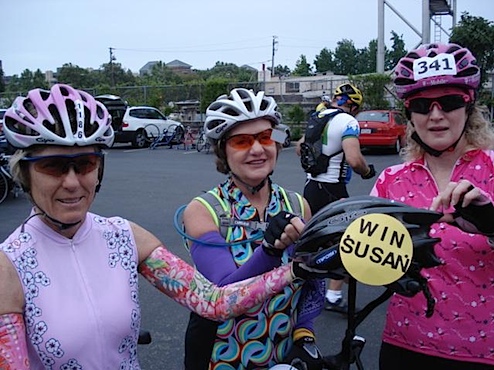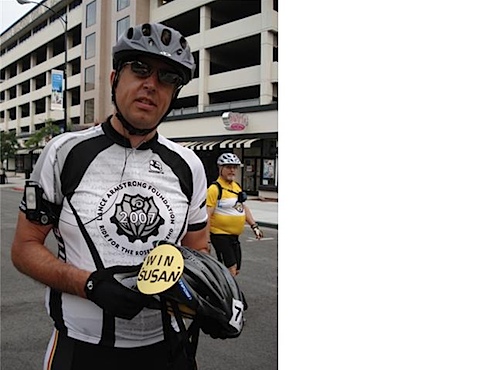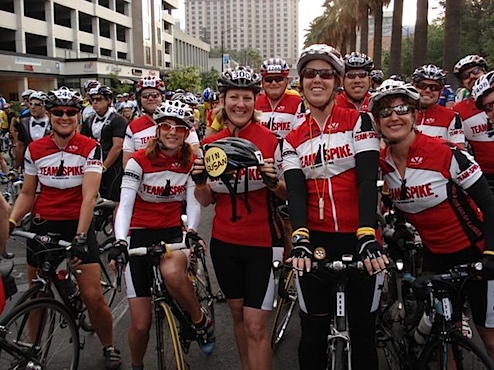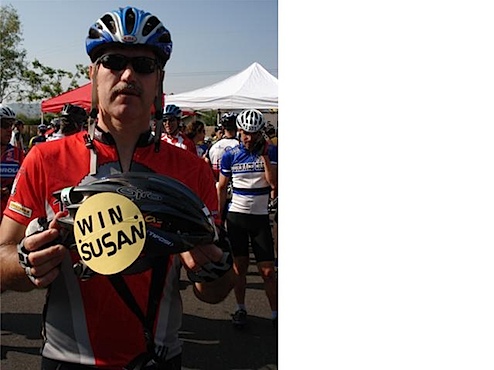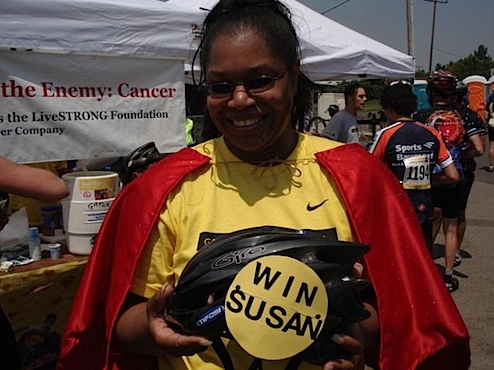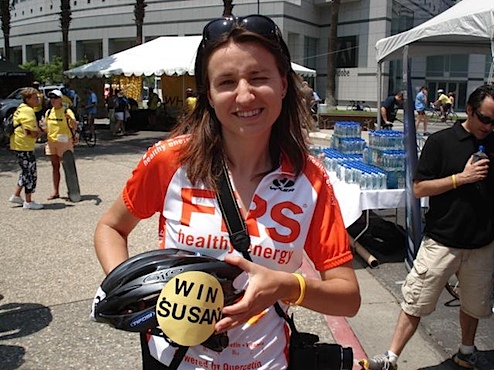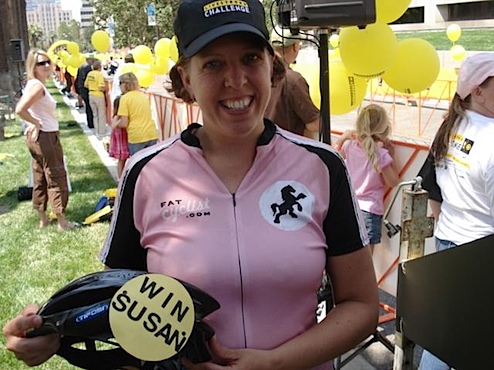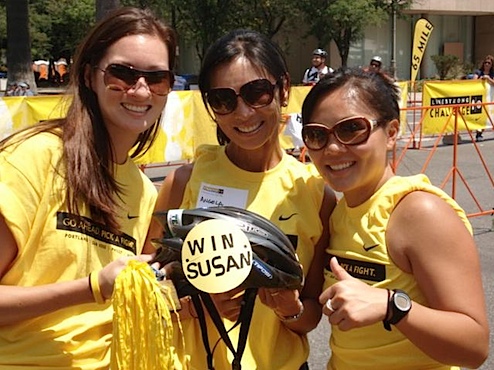 One thing this cancer battle has done for me: I'm much less of a cynic than I used to be. I see firsthand, over and over, that when people are given a chance to do something good, they jump at it.
Thanks, everyone.