Kenny's wanted a tattoo for a long time. Like, since he was seven. And now he's finally worn down his wife; she's given him the go-ahead.
But important questions remain. What should the tattoo be of? And where should it go?
And that, dear reader, is where you come in.
The First-Ever Fat Cyclist Photoshop Contest
Kenny knows for sure he wants a cycling-related tattoo — what a surprise! — but he honestly doesn't know what it ought to be, or where it ought to go.
Which seems like a perfect opportunity to do a Photoshop contest.
Here's how it works. I've taken several photos of Kenny, below. Click any of them to go to the high-res original. Then, take it into Photoshop and give Kenny the tattoo you think he ought to have.
Then, after you've uploaded your work of art to your online photo-hosting site of choice (not a huge image, please), embed the image in the comments section to this post. The tag should look like this:
[img]url for your image goes here[/img]
Easy, no?
OK, so here are the photos you have to work with. First, the front view: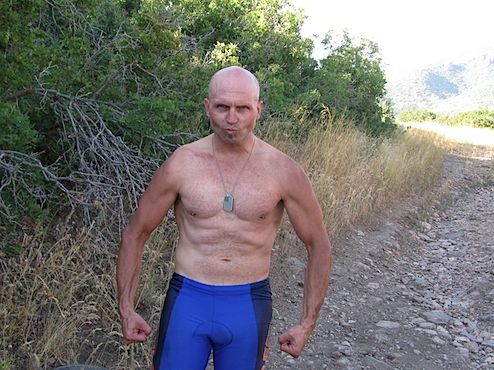 I'm not entirely certain, but I believe that may have been Kenny's "Blue Steel" look.
And here's one if you think he ought to have something on his back: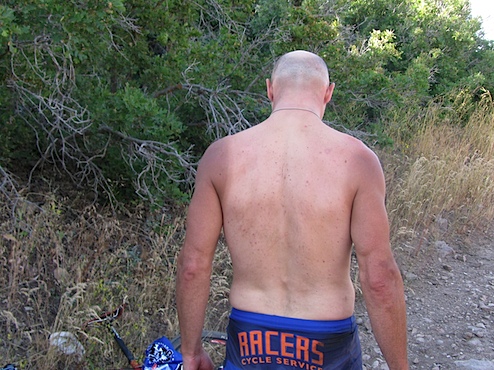 I'm guessing his legs will be a popular choice: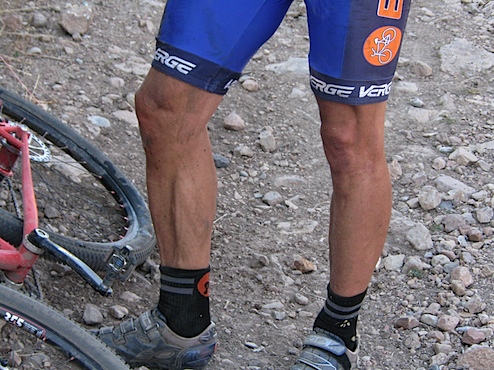 Or maybe you'll want to go with a full-body tattoo. In which case, here's your canvas: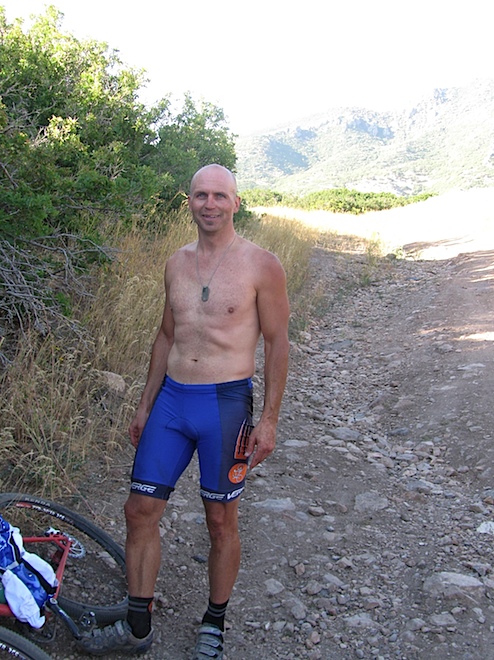 Now, before we get to the part about what you can win, I have a few observations I'd like to make.
The photo shoot was awkward. As I was getting out my camera and Kenny was removing his jersey, a riding buddy — Riley — rolled up. Neither Kenny nor I could imagine ourselves satisfactorily explaining what was going on, so we didn't. Riley, now you know.
I expect a lot of traffic from this post. It's always interesting to see what posts generate a lot of traffic. (Last week, for example, was my second-highest week ever, traffic-wise.) I think this post is going to generate a lot of traffic and a lot of downloads and a lot of linkbacks. And I think very little of that traffic is going to have to do with my sparkling prose.
I don't think Kenny's wife is going to like this post very much. Sorry, Natalie.
OK. On with the prizes!
Tell 'Em What They Can Win, Johnny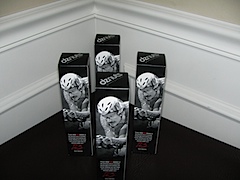 I like the prizes I'm giving away almost as much as I like the contest itself. Remember how, a couple weeks ago, I did a review of DZNuts? Well, I was a little worried that I'd get an angry letter back from them.
Well, I got a letter back, all right. The scientist who formulated DZNuts emailed me, saying that he got a good laugh out of the post, told me that Masterwort is the real deal (and sent some complex studies to back him up), and asked if I'd like to give away some tubes of DZNuts, along with some t-shirts, to my readers.
Well, of course I would. So, here's what they sent me, all of which I'll be giving away as prizes for great entries in the "Tattoo Kenny" Photoshop contest:
But That's Not All!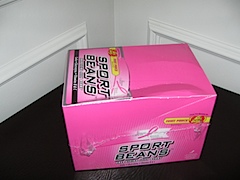 Back in July, I talked about how much I like Jelly Belly Sports Beans — they're like eating candy while you're riding.
OK, let's be honest — they are eating candy while you ride. But it's hard to argue with the results: I ate Sports Beans throughout the entirety of the Leadville 100 a couple weeks ago, and had good power the whole day.
Anyway, Jelly Belly sent me a bunch of Sport Beans, most of which I have eaten myself. Sorry, I lack willpower.
However, I have held one box of Sport Beans — containing 24 packets of the Fruit Punch flavor beans. Pink of course: I really like the way Jelly Belly is donating some of the proceeds from this flavor to fight cancer.
So that's another $24 (retail value) prize. For a total of $182 worth of prizes, so far. I tell you what: they don't give away prizes like this when you win a Fark Photoshop contest.
Wait! There's More!
I will for sure give away all of the prizes mentioned above, mainly by inventing categories on the spot for entries I really like — such as a "Best Photoshop of how Kenny will look with his tattoo when he's 75 years old and has gained 180 pounds" — but there's one prize that will only be given away under a certain condition.
If you come up with a tattoo Kenny likes enough that he actually decides to get that tattoo (or a tattoo based on your idea), Kenny's going to give you the following:
$25 of free processing at Kenny's Photo
A glossy 8 x 10 image of himself, showing off his new tattoo. Autographed.
Kenny isn't aware that I added that second item to the grand prize, but I figure he'll go along. What choice does he have?
By the way, I am not excluding myself from this contest, because I think I have a winner of an idea for his tattoo. However, I am excluding myself from any of the prizes.
What If You Don't Have Photoshop Skillz?
Don't have or use Photoshop? Use MS Paint. I'm more interested in the idea than the execution. Though I also plan to give away prizes when I see a really well-executed Photoshop.
And if you just don't want to edit an image but have a great tattoo idea, go ahead and describe it with text in the comments section. You can still win that way, too.
How Long Do You Have?
This contest will run through Monday, at which point the judging begins.
I gotta say, I'm really looking forward to your entries. Get Photoshopping!