Some of you will remember Matt, who won the dream bike that Ibis Cycles donated to help raise money for LiveStrong. Well, the bike has arrived, and it's everything Matt had hoped for and more. Check it out: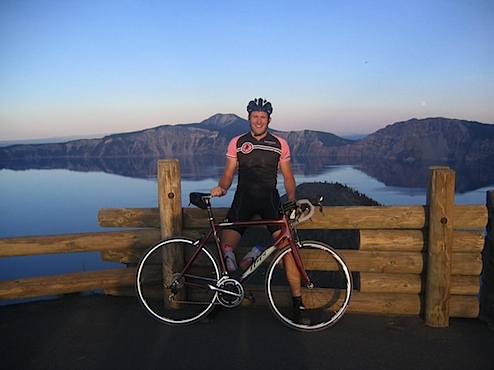 Here's what Matt has to say:
Wow, this is an amazing bike, seriously amazing. I did 330 miles in 3 days with 27,000 feet of climbing. i have nothing but praise for every part of the bike, it fits so well together.

Depending who you asked I finished either 8th or 16th in the Crater Lake Century.
Read more about Matt's first impressions of the Ibis Silk SL here, and Matt's first big epic with his Ibis here. I've got to say, it really feels like this bike went to the right guy.
Again, a big thanks to Ibis for donating this awesome Silk SL. And an equally big thanks to all of you who bought raffle tickets. You helped out in a big way.
Oh, and as a very cool side-effect of your raising so much money with this raffle: MikeRoadie was one of the very top fundraisers for his LiveStrong Challenge, which means he got to get up on stage and get his photo with Lance.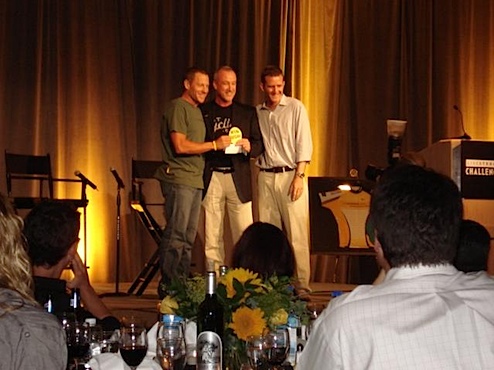 Yup, that's a Fat Cyclist T-shirt he's got on under that blazer.
That yellow dot they're holding is the "WIN Susan" sign Mike kept on his helmet (and had photographed with many other people) throughout the event. You can see it better here: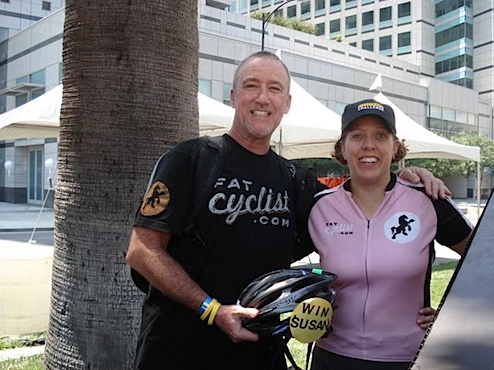 Congrats to Mike and Matt, and thanks to everyone for the work you're doing to fight cancer.
This matters.