One of the really great side effects of having been married for 20 years is that you get to know each other pretty well. You learn what's important to each other, and what isn't.
For example, I know that Susan really likes it when I can come up with a Christmas present that surprises her — something she never would have even considered, but turns out she really likes. Like the Kindle.
Susan, on the other hand, knows that I do not care about being surprised with a gift at all. In fact, I love the anticipation of a gift even more if I know what's in store for me.
And so, last week, when I stumbled across something I immediately realized I desperately wanted — something I knew I must have no matter what — Susan said, "Well, it looks like you've figured out what your Christmas present is going to be."
So, ladies and gentlemen, allow me to present my Christmas present: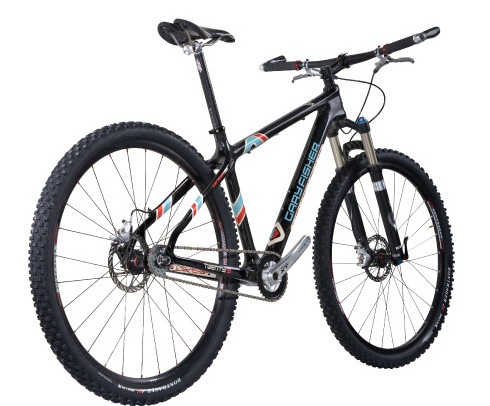 Yes, this is a Gary Fisher Superfly. But take a closer look.
It's a singlespeed.
That's right. I've got a Superfly SS frameset on order. A carbon fiber 29″ singlespeed frameset.
It's as sexy as it is hard to get. From what I understand, these are not being sold to the public. So how did I get one? Well, frankly, I begged. And now the order's in (and from what I understand, they're not doing any more orders. Tick tock, game's locked). I should get the frameset in January.
It's enough to make a 29″ SS geek swoon, I tell you.
My plan is to make this a light, sexy racing bike, and — by next season — be worthy to ride it. Which is to say, by the time I have this bike built, I am going to be much lighter and faster.
When you've got a bike like this, you don't want to have a paunch resting on your thighs at the starting line. It kind of spoils the effect.
The Other Great Part About This Present
So I know what I'm getting for Christmas very early…but I won't get it 'til late.
That's OK, though, because that gives me months and months and months to figure out how I'm going to build this bike up.
I've already made some decisions:
Wheels: I'm having Mike Curiak build me a set of wheels. All black, but with pink Chris King hubs. It is my hope that some of his endurance mojo and philosophy will osmotically (unsure whether I just made up that word) transfer to me via these wheels. The process of describing to Mike what I want from a wheelset, getting his recommendation, making tweaks, and then finalizing the plan with him has been a pleasure. I hear great things about Mike Curiak's wheels; I admit I'm nearly as excited to get these as I am for the frame itself.
Handlebars: I'm putting on On-One Mary bars. Naturally.
Fork: The frameset comes with a Fox G2 RLC 29 suspension fork, but I've got an On-One Carbon Fork I'm planning on using, at least whenever my shoulder permits. Yeah, this bike is gonna be kinda light. Excuse me, I seem to be giggling.
Saddle: Selle Italia SLR — the saddle that I put on all of my bikes.
But I've still got lots of decisions to make. Brakes? Seatpost? Cranks? Pedals? I have months to decide, and I have to say, I love it.
There's nothing as great as riding a new bike. But waiting for one and planning out how you're going to build it comes pretty close.