Eleven days ago, I posted about a mountain bike wipeout I had. What I haven't talked about is the agony I've gone through since then.
No, not the agony of a separated shoulder, though I've had a few moments of exquisite pain — usually brought on when I forget, or do something reflexively (like when I tried to catch a wayward frisbee yesterday…not a good moment for me).
The agony I'm talking about is the agony of not riding my bike.
See, I have a big race — The Leadville 100 — coming up in just a few weeks, and now's not exactly a great time for me to be taking a week or two off the bike.
So I haven't. In fact, I think I took off a total of three days — enough time that I was confident I could lift my right arm high enough to rest it on the handlebar.
In medical circles, this kind of behavior is known by two terms:
Yes, I knew when I first got back on the bike that I couldn't handle it. And I knew when I did a ride on my singlespeed road bike last week that my shoulder wasn't up to the effort it took to row a bike for twelve miles of climbing.
And yet, I did it anyway. I couldn't help myself.
What I needed was something — some device attached to my bike — that would have compensated for my lack of common sense.
And — face it — you've probably done the exact same thing: gotten back on your bike and started riding when your recovery and safety would have better served by your spending quality time with the television.
And that, my friends, is why I'm pleased to announce that I have invented exactly such a device: The Bike Limiter(tm).
What It Is
Available by prescription, the Bike Limiter is actually a set of mechanical devices attached to your bike(s) in key locations (these will be made clear momentarily). The prescription will determine specifically how and when the Bike Limiter works.
How and When It Works
Once attached to your bike, the Bike Limiter either prevents or restricts your bike riding, depending on the permissions and timetable your doctor has set. For example, your doctor may set up your Bike Limiter timetable as such:
Day 1 – 7: No riding whatsoever. If you do try to ride during this time period, razor blades will spring through the rims of your wheels, slicing your tires to ribbons, and your handlebars will become white-hot, possibly setting your bar tape or grips afire.
Day 8 – 14: Short, seated rides only, on flat terrain. You are now allowed to ride for thirty minutes or so, but only on flat roads. If the inclinometer notices that you are on a grade of 4 degrees or greater, it will immediately apply the rear brake until you have turned around. If excess weight is applied to the handlebars, they will deliver a painful (but not debilitating, hopefully) electric shock. And after the thirty minutes has elapsed, your seatpost will begin sliding into the seattube at a rate of 1cm / minute (the Bike Limiter uses metric measurements, naturally). If you go offroad (as sensed by excessive vibrations in your bicycle), your saddle catches fire.
Day 15 – 30: No epic rides. Two hour rides are now allowed. However, if you exceed this allotted time, your front derailleur shifts radically, dropping your chain. If you continue your ride, the rear derailleur does the same thing, but in such a way as to give you horrible chainsuck.
Day 31 – 45: No stupid technical stuff. The Bike Limiter uses a GPS to validate where you're riding against a comprehensive topographical map of the world, all rated 1 – 10 by technical expertise required. If you get on a trail of a difficulty greater than what your doctor recommends, the Bike Limiter sets off a siren for three seconds, giving you time to dismount your bike. After that, it releases quick-drying epoxy into your headset, completely freezing out your steering (a highly-effective deterrent to continuing an unwise mountain bike descent.
And it comes with a handy remote-control key fob, so that when you park your bike, you can click to arm it, making for a pretty darned good anti-theft mechanism.
The Bike Limiter is pure genius. As a substitute for common sense for injured cyclists, it couldn't have a better-targeted demographic.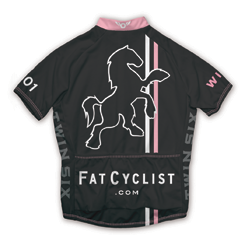 PS: Pre-order week for the 2009 Fat Cyclist jersey is now over. A big "thank you" to those of you who took the time to place an order. For those of you who forgot, didn't have the money right now, or just weren't sure you wanted one, don't worry: we ordered a few extras. They'll go on sale when they arrive in early November, and I'll give ample warning on when they'll be available.
Also, a big "Thanks" to the guys at Twin Six, who somehow manage to outdo themselves with jersey designs, and then do a great job of managing the influx of orders that comes their way.
PPS: Check out yesterday's issue of The Toledo Blade. Lukas Kummer is featured in an article about bike commuting, and is looking good in his Fat Cyclist jersey. Way to fly the flag, Lukas!