UPDATE: New information below about the components for this bike. Hint: You are going to drool all over your keyboard.
I've been busting at the seams for about two days, wanting to talk about this, but didn't want to mention it until it was locked down, because — well, it's just too awesome to be true.
But it is true. Chuck himself told me it's true. So let me say it right here, in bold and italics:
Ibis has donated a brand-spanking new SilkSL as the grand prize for the Fatty's Triathalon Raffle.
Yeah, seriously. A brand-new carbon dream bike, made by the original bad-boy manufacturers of top-end bikes.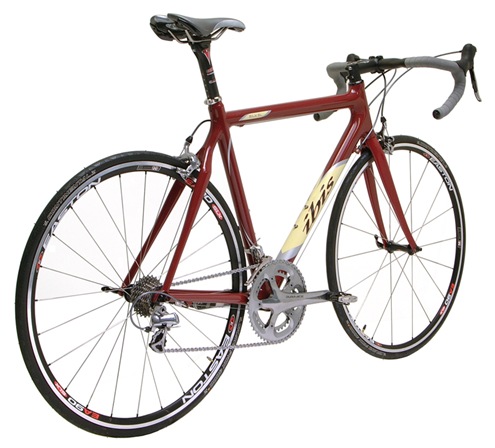 And let me be clear on this. I'm not saying this is a dream bike because Ibis is donating it. I'm saying it's a dream bike because I know firsthand. Yes, last year I sold a perfectly nice top-end road bike so I could get a bike very much like this one (except yours will be cooler, because it's newer and stiffer and lighter and has an awesome paint job), because I wanted an Ibis more. Much, much more.
And now you can win one, at the same time you fight cancer. I'd call it win-win, but that's not adequate for how awesome this is. It's more like WIN-WIN, cubed.
UPDATE: Dura-Ace Heaven
As if this bike weren't already sexy enough, we've just heard back from the good folks at Shimano, and you are going to drop your jaw. This bike's going to be sporting a Dura-Ace group, as well as Dura-Ace wheels.
This bike's going to weigh in at a maximum of around 15.0lbs. Quite probably less. And it would retail for about $5000. Or more.
We aren't just kidding about this thing being a dream bike, kiddies.
In fact, screw all of you. I'm keeping this bike for myself. 
OK, not really, but the temptation's definitely there, you know?
Anyway, this is no longer a dream bike. It's what dream bikes dream about growing up to be.
How You Can Make Everyone You Know Insanely Jealous Forever
Picture this for a moment. You're riding your sexy new red SilkSL for the first time at the local group ride. Everyone wants to know how much you paid for it. "Well, technically, I got it for free," you confess. "Although I did also donate some money to the Lance Armstrong Foundation to fight cancer."
"How," everyone asks, even as they fight to control their envy, "Did this person become simultaneously so lucky and philanthropic?"
But they will never find out, because you have ridden off the front on a solo attack that nobody dares challenge. Not when you're on this bike.
How to Enter
OK, here's how you can get a shot at winning the SilkSL: Just click here to donate some money to Mike's LiveStrong Challenge effort (http://bayarea08.livestrong.org/mike). For every $5.00 you donate, we record your name on our very fancy Virtual Raffle Ticket Spreadsheet.
Seriously, that's all there is to it. Just make a donation here in any multiple of $5.00 (such as $5.00, $25.00, $50.00, or $100), and you get a raffle ticket for each $5.00 you donate.
You're fighting cancer and getting a shot at an exquisite bike. The only way it could be better would be if it were personally delivered by Mr. Chuck Ibis himself.
Which he has declined to do. Sorry, you can't have everything.
When's the Drawing?
We do the drawing for the SilkSL the evening of Saturday, June 21, after the Triathalon festivities have concluded. I'll email the winner and announce it on my blog. Ibis will ship the bike.
Can I Win If I'm Not In the US?
As long as it's not illegal in your country for you to do this kind of thing and you're willing to cover customs charges yourself, sure. We'll even suck it up and pay the extra shipping. Because we're like that.
Do I Have to Be Present to Win?
Heck, no.
More Details About Fatty's Triathalon
Of course, the raffle is just one part of Fatty's Triathalon, to be held Saturday, June 21. I'll be talking more about it this week, but here are some details:
Time: Saturday, June 21, 10:00am 'til  3:00pm.
Where: Alpine UT. We'll start at my house or somewhere else, depending on what the parking situation looks like.
Events: Unlike an ordinary, awful triathlon, Fatty's Triathalon will consist of a mountain biking leg, a watersliding leg, and a bratwurst-eating leg. For those of you who don't know what a "watersliding leg" could possibly mean, I have asked my neighbor Gary to demonstrate: