A couple weeks ago — just before the brain tumor bombshell hit — I posted that I was going to host a "Triathalon" consisting of events that I like: mountain biking, road biking, and grilling/eating bratwurst.
Until last night, I haven't thought of it since.
Here's the thing, though. My readers have been so incredibly generous — both in donations and in messages of support — that I feel like I need to give something back. I need to show my appreciation for you, and I want to do something to help fight cancer.
And since Susan seems to be doing a little better each day — due to a combination of radiation, steroids, prayer and good wishes the likes of which I have never seen — I want to celebrate.
Which is to say, the Inaugural Fat Cyclist Triathalon (not Triathlon) is on, and moreso than ever before.
I'm just starting to work it out in my head, but the main points are:
It's going to be fun
It's going to raise money for the Lance Armstrong Foundation
You'll be able to win seriously cool stuff
You can join in even if you're not able to travel to the event itself
The Triathalon Events, Revised
Originally I planned on making the Triathalon a mountain bike ride, a road ride, and eating bratwurst. Last night I decided that plan gives short shrift to the natural waterslide up on Hog Hollow. That needs to be an event of its own.
Also, the Hog Hollow / Corner Canyon trail system is just too fantastic to only do a little of it.
So here's the new Triathalon event lineup:
Mountain Bike Ride from Fatty's House (or near Fatty's house) in Alpine, UT, covering a to-be-determined course on Hog Hollow and Corner Canyon. Winner will be selected randomly.
Sliding Rock on Hog Hollow. Winner will be selected by a panel of judges, using the following criteria: panache, hilarity, and impressiveness of paunch.
Bratwurst feast, put on at Fatty's house, or near Fatty's house if this gets too big. Winner will be selected on basis of expression of how delicious the brats are, and how delicious Kenny's homemade bread is, and how wonderfully they go together.
Prizes will be awarded to the winner of each event, as well as a prize for the overall winner.
To those of you who are pure roadies: we'll do a road event another time (a gauntlet-style triathalon, I expect). You can (and should) still come do the second and third events at this Triathalon, though.
Do Something Good, Win Big Prizes
I'm going to do a raffle for big prizes. The way you buy a raffle ticket is simple: Just donate $5.00 to the Lance Armstrong Foundation via MikeRoadie's donation page. The more money you donate, the more raffle tickets you're awarded.
When you donate, make sure Mike can tell your donation is to be included as part of the raffle by setting the "Dedication" part of the form so that the "Recognition Type" is set to "In Support of" and "Recognition To" should be "Fatty's Triathalon." Like this: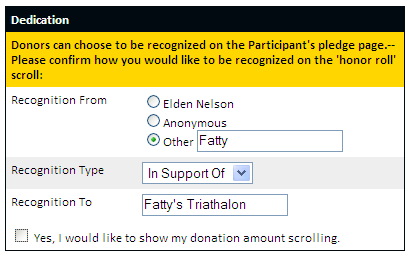 Oh, and Mike: you're in charge of doing the raffle. I figured you won't mind.
So here are some of the prizes you'll be able to win by entering the raffle — whether you attend or not:
A really nice mountain bike. I'm not sure how I'll work this out, but I will. I will — one way or another — find a manufacturer who is willing to put up a mountain bike for this raffle. I know, it seems like I'm going out on a limb by saying this, but those of you who have read this blog for a while know that I'm pretty good at asking for stuff, and then getting it. And since this is for an incredibly important cause, I'm confident someone will want to jump in and help.
An assortment of awesome jerseys, socks, and t-shirts. I know the guys at Twin Six. They'll help out. Maybe I can even get them to come join the ride.
Several loaves of Kenny's homemade bread. It really is incredible. Especially with my brats.
More. Got something you want to add to the prize pile? I'll give you recognition for it on my blog (if you want). That's got to be worth something, right?
I'd love to have this party Triathalon raise $10,000 toward the fight against cancer. And I'd also love to make it more likely that you'll win some prize than not.
A Little Bit About the Brats
The truth is, I don't do anything magical to make my grilled brats extra-good. I just boil them in a stew of beer, chopped onions and worcestershire sauce, then grill them over charcoal. But most people shortcut this process, and as a result never know how good a perfect brat can taste. Their loss.
Vegetarians, I'll provide Boca burgers, too. But I think you may want to make an exception to your diet just this once.
When and Where
This will happen on the morning of June 21, the first weekend after my 42nd birthday.
I Will Need Some Help
If you're local and you're willing to help with planning and execution, email me. I don't really have time to be doing this thing (but I want to do it anyway), so I could use some help.
See you in June. I'm looking forward to riding, pigging out, and hanging out with you, while we raise money to fight an enemy we all have in common.
PS: As you can see, my mood's lifted quite a bit. A giant thanks to all of you for sticking with me, commenting, and otherwise supporting me. It has made all the difference in the world.