Final Jersey Update: All jerseys, all sizes, are now sold out.
A Note from Fatty: I'll update today's post as events warrant.
UPDATE 1: Just saw the Twin Six Home Page, featuring the pink Fat Cyclist jersey front and center. Wow. I've updated text and links.
Update 2: Men's pink jerseys are gone. They lasted eight minutes. Wow.
Update 3: Now I know what the special projects are: men's and women's t-shirts in pink, and Fat Cyclist pint glasses, with 100% of the profit from all of these things going to the WIN Susan fund. Very cool. Read more below.
Update 4: Men's size Small is out. I find it very ironic that the first size to sell out in a Fat Cyclist jersey is size Small.
Update 5: Men's size Medium is out. And we're 3/4 of the way through the entire Fat Cyclist jersey inventory for the year…in the first day they're available. Thanks very very very much for your support!
Update 6: At this point, it's easier to say what's in than what's out, jersey-wise. Here's what's still available:
Men's: Large and XXL (just a few of the XXL; if you plan to get one, you probably shouldn't wait)
Women's: Small (just a few), Medium, Large, XL (just a few) — if you want a Small or XL, you shouldn't wait.
So…ummm…I'm beginning to think maybe I should have ordered more if I wanted to have some for sale through the Christmas season.
Update 7: Well, it's a good thing I don't do inventory requirement forecasting for a living. Because here's the status of the Fat Cyclist jersey inventory, less than a day after the months-long wait for these jerseys was over:
Men's: Out. All sizes, all colors.
Women's: There are a few Small, Medium, Large, and XL jerseys left. I'm betting they'll be gone by tomorrow morning.
So. Out of 500 jerseys, we have 34 left. After 12 hours.
Wow.
On one hand, I want to orchestrate a big sweaty worldwide Fat Cyclist hug as a thank you for this phenomenal show of support during the crappiest time of my life. You guys came through for me.
On the other hand, I feel like I should apologize to anyone who wanted a jersey in a certain size, gender, and color and didn't get it. Tomorrow I'll talk with the Twin Six guys and we'll start talks about how many 2009 (or Fall 2008) jerseys there should be, and how soon we might be able to get them.
And on the third hand, at least now you don't have to worry about me figuring out a way to squeeze in a plug for my jerseys every post for the next several months. 
Update 8 (Tuesday AM): Just a few Women's Medium and Large jerseys left. And then they're all gone. I'm going to talk to Twin Six today and see whether a re-order is possible, and if so what the timeline might look like.
 In just fifteen minutes or so, the The new 2008 Fat Cyclist jerseys will go are now on sale. Twin Six tells me they're going to push the order pages live right at noon CDT, although I understand the jerseys were accidentally (for eight minutes) on sale in the middle of the night last night, during which five of you (one in California, two in Canada, two in Sweden) managed to score the first 2008 jerseys (Way to hustle, guys).
I'm rambling, aren't I? I can't help it.
Here's what the jerseys look like, just as a reminder. Click any image for a larger version, to get a closer look: to go to that jersey's ordering page:
Men's (GONE)
Women's (GONE)
And here's the inside collar, of every jersey:

In the past I've used these jerseys to donate to the Lance Armstrong Foundation. This time, the jerseys — no matter what color — are all about Susan. I'll be raising money for the Lance Armstrong Foundation in other ways.
Men's Pink: Won't Be In Stock Long GONE.
In addition to the men's orange jerseys and the women's pink jerseys, Twin Six has produced an extremely limited quantity of men's jerseys in pink.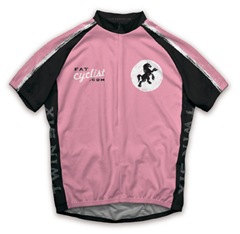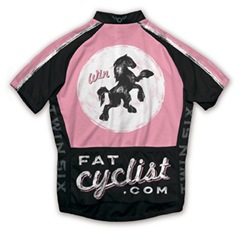 And by "limited," I mean that there  aren't very many any left. They sold out in ten minutes. Sorry!
At all.
It's maybe presumptuous of me to recommend that if you want a men's pink jersey you go buy one as soon as they're available, but I kind of suspect that this is good advice. I will update this section with their availability — or lack thereof? — as soon as I know anything.
Surprises? Surprises! Pint Glasses and Pink T-Shirts
The Twin Six guys have an intriguing post on their News page. It says, in addition to the information about the jerseys being available today, that "a couple other special projects will go live as well."
Did I ask what those special projects are?
Yes.
Did they tell me what those special projects are?
No.
But I'm pretty darned curious.
Turns out that there are a couple new things the Twin Six guys put together on the sly, with 100% of the profits going to the WIN Susan fund. (Click any image to go to the catalog page.)
Women's T's ($22.00)
Men's T's ($22.00)
Pint Glasses ($30.00 for set of 4)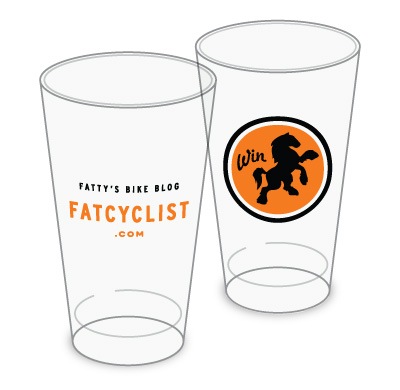 Questions?
If you've got questions about these jerseys, go ahead and ask in comments. I'll reply as often as I can, and if some questions get asked frequently, I'll move the question and my answer up here.
Q. Is the sizing the same as last year?
A. Yes it is. It seems to me, though, that the arm elastic isn't as constricting, which is a good thing as far as I'm concerned, because I have massive biceps. More information about Twin Six jersey sizing here.
Q. So how many men's pink jerseys were there?
A. There were 50.
Q. Why only 50 men's pink jerseys?
A. Some of you may remember that last year's pink jerseys (including mens) took several weeks to sell out, so 50 seemed like a good number at the time. I thought they'd go fast (like in a day or two), but I didn't expect them to go instantly!
Thanks
I owe a lot of people thanks. Thanks, everyone, for reading this blog. Thanks to those of you who leave comments. Thanks to those of you who wear a Fat Cyclist jersey in support of Susan. Thanks to Al Maviva's wife, who sent an incredibly beautiful and comfortable hand-knit shawl to her. Thanks to the guys who have offered up frequent flier points so my family can travel for free to help Susan. Thanks to the guy who wants to anonymously donate his 2007 Gary Fisher Rig for the Triathalon raffle. Thanks to the guys at Twin Six, who have long ago stopped treating me like a client, and have begun treating me like family. I won't embarrass them by describing how they're handling payment to me, but let's just say it's incredibly generous.
I'll always hate what's happening to Susan, but I'll always be thankful for what I've learned about people during this time. It's incredibly encouraging.
Again, thanks.
PS: Tragedy On I-80: I just found out, via AP News, that "a trailer loaded with 14 tons of double-stuffed Oreos has overturned, spilling the cookies still in their plastic sleeves into the median and roadway." Through my fog of devastation and personal loss, I still cannot help but wonder: does anyone have an idea how many Oreos it takes to make 14 tons?