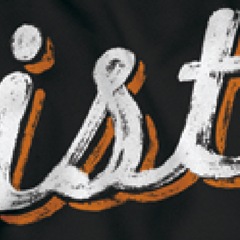 A Special Note from Fatty: Here's the last image clue you're going to get on the 2008 Fat Cyclist jersey. Tomorrow I show the whole thing.
Racing to Lose
Last year, I rode my bike to the staging area for the annual "Frozen Hog" race, a mountain bike race on ice- and snow-covered trails in Lambert Park, about a mile from my home in Alpine, Utah.
And then I looked at the people there, did a quick personal assessment, and turned around and rode my bike home.
Realizing I was in terrible shape, I decided that I had no chance of placing well. So what was the point?
This year, unfortunately for me, I have no such luxury. Because this year, the race is doing a couple of drawings for people to win bikes, with the proceeds from the local raffle going to the Huntsman Cancer Institute, and the proceeds from the virtual raffle going to the Lance Armstrong Foundation. And in both cases, the donations are being made in honor of my wife. (By the way, so far you all have donated $1130 to the LAF as your raffle toward that online bike. Thanks!)
So, like I said, I have to go.
The problem is, I am in considerably worse shape this year than I was last year. I'm fatter. I'm slower. I don't really know if I can fit into my cold weather riding gear, to be honest.
So I need to adjust my expectations.
New Objectives
Since I don't have any chance of winning this race, winning in my age category within the race, or even of finishing in the same part of the day as the respective winners of the race, I have established new objectives for myself as I race this Saturday.
I will make my intentions known. Before the race, I'll walk around the start area talking loudly with anyone I can find, mentioning loudly and often that I'm just here on a lark; I have no plans to ride hard, and certainly not to win.
I will furthermore claim that this is nothing but a training ride. "This is a rest day for me, actually," I'll say. "I'm just here for the atmosphere and because it's a good cause, not because I want to race."
I will not injure myself. I will race with caution and a certain mellow aplomb. I will be going so slow that if I fall I will have plenty of time to pull my arms close to my trunk, so as not to further injure my messed-up arms.
I will be complimentary. I will say something encouraging to each person who passes me. Furthermore, I will make a point of saying a different complimentary thing to each person who passes me. Since I expect to be passed more than 300 times, this is an ambitious goal indeed.
I will get in the way of Kenny. I hereby assert my intention to be lapped by Kenny and then body-check him as he passes me, knocking him into the snow, regardless of the very likely possibility that I will break his hip. I will then tackle him and claim I did this because I thought he was the abominable snowman and that I had it on good authority that "'bominables bounce."
I will offer sage advice. At some point in the race, I am bound to finally settle in with someone who is going my speed. I will undertake to ride behind that person for the rest of the race, offering incessant advice. Mostly, that advice will take the form of "Stay on target" and "Hold your line." I may also advise him to pedal a rapid cadence, in circles.
I will stay in zone 2. I will keep my heart rate below 130. I don't even know if this is possible to do, since my heart rate usually hops to zone 3 when I'm waiting at the starting line. (Seriously, it really does.) If necessary, I will stop and perform relaxation exercises to bring my heart rate down to the target zone.
I will offer snacks to those who look like they could use a snack. When I see someone who has clearly been depriving himself or herself far too often during this glorious season of weight gain, I shall offer him / her a can of Spam or a cheese cube, right on the spot. I will also offer nachos, though I'm not sure the nachos will hold up very well when I fall on them.
I will strut around like I am a celebrity. "Hi, I'm Fatty. You know, the finalist in the Sports category for the 2008 Bloggies? Yeah, I'm kind of a big deal around here."
I will give myself permission to quit the race on a silly pretense. I have never ever even once in my life quit a race. It's high time I do.
I am more than happy to entertain your additional suggestions for objectives I should have during this Saturday's race.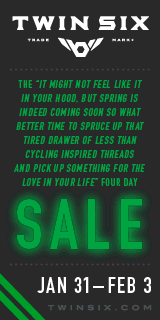 PS: Big Twin Six Four-Day Sale Starts Thursday (Tomorrow)
My friends at Twin Six — the company that designs and sells my jerseys, T-shirts, socks and bottles — is having a big sale, starting tomorrow. This'll be a good time for you to pick up some great cycling gear at an outrageously good price.
As if that weren't enough of an incentive, 10% of all sales from the T6 Spring Sale will be donated to Jenny's Light, a newly-formed nonprofit foundation dedicated to building awareness, detection and treatment for postpartum disorders.
Great guys, great company, great jerseys, great sale, great cause.
Sounds pretty great to me.
PPS: This morning I woke up with the intention of riding the rollers for an hour. I took a look outside and realized I had a different kind of workout in store for me: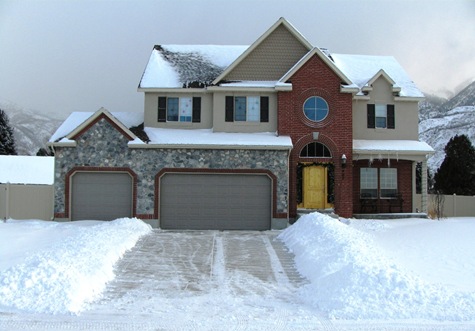 I don't say this by way of complaint, by the way. Am I the only one who really enjoys shoveling the driveway?