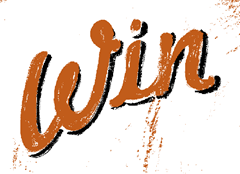 I know my place in the world. It's my job to tell you stuff you already know about riding bikes, but with different words, and the occasional well-placed fart joke.
Which is to say, I don't talk about religion. And I don't talk about politics.
Except today I'm going to talk about politics.
Single-Issue Voter
I don't think, though, that your politics and my politics are going to be incompatible, because I am not interested in telling you who to vote for.
Instead, I'd like you to tell the person who you're voting for what you're interested in.
Which is to say: No matter which candidate you've settled on — or whichever candidate you eventually settle on — let them know what matters to you.
And one of the things that should matter to you, no matter how healthy or young you are, is cancer.
Because cancer will affect you sometime in your life. That's just the way it is. It's going to hit you or a family member or a friend. There's that much of it around. And when it gets you or someone you care about, it's going to change your life.
I know there are a lot of issues that matter. And a lot of diseases that deserve attention. And I probably wouldn't be this obsessive about cancer if I weren't thinking — constantly — about what my wife's going through.
But — for the first time ever — I'm going to get politically involved. I'm going to send letters to both candidates, whoever they turn out to be. And to Bloomberg, too, if he winds up running (which I kind of hope he does, because he's allied himself with Lance Armstrong in this battle). And I'd like you to, too.
I'm going to tell them that fighting cancer — both in researching ways to cure it and helping those who have it — has got to be a national priority. That no matter what else concerns you, at some point cancer is going to become a more important and personal issue to each one of us.
If you're always politically active, please add cancer to the list of things you tell your candidate is important. And if you've never been politically active, this is an good place to start.
Help MikeRoadie Raise $50,000 to Fight Cancer
In the spirit of getting things done, I've added a link in the right column of my blog, where you can help MikeRoadie — a frequent commenter in this blog — in his quest to raise $50,000 this year for the Lance Armstrong Foundation. That's a lot, but last year he raised $20,000. I think $50,000 is not out of reach.
MikeRoadie's got good reason to want to fight cancer this way, and I admire him for it. And as someone who's directly benefited from the good that the Lance Armstrong Foundation does, I'm very pleased to help Mike on this quest. I hope you will, too.
How Susan's Doing
A lot of you frequently ask how my wife is doing, and this seems like a good day to give you a quick update. She's getting around much better now. Sometimes she walks around the house using just one crutch instead of two. She's going to physical therapy twice a week to help her range of motion, and while it hurts, it's a good kind of hurt.
Actually, she's never said it's a good kind of hurt. I made that part up.
Susan also looks great right now. When my sister visited last weekend, she pointed out that Susan looks terrific — healthy and energetic. It's true, too — since I'm so close I didn't really notice the transition.
Susan's hair has also started growing back, though we're trying not to get attached to it, since chemo starts again in less than a couple months. To tell the truth, I am used to Susan without hair and think she looks hot that way.
The New Jersey
Last year, I replaced the "201" — the weight (plus one pound) at which you become a clydesdale in bicycle races — with "WIN" on the special edition "Fighting for Susan" pink jerseys. As you can probably tell, that cursive "Win" script you see at the top of this post will be on the 2008 Fat Cyclist jerseys, which I'll be unveiling in a couple days.
I really believe that we can win the fight against cancer. I believe we can do it in our lifetime. But I know we have to do a lot more if we're going to make that happen.
Thanks, I'll climb off the soapbox now. More fart jokes (or something like fart jokes) tomorrow.