If you read my blog using an RSS feed, you may not have yet noticed, but as of Friday afternoon, Fat Cyclist has a new design. Check it out, if you'd be so kind.
If, on the other hand, you were looking at the site Friday afternoon or evening, you probably noticed all kinds of weirdness happening here for a few hours. That was me screwing around and breaking stuff.
Anyway, I owe a big "Thanks!" to a couple of guys I work with in my day job: Taylor for doing an awesome new design, and Jason for making the design work in WordPress. Thanks, guys!
I Need More Pictures
Right now, the image you see in the banner is the best picture that's ever been taken of me (clicking picture pops to larger version):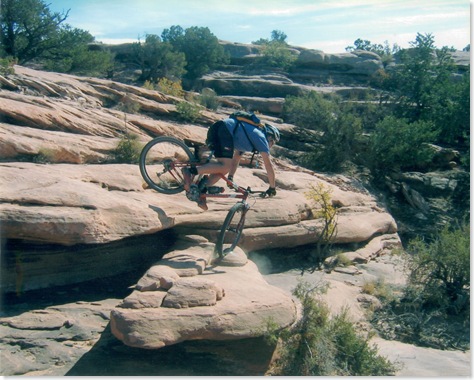 As you can see in this picture (note that the liquid latex is literally exploding out of my flattened front tire and my unfortunate center of gravity), my day is about to get much, much worse here.
It's a cool picture, but I don't want to have it as the banner photo in my blog forever (it's just too painful).
Which is where you come in.
If you've got a great cycling-related photo — one that works even if you're looking at a wide-but-short view of it — email a link to the photo to me. It needs to be at least 760 pixels wide and 190 pixels tall, but don't worry about cropping, sizing, or otherwise formatting the photo.
Please note: send me a link to the photo. Do not send me the photo itself — my inbox will fill up way too fast. If you don't have a place on the web to put your photos, you might want to try Flickr.com, which is free and works really well.
And now, for a bunch of miscellaneous things flopping around in my head right now.
Fight Cancer, Win a Bike
About a week ago, I pointed out that you can win a chance at winning a Marin Hamilton 29er townie / mountain bike, simply by making a donation to the Lance Armstrong Foundation and forwarding the confirmation to me.
A bunch of you have sent in your raffle entries, which I hugely appreciate.
If you haven't donated yet, though, you still have time. You'll be doing something good and important, and you'll have a much better chance at winning a bike than  you would in most raffles. Click here for more information, OK?
Deep Breath
Tomorrow, finalists for the Bloggies awards are announced. I confess to being nervous and hopeful. Provided I am a finalist, expect me to harangue you nonstop for your vote for the next ten days or so.
My Favorite PowerPoint Slide, Ever
I already mentioned in today's entry that a couple of the people I work with spent their own time to help me out with the great new blog design you see here today.
There are other reasons I like where I work. And one of them is the PowerPoint Slide you see below, which the VP of Sales in my company actually included as part of his presentation in a company-wide meeting last week. Click the image below to see a larger version, so you can read the graphs: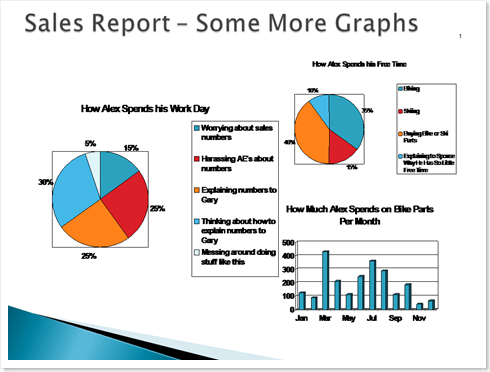 Puzzling Question
I received an interesting question from Scott yesterday, who mistakenly thought I might be able to provide a reasonable, lucid, and possibly even correct answer. It is as follows:
Suppose you have 2 bikes with the same gear ratio (say an 85), but the gearing is different (53×17 vs 48×15). Will the 53×17 be a harder gear to turn than the 48×15?  This is an ongoing discussion between a couple different cyclists in my neighborhood.
I personally have no idea what the answer is. Anyone got an actual answer?
PS: BotchedExperiment had a copy of the followup photo after my spill.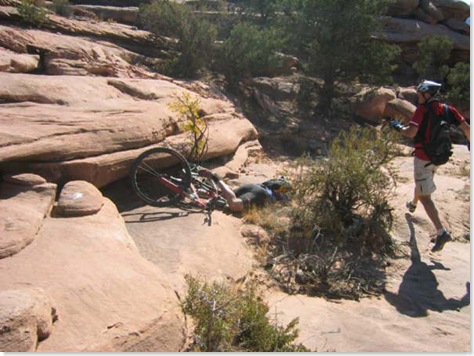 That's Dug, by the way, running over to see if I'm still alive.