OK, I've been a tease this week, showing a little here, a little there, of the new 2008 Fat Cyclist jerseys.
But I'm not going to tease any more, mostly for the reason that I'm absolutely certain that you're just going to scroll down and look at the pictures anyway.
So check 'em out already!
Men's Jerseys
First off, I love the 2007 Fat Cyclist jerseys, and wanted the 2008 version to have a look and feel that definitely didn't forget its roots. But I also love the rough, painted look that Twin Six has been experimenting with on some of their other jerseys.
So here's the front (all images in today's post pop to larger versions):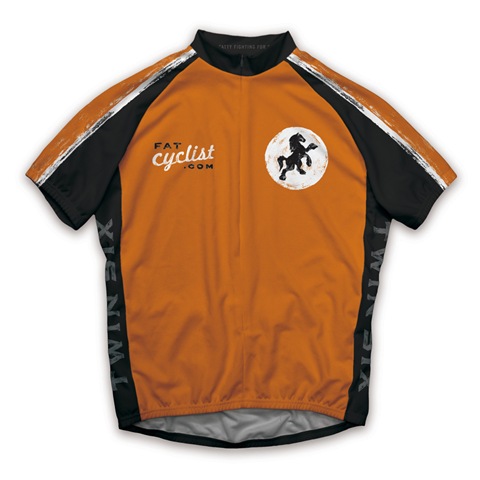 And here's the back: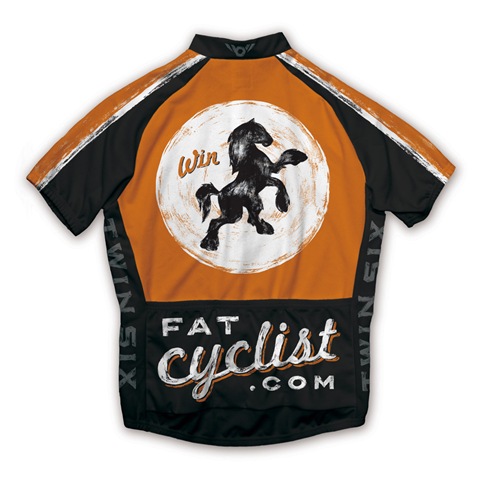 And here's the inside of the collar:

Women's Jerseys
I learned my lesson with the 2007 Fat Cyclist jerseys: don't ignore the women. Here is the women's cut and colors for 2008. Front: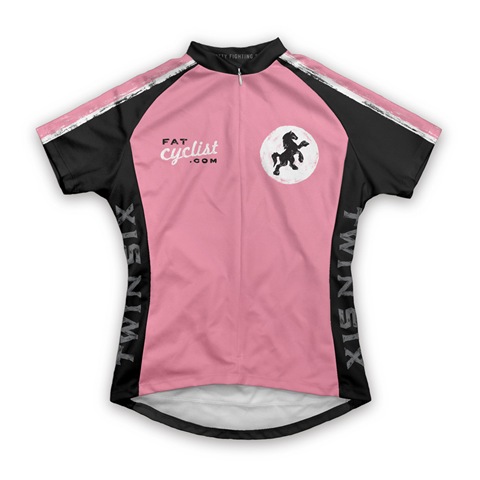 And back: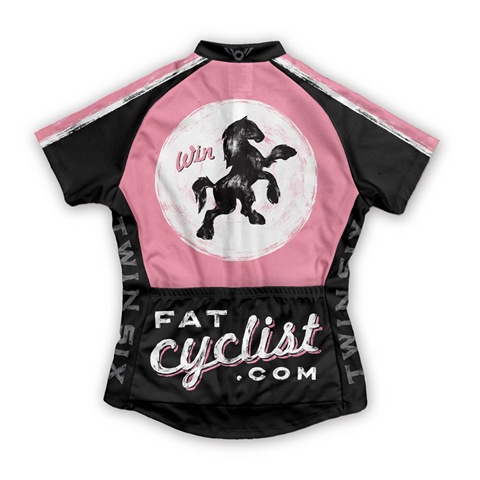 Note: I'm also doing a very small run of men's-cut jerseys in pink. As in, if you want one, you'll need to order it the day they're available.
T-Shirts: Available TODAY
To go along with the 2008 jersey design, I've got a new Fat Cyclist T-shirt design. Unlike the jerseys, however, these are in stock and available today.
Men's (click here for the order page):
Women's: (click here for the order page):
Note: We're retiring the old version (2007) Fat Cyclist T-shirt by putting it on sale for $15.00, starting now. Get one before they're gone.
Q&A
I figure there are going to be some questions about the new design, so lemme see how good I am at pretending I know what you're going to ask.
Are you still using money from the jerseys to support Susan's treatment and the Lance Armstrong Foundation?
Yes, Twin Six will donate some of their profit from all Fat Cyclist gear — jerseys, t-shirts, socks, and bottles — to the Lance Armstrong Foundation. And I put all my profits into a separate bank account Susan and I keep for cancer treatment and the trip to Italy. No matter what color you buy, you're helping out exactly the same amount.
When will the jerseys be available?
They should be arriving in April. Which means they'll probably actually arrive in May. Regardless, I will post on my blog as soon as they arrive, so that you can get the size and style you want.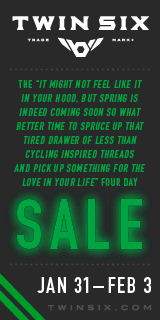 And, as I mentioned above, the t-shirts are available as of now. And since Twin Six is having its Spring 4-Day Sale, now might be a good chance for you to snag one while you pick up another great jersey at a great price. Click here for men's, and click here for women's.
How many jerseys did you order?
Enough that I lose sleep at night, alternately worrying that I bought too many, too few, or the wrong combination of colors, genders, and sizes.
Who's shipping the T-shirts and jerseys? Twin Six, or Fatty?
I asked Twin Six to do all the fulfillment this time. I'd rather use any spare time I can find to go out on a ride, or hang out with my family. You may find it difficult to believe, but between my job, my family, Susan's treatment, and this blog, I occasionally find myself somewhat short on time.
How much will the jerseys cost?
$70.00, just like the other Twin Six jerseys.
How'd you get the painted style to look so authentic?
The idea behind this look was to replicate the painted-on images appearing on leather jackets in the 50's. So the master design is actually hand-painted. Of course, the jerseys are still sublimated polyester microfiber, but they look painted.
Is this the sexiest jersey ever made?
I daresay.