A reader recently sent in pictures of their dining room makeover. Let's begin by looking at this rather conventional dining room: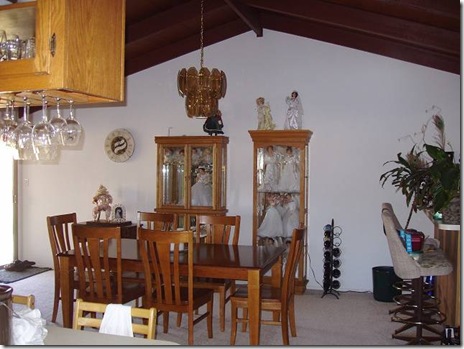 And now, let's take a look at the same dining room, after its recent makeover: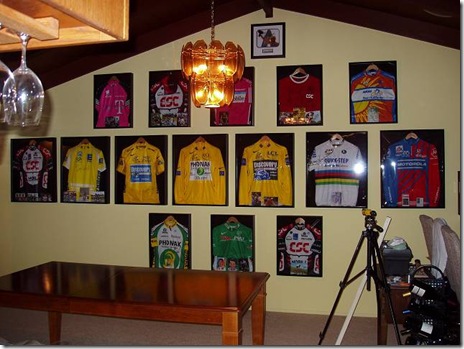 Let's take a closer look at a few of those jerseys, shall we?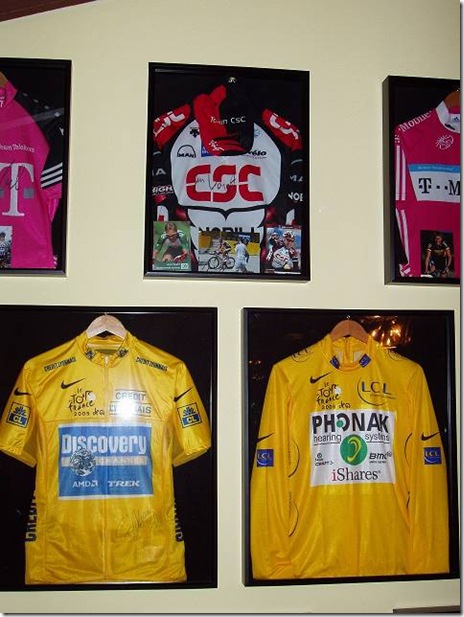 Yes, that is a real Lance race-worn '05 Tour jersey and one of Landis' podium tunics.
The Extra-Awesome Part
This dining room would be awesome under any circumstance, but — at least to me — what makes it doubly-extra-awesome is that the driving force behind this makeover was the female half of the marriage.
Says Bent022, "I told my husband he can never ever complain about how I decorate the house. Not many women would want their dining room to look like a sports bar."
Shyeah.
The Conversion of Bent022
The only thing that made me sad about this whole thing was that Bent022 — as you might have figured from her commenting handle — is a recumbent rider.
Well, she was a recumbent rider….She just bought Carlos Sastre's 2007 Team CSC Cervelo. Which she intends to ride.
All hail Bent022, queen of pro cycling memorabilia collectors!