I've been really impressed with the courtesy and level of care Susan and I have been getting at the Huntsman Cancer Institute. The doctors and nurses all seem a little more professional, a little kinder, than you'd expect. Maybe it's because they know that everyone they work on / with has a very serious, personal problem.
It's a little thing, but yesterday as I hung out in the waiting room for five hours, I had fast Wi-Fi, which made entertaining myself with my iPhone a lot easier (I browsed the web, checked this site often, posted a couple of entries with pictures I took with the iPhone, watched the Wire, and downloaded and listened to a Brian Regan comedy album).
And a guy with a snack cart came by every hour or so. No charge.
Nothing, however, prepared me for the room Susan's staying in. Here's the big picture (all pictures pop to larger versions in separate windows):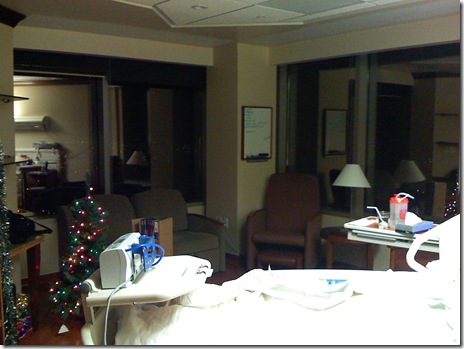 Yes, that room actually has two giant windows, with a beautiful view of Salt Lake City. And it's big. If I'd known it was going to be big enough for 8-10 people to comfortably hang out in, I'd have brought a bigger Christmas tree, instead of the sad little Charlie Brown Christmas Tree I figured would be the maximum size that would fit in a regular hospital room.
Here's the chest of drawers / entertainment center: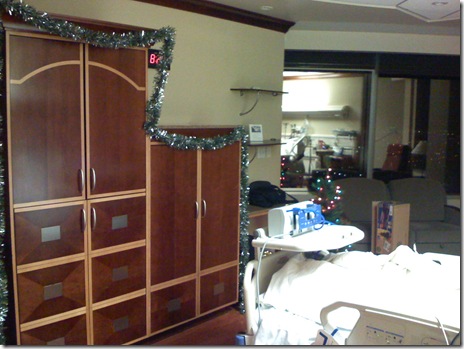 If it weren't for the hospital bed, you'd swear this was a Marriott. (Check it out: hardwood floors and crown moulding.)
And here's the bathroom: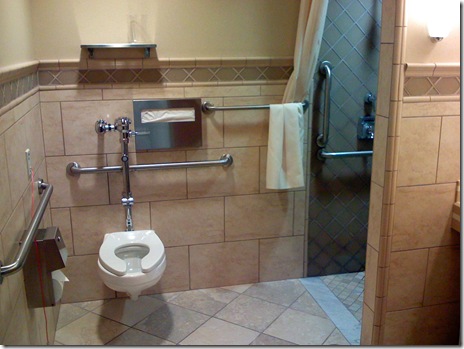 Yeah, that's real tile. I can't believe it either. This is the thing, though, that blew me away. Susan doesn't just have a private room. It's a private suite. Here's her sitting room, where she can banish guests who are being to noisy or demanding to see the scar.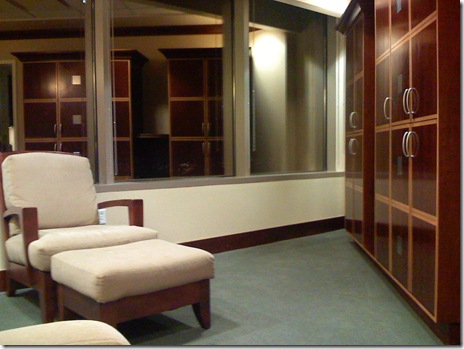 There's a certain irony at work, here. Nobody wants to be a patient at the Huntsman Cancer Institute, because it means … well, it means you've got cancer. But if you've got to be here, they sure take care of you.
PS: I'm about to head back over to the hospital, where I will witness Susan beginning physical therapy. Wish her luck!