An Extra-Special Note from Fatty: After writing yesterday's piece about Oscar Pereiro, I came across the following picture, released by Pereiro's team: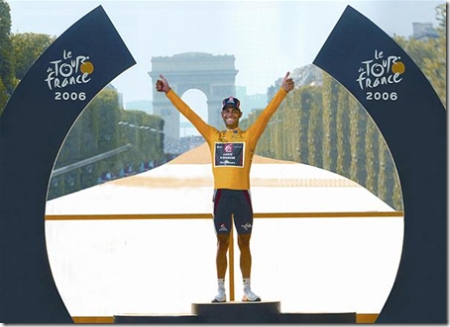 That's real nice, Oscar. But you're not the only one with a copy of Photoshop. It seems to me that you need second- and third-place winners, too. Let me help you out: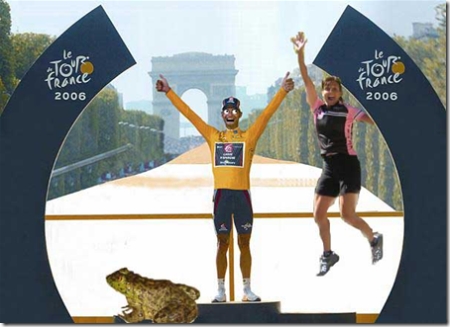 Wow. Kellene is getting some serious air. You know, I'll bet Kellene woulda won the whole thing if she hadn't gifted Pereiro a three-day head start. Hey, she wanted to see the sights, you know? And let's all give props to the frog. After all, it's not often you see a frog on the TdF podium.
Another (Self-Promoting) Note from Fatty: My latest article for BikeRadar.com is now online. As always, here's a preview, but you may as well click here to jump to the article and read the whole thing. Oh, and comment the hell out of it, wouldja?
How to Get Rid of Unwanted Fitness
Like me, I'm sure you've worked hard through the Winter, Spring, and Summer getting yourself in peak physical condition. Whether you've been working toward excelling at racing, touring, or just want to be able to ride as much as you like, you've been true to your goals. You've dieted right, trained smart, and now you're in great condition.
Which leads up to a very important question: now that it's mid-Autumn, how can you lose this fitness as quickly as possible? After all, you can't claim drastic gains at the beginning of the year if you don't start working on your stunning fitness reversal right this instant.
Obviously, you've got important questions on your mind. Questions like, how can you gain back that weight? How can you lose the definition in your legs? How can you completely reverse the gains you've made in your aerobic capacity? And how can you do all this in the shortest time possible?
I'm here to help. Just follow these three simple techniques.
Click here to go to BikeRadar.com and read the rest of the article.