As far as I know, I've never talked with an editor at Bicycling. I don't have an "in" with them. So the fact that they graciously featured the "WIN" Fat Cyclist Pink Jersey on the cover of their October issue was a wonderful surprise.
Apparently, though, Bicycling isn't satisfied with merely being cool. Nosirree. They had to go for the double whammy. Check out Steve Madden's "With the Editor" column in the November issue: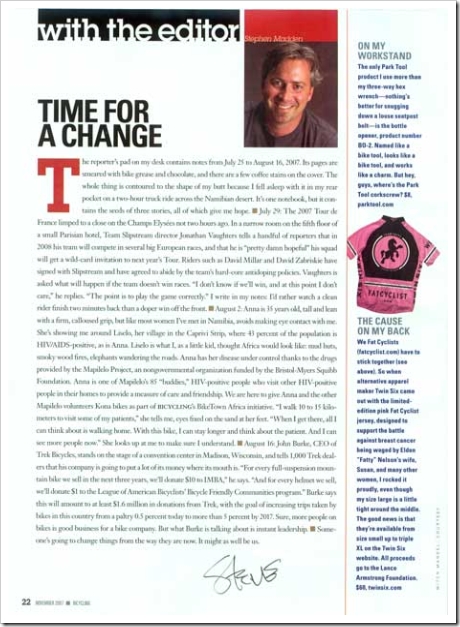 And here's a closeup of the part they wrote about the "Win" Special Edition Pink Fat Cyclist Jersey.
Susan and I would give up everything we own to not be going through this cancer ordeal. That said, the silver lining has been considerable.
Back when Susan was first diagnosed, BotchedExperiment told me that there's a demonstrated correlation between the amount of emotional support cancer patients get and how well they respond to treatment — which was part of why he was the one who engineered that big "Get Well Card" extravaganza a couple months back.
And now, this. This kind of support from the Editor of Bicycling — and by extension, from the whole magazine — is similarly excellent.
Meanwhile, We have received so many pictures of so many of you wearing this jersey, and that kind of support is huge.
What's my big insight from all this? That, given the chance, most people are really, really good.
Oh, and also that deep down, guys like to wear pink.
This Saturday: The Josie Johnson Memorial Ride
Hey, if you ride in the Salt Lake City, Utah area, come do something good for cycling this Saturday. Bicyclists of all interests and abilities are coming together to promote bicycle safety and remember Utah's cycling accident victims.
The ride is named after Josie Johnson, an avid cyclist killed on September 18, 2004, hit from behind while riding up Big Cottonwood Canyon (one of my favorite lunch rides, by the way). The memorial ride is dedicated in Josie's honor to raise community awareness for bicycle safety.
Event organizers call on bicyclists and motorists to increase safety both during and after the ride. Bicyclists are encouraged to be considerate and abide by traffic law. Motorists are urged to control their speeds, watch for bicyclists when turning at intersections and pulling onto the roadway, and give bicyclists the legally required at least three feet clearance when passing.
Riders will meet at Sugar House Park at 10:30 am and ride to Mill Hollow Park in Holladay. Get more info at www.josiejohnsonride.com.