Yesterday, I got a very, very cool box from Jeff Kerkove and the folks at Ergon. An Ergon BD1 Team Edition backpack. Check it out: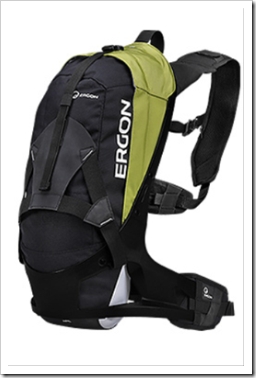 And you know what's even cooler? Jeff gave me another one to give away to a Fat Cyclist reader.
Before I explain how, though, first I want to make you drool over the pack a little bit.
CycloGeek's Delight
The first thing I noticed about the BD1 is that it stands up by itself. That's because it's got a (very light) plastic frame for the back, shoulders, and hip belt. That, combined with the BD1's major claim to fame — a ball joint that isolates the pack from jostling of your shoulders, reducing the jostling effect when you're standing and climbing — keeps the pack off your back.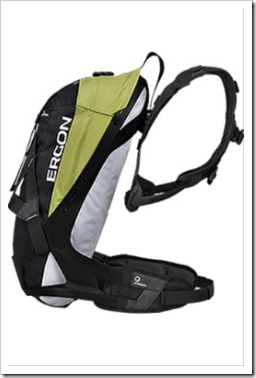 It took me exactly six seconds of wearing this pack to realize I would have killed to have this pack when riding the Kokopelli Trail Race a few months ago (and in fact, I did contact Jeff about getting one of these before the race, but they weren't available yet).
But that's only the most obvious of the features on this pack.
Every pack lets you adjust straps for your girth; the Ergon packs let you adjust the shoulder strap anchor up or down a couple inches, giving you a lot of fit customization ability.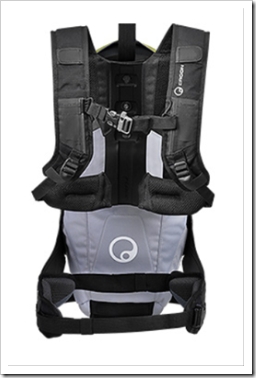 There's a built-in rain cover for the pack — just pull it out of its little pouch and stretch it over the main pack, keeping everything dry.
And of course there's all the stuff you'd expect: a place for a camelbak bladder and everything you need to route the tube, lots of pockets and zippers, and a compression strap to keep everything snug.
It's a very cool pack — you can tell the guys at Ergon did some serious thinking about what it's like to ride a mountain bike all day (or for multiple days). I can't wait to take this thing out on an epic ride.
Win One for Yourself
These packs just barely came out. They're still very hard to get. And so I'm even more excited to give one away than I usually would be.
But this is a serious pack. I don't want to just give it away to someone who's not going to use it. So here's how the contest works: Post a comment here telling me where you'd go riding with this pack, and what you'd put in it for your ride.
This Friday, I'll choose a winner based on who I think has the most exciting, practical, frequent, or otherwise interesting plan for this pack.
And then I'll hold you to it. I'll expect a story from the winner, with pictures.
Good luck!