A Note from Fatty: After four days of me going on and on and on and on about what it was like to ride the Leadville 100 last weekend, I'm finally giving Susan a chance to tell her story of what it was like to come to Leadville and crew.
To Crew or Not to Crew
I'd been looking forward to crewing for Elden since we made our plan last year. As the time got closer, I worried that I may have been a bit overoptimistic. I seemed to get tired just looking at dishes in the sink and laundry on the floor. But still I didn't want to miss out on the epic adventure that Leadville always turned out to be.
I had only been once before — back in 2000 — and we had brought the boys with us that time. They were just 5 and 7 years old back then, so that was an adventure in and of itself. This year it would just be the two of us and I knew if I bailed — even if it was for a legitimate reason (cancer) — I would regret it in a big way.
Truth be told, I really wanted to be there for Elden, and some stupid disease wasn't going to stop me.
Leadville and Friends
Lucky for me, everyone we met was super supportive, and the altitude was only hard when I was going up the ridiculously steep hotel stairs. So, on the whole I got to do much more than I expected…and I was less whiney than I had feared I would be.
I loved arriving in Leadville a couple of days before the race. We saw lots of friends and I realized again how lucky Elden is to have such a great group of guys to ride with and hang out with. And all of us wives got along great, as well. The night we arrived, we had a huge gathering at the restaraunt across the street from our hotel. The food wasn't great, but I don't think I've laughed so much in a long time.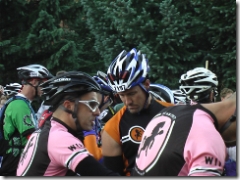 The Morning Arrives
After a couple days to adjust to altitude, the day of the race dawned. Can I just say that I was probably as nervous and nauseous as Elden. I bet neither of us had more than a few hours of sleep. I tried to make myself catch a few more minutes of rest as Elden scrambled to get everything ready, but it was pointless.
I waited until the last minute to go out and cheer the riders off, though, so I didn't have to stand for too long. I waved good luck to Elden, Rick S. and Brad, all bunched together, full of nervous energy.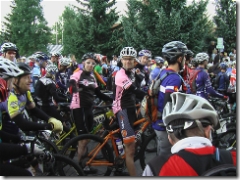 It was quite a sight when the shot rang out and a thousand riders surged forward in anticipation.
After the street cleared, I joined Rachelle (Rick S's wife, left), Sarah (Nick's wife, second from left), and Natalie (Kenny's wife, right) and we ate a bite of breakfast. They were wearing pink jerseys and I was happy and embarrassed at the same time. So very nice of them.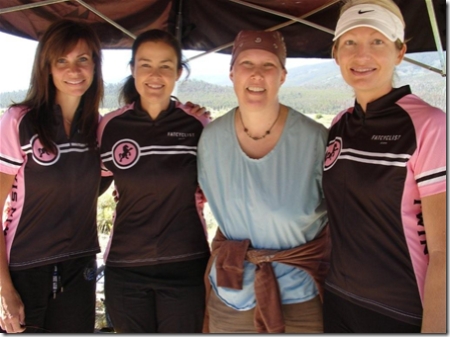 No, I didn't wear a jersey to support myself. I just felt too weird about that.
Soon after, we hopped in our cars and zoomed off to the Twin Lakes aid station to set up our crew area.
Twin Lakes
We set up at a sort of secret spot that was off from the actual aid station. Natalie has been there every year for nine years straight. This year, though, the secret must have leaked out, or else it was a result of so many more people coming this year to see Floyd, or hoping for a last minute Lance. The narrow dirt road was already packed and we had to park on the other side of the lane, which would leave only a narrow area for the riders to pass through. Yikes. But no one told us to go and I had no ability to walk a long way, so we stayed. Soon the whole road was packed with cars on both sides.
We got out our stuff and set up chairs under an awning (Thanks for setting that up, Fish!), and waited. We all brought things to do — books, knitting, magazines — but hardly ended up doing anything.
We watched. We waited.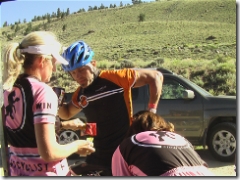 Sarah, Rochelle and I got antsy and inexplicably anxious. Not Natalie. She's a pro by now. And she was crewing for Kenny, Chucky and Brad, while the other three of us just had one person: our respective husbands.
We watched the leaders fly by: Floyd in second, and we cheered for all who went by. It was great when the riders would smile and look encouraged by our shouts and encouragement. However, some just looked grumpy and put off, swearing and sour-faced. And this was before the Columbine climb. What was up with that? (I know, I know, I'm not a biker. I wouldn't understand.)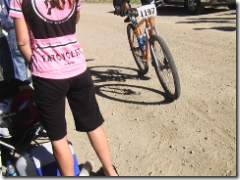 Our Riders
Finally, after Kenny and Chucky flew by, I got my camera out to take some photos of Brad, who I figured would be ahead of Elden and Rick.
And then they all zoomed in at once. I clicked the camera out of habit, getting a picture of Brad's knees (and Rachelle's back), before I could toss the camera to Sarah and ask her to take some pictures while I crewed.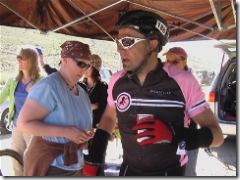 Meantime, Elden was having a panic attack because he couldn't see me. Poor guy. After we found each other, he dutifully drank his soup, took his other 'on the road' food, and new water bottles.
In a matter of seconds, Elden, Brad, and Rick were off again. And then I could breathe again. Sheesh. Crewing is way more nerve-wracking than I thought.
I sat back and cheered and took pictures of pink jerseys (it was so cool how many people wore pink. Thank You All!) until my stupid camera told me the battery was getting low. Already?!
Nick came in and Sarah took good care of him as I snapped pictures with her camera. He was in a good mood and happy with his time so far, too. Dug blew by with his handle bar streamers and basket, and I couldn't tell he had already had some bad luck what with the no handed pose and grin.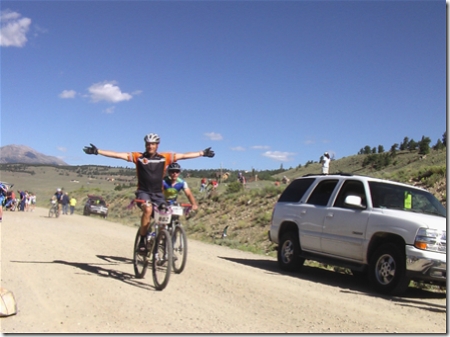 Bob passed us and he was laughing, for crying out loud. I would never have guessed at his story by the look I saw on his face then. He looked like he was having a blast. I loved seeing all our friends go by: Bry, Linde, Jolene, Lisa (she had a big smile — I was so mad that my lame camera decided not to focus), Scott, and Rich. People around us were asking: "How many riders were we supporting anyway?" "Lots!" We laughed.
Fish and his friends were supporting even more riders there under the awning. It was amazing to be a part of such a huge crew.
Second Pass
Finally, the leaders raced back through, going the other way, and we saw a flash of Dave, followed by a blur of Floyd. It looked like Floyd had turfed it on his right side. Ouch. Our riders followed a while later, one at a time now, the field having spread out a lot after climbing and descending Columbine.
Elden showed up and refused to eat. Of course, I tried to chide him into obeying his own plan, but to no avail. The nasty, salty margarita shot bloks had effectively destroyed his will to eat. I let him go reluctantly with the few remaining cran razz shot bloks in his back pocket.
I had tried to give him extra food in case I missed him at the next aid station. Getting there quick enough frightened me a bit and I didn't want him to mess up his race because of me. He just shrugged the extra food off and told me solemnly, "Don't miss me."
Eeek.
Pipeline Aid Station
My wonderful friends helped me pack my truck and I cautiously maneuvered my way down the choked lane, pulling over constantly to give way to the riders flying down the road toward me. I tore down the highway to the Pipeline aid station armed with a note from Merilee, the race director, which said I could park in an official spot. That way I didn't have to lug all my stuff from forever away to the specified crewing area.
I was panicking all the way there, looking at the time, hoping I'd make it before Elden. Oh, I also had Brad's bag, since Natalie took off to support Kenny at the Pipeline aid station before Brad went by the Twin Lakes aid station, and I feared that I would miss Brad for sure.
I couldn't figure out where to go for my "official spot" and lucked out on a parking place right by a plastic net guarding the race course. I saw Natalie; Kenny had already gone by. She hiked Brad's bag up to the aid station and I planted myself at the fence.
I got yelled at by a big, intimidating worker saying that I was not allowed to crew there. To which I forced my normally-unassertive self to yell back, lifting my cane and pointing to my bald, bandanaed head: "Do I look able to walk to you?" He backed down when he realized I was the one Merilee had warned him about. Thank goodness. I plopped back down in relief.
Elden came by soon after and I tried again to get him to eat his soup, but salty food was making him gag. I let him pass with more water and that was it. He said he still had a chance for under nine and I told him to go for it and he sped away.
Natalie helped me keep from taking out at least three cars as I tried to back out of that crowded parking area. So many people had double parked in a frantic effort to get to their riders in time.
We headed back to the hotel. My stomach starting to unclench as I realized I had been able to do everything that I wanted to do. I had had a much more physically stress-filled day than I could remember since I had started chemo. But I had done it, and Elden was doing incredibly well. It was a good feeling as I cruised back to town.
The Home Stretch
Natalie helped me lug my stuff back to the hotel and, even without the extra burdens, I felt like I took two hours getting up the stairs and to the room. I wanted to go see the first riders come in, but my energy had been completely zapped. Natalie said she heard the cheer as Dave Wiens crossed the finish line in first place just as she got into her room. Oh well. I think that was about one-thirty, maybe.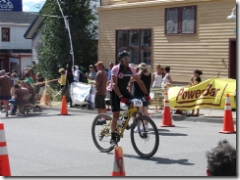 I dragged myself out to the finish line around three-fifteen. Kenny had already crossed the finish line. I was hoping Elden would make it before three-thirty. So many of us were waiting and counting down the minutes.
As you know by now, he was a bit late. I thought he did fantastic anyhow, and I was so proud to have crewed for him. I tried to hang out for some of our other friends to come in, wasted though I was.
My friend Rich, bless his heart, hiked back to my truck and brought back my folding chair. I collapsed into it and could hardly move, even when people crossed the finish line. After an hour or so, I had had it and I left. I missed seeing Nick come in. Sorry. And Lisa and Bob.
On the way back to the hotel, I saw Floyd chatting casually with a family in front of me so I slowed down and stuck out my hand when he had finished. Didn't get a picture. But a handshake was nice. He was more personable than he needed to be and I was impressed that he stayed around after the race at all. Wonder if Lance would have done that?
After Effects
I went back to the hotel, took all manner of pain meds, and stayed in bed for about fifteen hours. I missed the brats party, the award ceremony, and saying good-bye to most everyone. But I had had an amazing time.
I was so glad to be part of my husband's annual tradition. What an adventure.
I hope I can come back next year. I might even have hair and be able to ditch my cane. That would be something. Besides, next year, when Elden can stop using all his energy worrying about me, I know he really will spank that sub-nine.