A Note From Fatty: I'm going to keep writing tonight 'til I finish my story. I swear it. Four parts is really as much as I can expect any of you to put up with my blow-by-blow of this race. Actually, three parts is about as much as I'd have expected you to put up with, but here we are anyway.
However, once my story is done, I still plan to continue with the Leadville story for two more posts, because they've already been written. Friday, I'm going to post Susan's story of how the trip went for her. Monday, I'll post Dug's story.
And then, more than a week after I've been back from the race, I'll finally move on. Unless I think of something else I have to say on the matter.
I Give My All
The interesting thing about being on the fence for a time goal in a race is it presents you with an option. You can ride conservatively and hope that you're strong enough to hit your goal, or you can go out hard and hope that you don't pay for it with a massive bonk.
With forty miles — more than a quarter of which is hard climbing — to go in 3:45, I decided that I would pour it on. Each time I started to fade, I'd stand up and ratchet up my effort a notch.
This worked pretty well. I did the 15 rolling miles to the final aid station in exactly an hour, which was the amount of time I had alloted myself. So, no time lost on this section.
Unfortunately, I didn't gain back the fifteen minutes I had lost so far, either. But I was eating again — no problem with the raspberry Shot Bloks. It was only the Margarita ones that seemed to be infused with Kryptonite.
I rolled into the final aid station, and there — to my surprise, I must admit — was Susan. She had used her bandana and cane too good effect, and had gotten a primo aid station spot right by her car, so she didn't have to carry too much.
I grabbed a couple water bottles — I had four packets of Shot Bloks, which I figured should be enough, refused soup and everything else, and took off again.
"I think I still have a chance at sub-9," I told Susan.
"You can do it!" she said. And I certainly intended to try. I knew, though, that my tendency is to fade in the final part of a race, not pick up power.
25 miles to go.
Me and My Shadow
As you exit the Pipeline aid station, you have a few flat miles before hitting the Powerline climb. I felt good as I began this section, yelling "Yarrrrggh!" to a spectator in a pirate hat, and getting a hearty "Yarrrrgh!" back from her.
I settled into my groove and, in a minute, noticed someone was behind me, drafting. I looked back.
Chris Carmichael, again.
That's cool, I thought. He and I had managed to ride together at the beginning of the race, climbed up most of the hard part of Columbine Mine together, and now we were going to ride the end of the race together.
"How's it going, Chris?" I asked.
No answer. That's OK, though. Toward the end of this race, I sometimes don't feel much like talking.
I did a nice long pull, then veered off. Chris tracked behind me, hunkered down. I flicked my elbow. No reaction.
Holy smokes, I thought. Chris Carmichael is a parasite drafter!
Before long, a couple of others joined us and picked up the pace. We all took turns pulling, except Chris. To be fair, I'm pretty sure he was being a parasite because that was all he was good for at the moment.
After a few minutes, I couldn't hang with the group anymore and dropped off the back. That was OK, though. It was time to climb the Powerline anyway, and a paceline wouldn't help.
Free Coke
I began my climb and before long — like everyone — was off my bike, pushing up the sandy, steep hill. Off the bike, with no breeze, the heat was punishing.
Luckily, some family seems to have made a tradition of setting themselves up on the Powerline climb with paper cups full of Coke. I told them I remembered them from last year and let them know they were currently saving my life.
"Cool," the teenager handing me a cup said. "See you here next year!"
I tell you what: I would vote for that kid for President.
Hi Bry
The overwhelming memory I always take from the Powerline climb is the excruciating hike-a-bike part, but that's really just a small section. And ever since I learned to pay attention to the distance of the climb and not be fooled by false summits, this climb doesn't really get into my head anymore. So I churned away, occasionally passing people, and not getting passed by anyone.
Evidently, I still had some power in my legs.
And then I saw Bry ahead of me. I had finally erased the gap he had put on me in downhilling the Columbine Mine road so fast. I caught him as he stopped for a moment to eat, said, "Hi Bry" and kept on going.
Sub-9 no longer seemed very likely, but I wasn't ready to give up the dream quite yet.
Babysitter
Within a few minutes, Bry had caught back up to me. I guess I made a pretty decent carrot for him. He said, "You've got to eat! You've got to eat!"
I would have replied, but my mouth was full of food at the moment.
Bry and I summited together, then started descending down the loose, rocky trail. As I've noted, Bry is a much faster downhiller than I, but he stayed with me.
I dunno, I think I should have appreciated it, but this was a race, and Bry was slowing down for me as if I needed some kind of special help.
"Go on," I said, "I don't want a babysitter. I know my way to the finish line."
But Bry stuck with me.
Riding nervously because I knew Bry was right on my tail, I veered hard right off a rock and went down. Not a bad fall. No injury, no damage to the bike. I got up and was about to ride when Bry instructed me to drink some water first.
OK, this was getting on my nerves.
We continued on to the base of the St. Kevins climb, where Bry continued to ride with me, though he was obviously hanging back.
"Go on," I finally said. "You've still got power in your legs; use it. This is a race. I would ditch you if I could."
Bry pulled away from me, as easy as pie. in the final thirteen miles of the race, he put four minutes on me. So yeah, I'd say he still had some pop in his legs.
Shifting Goals
As I climbed the four miles of pavement up to St. Kevins, I knew I could no longer finish under nine hours. I just couldn't.
Maybe, though, I could still get a personal best. And that was reason to keep riding hard.
So I climbed the last big hill, did the last big descent, and motored up the Boulevard. I was part way up this last dirt road climb when my watch beeped, letting me know nine hours had elapsed.
Dammit.
I kept climbing, though, watching every minute go by, pushing it harder and harder, wanting to see if I could finish in 9:12, beating my personal best of 9:13.
I thought I could do it and gave everything I could, riding right at my limit and maybe a little bit beyond. As the finish line came into sight, my clock showed 9:12.
But I was for sure more than two minutes out. Oh well, may as well push it anyway.
Now it was 9:13. Maybe I could at least tie my personal best.
Then, seconds before I crossed the finish line, my watch ticked over to 9:14.
I crossed the line, fully blown. Susan was right there and gave me a big hug.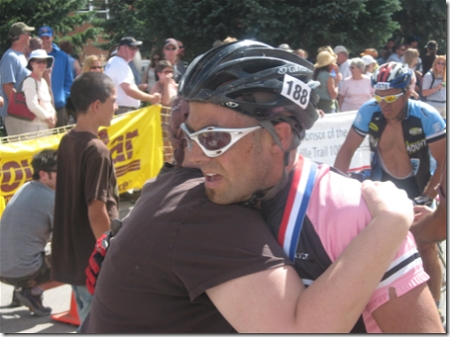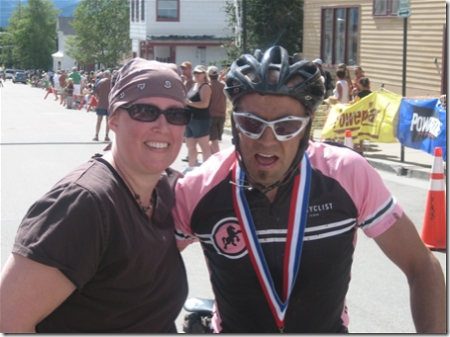 Look at me, gasping for air. It was a great moment.
Seconds later, all my friends at the finish came up to me to offer congratulations — and, let's face it, condolences.
Bry came over and hugged me, laughing. As near as I could tell, he was not upset at me for telling him to leave me alone to suffer on my own while he rode on ahead: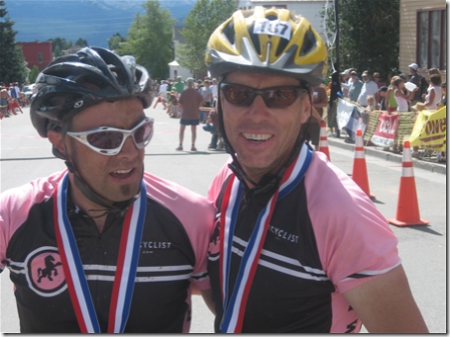 Dug handed me his Diet Coke. It was a little slice of heaven.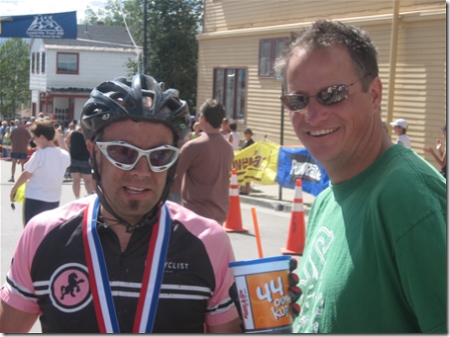 Kenny said, "Sorry, man. I thought you had it in you."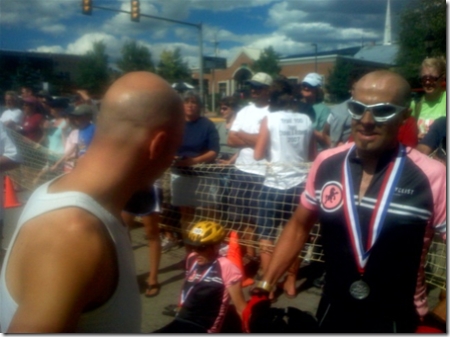 Yeah, so did I.
Brush With Fame
Oh, this is the cool part.
After hanging around at the finish line for a few minutes to congratulate Rick Sunderlage (not his real name) on his first Leadville finish, I was ready to head back to the hotel to shower.
And that's when Rich — a good friend and former neighbor — told me Floyd Landis was hanging around meeting people at the finish line. Floyd — in spite of a crash and a flat — had finished the race in seven hours flat, good for second place to Dave Wiens, who had broken the course record by eight minutes. Wow.
Susan told me to go with Rich and get my picture with Floyd. I was exhausted and started making excuses about wanting to just go get a shower, but Susan and Rich were firm. I should do this.
So here's me and Floyd (pops to bigger version):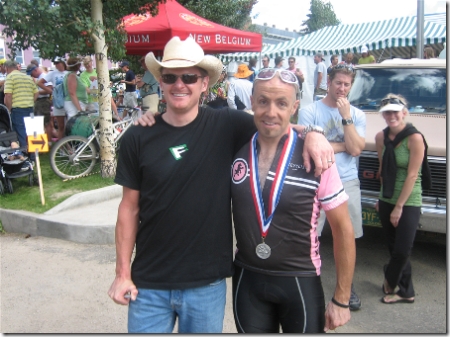 And I got him to sign my jersey, too.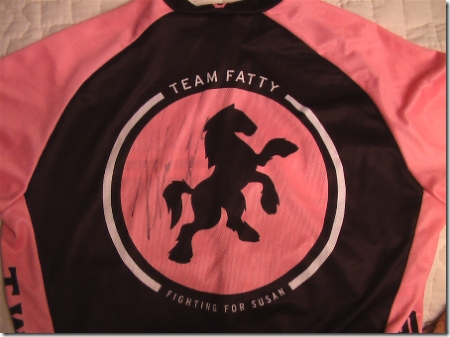 Did Floyd have to come back to the finish line and hang around with a bunch of stinky guys more than two hours after he had finished the race? No. Was he acting like a diva? Nope. Would he talk with and take pictures with anyone who wanted? Yes.
Floyd's cool.
More Friends Cross the Finish Line
Susan and I went to the hotel, where she loaded up on pain meds and took a well-deserved 15-hour nap. I took a shower and went back to the finish line, where Nick Abbott — my riding buddy from Seattle — and Linde were crossing the finish line together. With a finish time of 10:15, they each cut massive chunks off their previous year's finish time (Nick had finished in 11:55, Linde in 12:20), and were justifiably ecstatic. There's no way you can look at Nick's face and not smile along (Linde looks like he's sitting on Sarah's shoulder):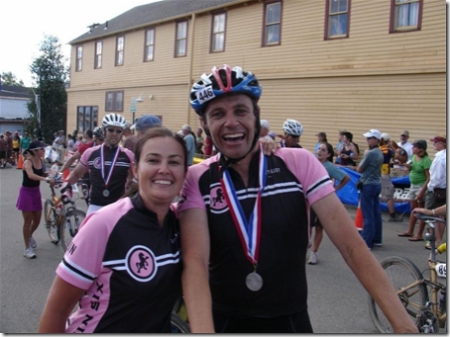 And then Bob crossed the finish line at 12:26. Bob would later write that he isn't happy with his effort or his time, but I mostly remember him with a huge smile crossing the finish line. Dug, Brad, and I rushed him and gave him a big group hug.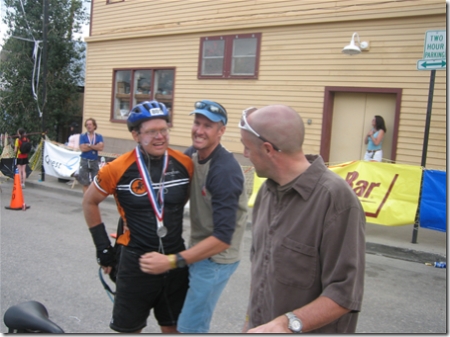 Bob's tough as nails.
Brats
And after all this? Bratwurst. Fish — a nickname we gave a long time ago to a guy with an unpronouncable name — was crewing for a bunch of people, and had also volunteered to grill brats for us afterward, making it so we wouldn't have to fight with the rest of the town for seats at a restaraunt.
Dug, who is from Minneapolis and therefore knows a thing or two about brats, agreed with me and everyone else who was sitting around, relaxing, and eating: these were the best brats ever grilled.
Part of that, of course, came from the massive hunger we all had after doing this big race. But not all of it. Fish clearly takes his brats seriously, and kicked major butt in feeding us.
I ate four.
I would have eaten five, but people were starting to stare.
Afterward
At the award ceremony the next day, I got my eleventh little belt buckle and sweatshirt, showing that I have done this race eleven times. The race organizers — Ken Chlouber and Merilee Oates — give eleven-time finishers a black jacket with the Leadville Trail 100 logo embroidered on the back and your name embroidered on the front.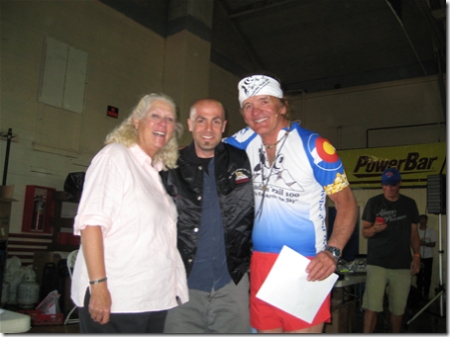 I have to admit, I take some pride in having done this race eleven times. Not many people have.
Analysis
Years and years ago when I got a 9:13 at Leadville, I got away from people as quickly as I could, because I didn't want anyone to see that I was crying.
This time, though I missed my goal in about as public a way as possible, I didn't cry. I wasn't even devastated. I think "melancholy" is the best word I could use to describe how I feel about missing my goal.
Why "melancholy?"
Because I'm about as fit right now as I have time to be. My bike worked perfectly — I never even had to think about it for a second. It was that flawless. The weather was ideal. I have no excuses. This is the best I'm capable of.
I'm not going to ask my family to give me this kind of time to train again next year (or for the forseeable future), so it's very unlikely I'll match or beat this time ever again.
Will I be back next year? Of course I will. And I'll have a great time; the Leadville 100 is one of my favorite traditions. Hopefully I'll be fit and reasonably fast for it.
But I'm putting the sub-9 goal away. That belongs to other people — people who have a gift for both climbing and descending, and good genetics, to boot.
Meanwhile, nine-point-something hours isn't too bad for a middle-aged guy with a minor gift for climbing, no gift at all for descending, and an annual 30-pound winter curse.