Last Saturday a bunch of us went on a ride.
A long ride.
A really long ride.
Specifically, we rode the "Alpine Gauntlet Supreme" — a road loop around Mount Timpanogos, where pretty much every inch is either a hard climb or fast descent. The difference between doing the Alpine Loop and the Gauntlet, though, is that the Gauntlet has you do all the spurs off the loop, changing the ride from a 40 mile loop with 3000 feet of climbing into an 80 mile loop with 7000 feet of climbing.
And then Dug or Rick or someone had to make the (stupid) observation that if we really wanted to do all of the climbs in the loop we'd need to turn around and come up the other side (ie, the Sundance side) of the mountain, making for a total of 7 climbs, 92 miles, and about 10,000 feet of climbing. Like this: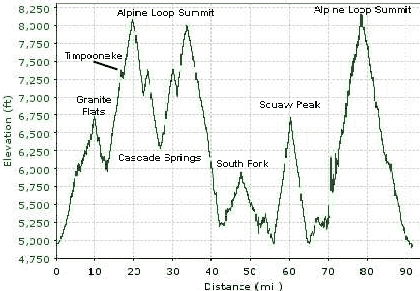 That's a lot. (By the way, you're welcome to look at my upload of this ride on Motionbased, where you can see a map, distance, speed, time, heart rate info, and everything else, but be aware: the amount of climbing it credits us with is waaaaay off the mark: 21,941 feet! If you do the math based on the bottom and top of each climb, you get around 10,000 feet of climbing, which seems about right.)
So How Many People Did the Ride?
When you do a big group ride, one thing everyone wants to know is how many people were in the group.
The answer is very simple: i don't know.
Oh, it's not that i didn't count at the beginning of the ride. There were eight of us.
But that number kept changing. you'll see what i mean in a minute.
We started the ride at 6:00, pretty much as planned. Those who had Fat Cyclist jerseys wore them — except Brad, who thought he'd drum up business for his mortgage brokering company by wearing his bradkeyes.net jersey. What a putz.
First Passenger
Within a couple miles — right as we entered American Fork canyon– another rider joined us. I just assumed he was part of our group, but no, he was just an interloper, using us as a peloton of convenience. That was fine with us; all riders welcome.
We rode together — more or less — up the canyon and then up what i would call the "prologue climb" — Granite Flat. Here, Sans Auto demonstrated the benefits of weighing 140 pounds and riding your bike everywhere you go (including when you move from Oregon). The kid (he's still in college and i'm 41, so i can call him "kid") flew up the short-but-steep climb, providing the only serious challenge to Brad's climbing supremacy of the day.
Smile
We finished the quick climb up granite Flat, coasted back down, and took the obligatory group photo. Already, though, the group had splintered a bit. The guy who had piggybacked onto our group had flatted and — even though he should have had plenty of time to change the flat while we regrouped and took a photo — hadn't caught up. So we took a group photo at the Tibble Fork Reservoir, with Mt. Timpanogos as the backdrop.
Beautiful.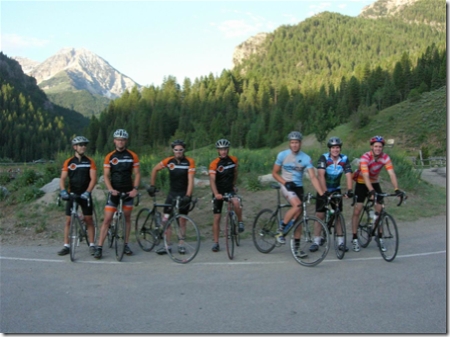 I mean, the mountains are beautiful. The guys in front of it, maybe not so much. And i feel a little bad about it, but we took this shot before one of the starting group caught up. Sorry!
Also, I want to make it clear that we did not intentionally separate the jersey "have's" from the "have-not's." It just happened that way.
For some reason, though, every time I look at this photo, I feel a sudden urge to refinance my mortgage. Weird.
Climb Time
Nobody had any illusions that we'd all do the entire ride as a group, and I think everyone knew where the group would splinter — on the big climb up to the Timpooneke parking lot, and then on to the summit of the Alpine Loop.
Sure enough, before long it was Brad, Rick Sunderlage (not his real name), Sans Auto, and me, working together on the first big climb of the day.
But wait! There was Chris, catching and hanging with the group. Suddenly, I perceive him as a serious B7 threat.
As we rolled, i found out someone else had been seen wearing the Fat Cyclist jersey up ahead of us. I figured this must be Lisa, my neighbor from back when i lived in Orem. I knew she had started riding on the road, but figured we'd catch her before long.
Tough Love for Linde
As we climbed, we caught up with Linde, who had started the ride on his own, after leaving multiple messages on my phone (none of which i received — i didn't even bring my phone, knowing i wouldn't have a signal for most of the ride).
I'm afraid, though, we didn't ride long with Linde. The lead group had a sense of purpose — finish the ride before the day got too hot. After all, it was only 7:00am and it was already warm.
And after all, on big climbs everyone rides alone.
Hey, I really like that saying: "On Big Climbs, Everyone Rides Alone." I wonder if that would fit on a bumper sticker.
Two Reasons for a Silly Spur
The second of the seven climbs we did was climb up to the Timpooneke parking lot.
This was, frankly, a ridiculous little half-mile spur, but I had my reasons for doing it.
I wanted to be able to claim a perfect Gauntlet Supreme. If the idea of doing the Gauntlet Supreme is to do every single climbing spur of the Alpine Loop, then this climb must be included.
I wanted to be able to rub Dug's nose in it. I knew that last year Dug, Rick and Joe had done this ride, but they had skipped doing the Timpooneke climb. By including this spur in my ride, I could now claim they nearly did the full ride, and it's a shame they didn't complete the entire thing. Of course, by doing this we risked being mauled by bears, but hey: anything for the purity of the sport.
Where's Lisa?
After finishing this silly-but-dreadfully important spur, we finished the climb up to the top of the Alpine Loop. I kept expecting to catch up to Lisa, but we didn't. Weird. Could she really have stayed that far ahead of us?
As we got to the top of the Alpine Loop, Sans Auto said goodbye; he had started his ride at 4:00am and had a long way to go before he got home.
I believe it was at this point that I stopped concerning myself with who or how many people were on the ride. It wasn't so much a group ride, I decided, as a pick-up ride. Join in when you can, do as much as you want, leave when you have to.
That is a very cool idea, when you think about it, and this course was just perfect for it — Since it was an out-and-back with spurs, it's easy to drop into the ride, not to mention skip or truncate spurs you don't want to do.
I am an unintentional genius.
Cascade Springs
Of every climb I regularly do, Cascade Springs makes me the most nervous, for two reasons.
The first part is ridiculously steep. Without trying particularly hard, I hit my top speed of the day during the first mile: 53mph.
It requires total commitment. Unlike most climbs I do, the road to Cascade Springs starts at the top of the mountain and drops down. So, after seven miles of descending (broken up in the middle with a mile-long climb), you're at the bottom of a big ol' climb, and the only way out is to do the ride. There is no bail-out option.
I kept wondering as Brad, Rick and I blasted down toward the bottom of Cascade Springs when we'd catch up with Lisa. Finally, I figured it out: Lisa must have gotten tired and skipped the Cascade Springs spur.
Then, about 1.5 miles from the bottom, we caught up with her.
She was going the other direction.
What this means, gentle reader, is that Lisa had already done the entire descent and was significantly on her way back up to the top.
This was not the Lisa I remembered.
When Brad, Rick and I got to the bottom, we skipped the leisurely rest we had planned on earlier. Now we had a mission.
We had to catch Lisa.
So we hammered. Before too long we encountered Chris coming the other direction, so he wasn't far behind us. Then we came across Linde and BotchedExperiment, each of which elected to skip the rest of the descent and turn around, joining us in our climb.
Cheaters.
OK, in all fairness to Botched, he had to be home by 9:30am, so had been planning on a truncated version of the ride all along. He'd be heading home once he got back to the top of the Alpine Loop.
Bonus Question: So, how many people were now on the ride? Don't forget to include Scott, Lisa's brother, who I have not otherwise mentioned in this account yet, but was nevertheless not far behind his sister.
Hard Mile
It's interesting the way one small section of a ride can color your perception of the entire ride. That's how mile six of the Cascade Springs climb is. It is so incredibly steep it reduces me to about 4mph, which is a pretty ridiculous-feeling speed on a road bike.
It's so steep that my impression of the entire Cascade Spring section is of being steep, even though much of it is really pretty moderate.
I believe it was during this mile that Brad rode away from me, I think in third gear.
I kept expecting, at each bend, to see Lisa, but never did. She was still maintaining the lead, and we still wouldn't catch her during the descent to Provo Canyon.
True Love
I was glad to start the easiest climb of the day: South Fork. In fact, with less than 500 feet of climbing, it hardly even feels like a climb, in comparison.
It was during this section that we finally — finally! — caught up with Lisa. She explained that since her husband (Rich) gave her a road bike for Christmas last year, she's just fallen in love with road riding and that's all she wants to do anymore.
And it's obviously paid huge dividends. She's at a completely new riding level. I told her she needs to stop thinking about a sub-11 hour time at Leadville this year, and start thinking seriously about sub-10.
I have to say, it's really, really cool to see someone find what kind of riding they love. Lisa's always been a strong cyclist, but until she found the road bike, I'd hesitate to say she was in love with cycling. Clearly, she now has. It makes you think: the debates people have over what kind of cycling is best are totally futile. The best kind of cycling is the kind you like best. For me, that changes about four times per season.
I'm fickle.
Squaw Peak
We cruised down South Fork, most of us starting to dread the Squaw Peak climb a little bit. 1800 feet in four miles. And it was now officially a hot day. Yikes.
I admit to not having much of a recollection of Squaw Peak. I mostly remember that Lisa took off for the climb while the rest of us were filling our water bottles and that I would not see her again until the top of the climb. I remember that Linde broke off from the climb and headed home (so how many people were left on the ride?) I remember Brad dropping me. And Rick dropping me.
If it were possible, I would likely have dropped myself.
But at the top, Rich (Lisa's husband) was waiting for us with an ice chest full of cold gatorade.
The dude's a saint.
Special note to Linde: You're going to need to become a stronger climber or you're going to log another 12+ hour time at Leadville in August. Tough love, dude. Tough love.
Last Climb
While we were eating and drinking at the top of Squaw Peak, Sunderlage was looking at his watch, clearly torn. He had promised to be home by 12:30, but there was no way he could do the last climb and be home by that time. So he made the hard choice and rode home through the valley.
Which means, of course, this is twice now that Sunderlage has almost done the Gauntlet Supreme. Maybe next year, Rick. Ha.
Lisa stayed and talked with her husband and son for a bit while Brad and I took off, anxious to get this last climb over with.
The thing is, the Provo side of the Alpine Loop is clearly the harder climb. Especially the first five miles of it. It's just steep. And the day was so hot. And I was so cooked.
Even Brad admitted to mild discomfort on the climb.
But we did it.
So…Tired
It's been a while since I've done a ride that has left me unable to easily descend a set of stairs. But that ride — 90+ miles, 10,000+ feet of climbing, in 7 hours — did the trick.
I was fully thrashed.
And I'd like to do it again before the end of the season.