I had plans for last Wednesday. Big plans. Specifically, I was planning to get out and ride for about two hours, either on my singlespeed or my road bike. I hadn't decided which. I also hadn't decided where, exactly.
Like I said, I had big plans.
And then Rick Sunderlage (not his real name) called me. He told me I should come to Sundance (yeah, Robert Redford's Sundance) for the weekly local mountain bike race.
"Well, I kind of already have plans," I said. "But yeah, I'll come race." Hey, it would be a good chance for me to test the Fat Cyclist jersey under race conditions. And to see whether I can hang with Rick when it matters.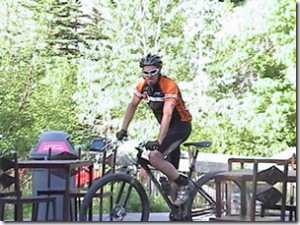 Jitters
One of the things that's great about a weekly local race is that it's low-key. It's weekly, so it's not like anyone's got their hopes and dreams for the season pinned on it. It's local, so it's not like you have to worry about someone with actual talent coming and decimating the field.
So why, then, do I still get incredibly anxious before the race? I mean I get nerves so bad I seriously considered just not doing the race, so I could avoid that rock-in-the-gut feeling.
But I did show up, suited up, paid my $10 to ride in the "Sport" category, and then rode in small circles on my bike (my singlespeed — a fully-rigid Gary Fisher Rig) waiting for the race to start. For some reason, someone took a picture of me doing this and put it on the www.utahmtb.com site. Strangely, my rear tire is entirely transparent.
The Start
The good thing about jitters (for me anyway) is they go away as soon as the race begins. Weirdly — at least it seemed weird to me — everyone took off like they were on the final sprint to the finish.
As it turns out, there's a strategic reason for going hard and fast at the beginning of this course. The first quarter mile of the loop is paved and is practically the only easy place to pass another racer on the otherwise-singletrack course. Once you're behind someone, you're stuck until they let you by.
Accidental Brilliance
So, in the field of maybe 20 Sport-class racers (Experts had left earlier), I entered the singletrack in maybe seventh place. Sunderlage was ahead of me, but in sight.
The only thing that mattered to me was that I not lose Sunderlage. I didn't care if he beat me. It just couldn't be by a lot.
So I passed a few people by saying, "Hey, yield when you can, OK?" and then waiting for the trail to widen enough for me to get by, and kept Sunderlage in view.
And it was while I was doing this that I realized something: by being forced to ride behind some people, I was being kept from racing at my limit. I was not out of gas. I still felt pretty good, in fact. Like I could go faster, should the opportunity arise.
Also, I got an immense amount of pleasure from the mental image of whenever I passed someone. There's no way around it: they had to read "FATCYCLIST" as I went by. You know, that's got to be demoralizing to whoever you're passing.
Downhill
I've confessed many times that downhill is not my strong suit. So it wasn't much of a surprise that when we finished the big singletrack climb for the first lap and started downhill, at least three of the people who I had passed in the climb caught back up with me.
This time, though, the difficulty of passing on singletrack worked in my favor. I stood by my policy of letting by anyone who asked, but only one guy asked. So when we got to the pavement to begin the second (shorter) lap, we were all bunched up together. They got ahead of me by the time we got to the singletrack, though, and I began the second lap pretty much where I started the first lap. Sunderlage was still ahead, but in sight. I was riding the wheel of a guy who was just slightly slower than I.
And I still had something in the tank.
Magic Moments
My unwilling domestique brought us closer and closer to Rick until Rick — most courteous guy in the world — actually asked if we wanted him to yield.
"Hell, yeah!" I yelled, in my best Al Maviva voice (no, seriously, I used the voice I imagine Al Maviva sounds like: big, deep, and dangerously imbalanced).
I couldn't believe it. Sunderlage pulled over and let us by.
By law, I was required to slap him on the butt as I went by. And who am I to flout the law?
Moments later, I decided we must be near the top of the climb — I wasn't sure, because the second lap is not the same as the first lap — so I asked the guy in front of me to let me by.
He did.
Which means that I was in the lead.
Time to see if I really did have anything in the tank.
Close
I had been right; there wasn't much uphill left. So while I managed to gap everyone a little bit in the remaining climb, two people caught up with me during the downhill.
I did not ask either of them if they would like to go by.
Instead, when I hit the brief uphill section of pavement that leads to the finish line, I stood up and sprinted as hard as I could, hoping I could stay ahead of them.
Which I did.
Which means I had just won my first bike race ever, and I had done it on a rigid singlespeed.
Huzzah!
I Liked It So Much I Bought The Company
I had an awesome time racing. And I'm not just saying that because I won. In fact, I'd break it down as shown in the following pie chart: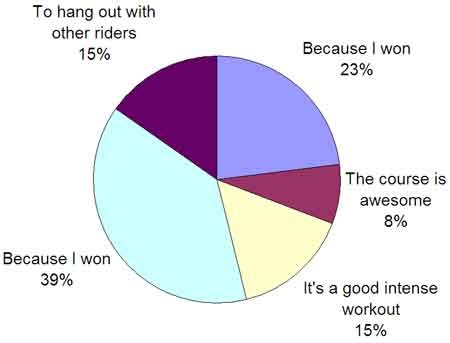 Afterward, I caught up with Mark Nelson, who runs the whole race series (at least I think he does). I told him that I knew that the following week the race proceeds would be going toward raising money for the MS Society, and that I'd like to help by donating some of the cool stuff my Ads-for-Schwag partners — The Banjo Brothers, Twin Six, Ergon, and Matisse & Jacks — have given me.
Turns out that I offered enough stuff that I'm now a platinum sponsor of the series.
Yes, I'm a very important person now. I plan to start putting on airs any moment.
So here's the stuff you can win from me if you come race next Wednesday. And it's all raffle-based, so your chances of getting something cool are great no matter what category you race in:
3 Twin Six jerseys (2 Fat Cyclist jerseys, 1 other Twin Six Jersey)
2 Twin Six T-Shirts
1 Banjo Brothers Jumbo Messenger Bag
2 Banjo Brothers Commuter Backpack
20 Banjo Brothers Pocket Messenger Bags
3 Sets Ergon MTB Grips
3 Training Videos
10 boxes Matisse and Jacks Bake-at-Home Energy Bars
1 XBox 360 Messenger Bag
1 Toyota – United Cycling Jersey
8 USB Memory Sticks.
And I understand I'm not the only one bringing prizes, either. So if you're in the area, come race with me this Wednesday.
Sure, I realize that having more people there virtually guarantees I'll drop into the midpack finisher group, but I can live with that.